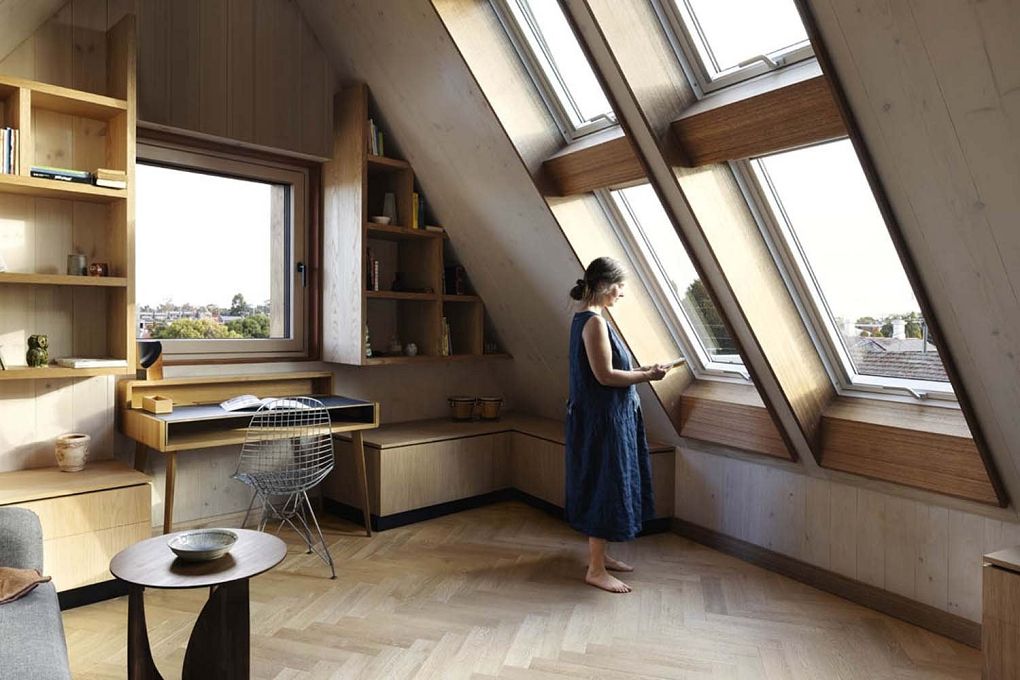 Melbourne Design Studios (MDS) 2021
Description
This tour is part of the ArchiTeam Awards House Tours, showcasing the work of award-winning small practice architects working in a variety of living and working environments. 

The Hütt 01 Passivhaus is a luxurious but fun home with a focus on regenerative design. It's a certified Passive House 'Premium', the highest category that produces more energy than it uses, and it rates the highest category of A++ in its Life Cycle Assessment. It has been created to showcase how we can build better houses in Australia, how a sustainable design approach and Passive House can give you a beautiful lifestyle home, and how scarce inner-city land can be utilised better and more sustainably.

Hidden away, it is wedged between a bluestone lane and a train line, creating a little oasis in the urban jungle with its biophilic design approach, despite the compact site of only 250 square metres.

The four-bedroom house itself is built on an internal footprint of only 78 square metres internally, but feels generous, multiplied over two-and-a-half levels, and blurs boundaries between inside and out. For most of the year it doesn't require heating or cooling, with novel materials and technologies like CLT, woodfibre insulation, heat recovery ventilation (HRV), aquaponics, green roofgarden, green wall, water-sensitive urban design (WSUD) and more.

The project has been published in print and featured on Grand Designs Australia. It has won a number of industry awards and recognitions, amongst them the 2021 ArchiTeam Sustainability Medal and a 2022 Australian Insitute of Architects National Award for Sustainable Architecture.
What's On
As one of the very few Australian Passive Houses in the highest cateogyr of Premium, and having won many awards (amongst them a National Award for Sustainable Architecture from the AIA last year), Hütt 01 is an inspirational example of architecture with a timeless, modernist touch that sets a positive example for small-scale urban densification, set on an unusual urban block. Impressively, the prefab Passive House doesn't require heating or cooling for most of the year.

Join a hosted tour of the house and garden, and discuss how we can build better houses in Australia, and what is necessary to get to near-net-zero housing.
Images: (1) Attic atelier. Photo: Maitreya Chandorka. (2) Playful kids' room. Photo: Maitreya Chandorka. (3) North facade: triple-glazing, Vestis metal facade and recycled brick. Photo: Maitreya Chandorka. (4) Laneway elevation. Photo: Maitreya Chandorka. (5) Context. Photo: Maitreya Chandorka. (6) Entrance Door. Photo: Marnie Hanson. (7) Sunken Lounge. Photo: Marnie Hanson. (8) Kitchen. Photo: Immanuel Bosse
Important Details
Time & Date
Saturday 29 July
Tours run 10am, 10.45am, 11.30am, 12.15pm, 2.15pm + 3pm
Running for 45 minutes in groups of 15
Bookings required
First release tickets: Thursday 6 July, 12pm
Second release tickets: Saturday 8 July, 10am
Book Now