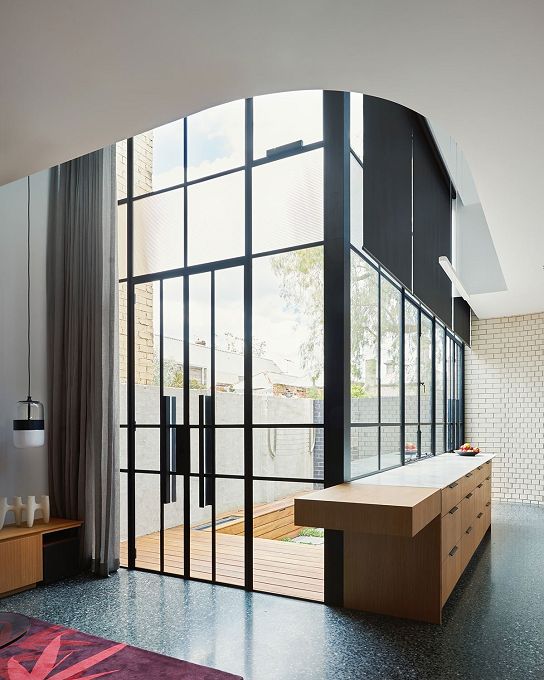 Rebecca Naughtin Architects
Description
This tour is part of the ArchiTeam Awards House Tours, showcasing the work of award-winning small practice architects working in a variety of living and working environments.

This modest single-fronted Victorian terrace is a familiar typology in North Fitzroy—but take a turn down the adjacent bluestone lane, and one discovers a sculptural black brick wall at the rear where the title curves, leading architect Rebecca Naughtin to name this renovation 'Turn House.'

Although Naughtin's design literally follows a curve, the result is highly functional. As with the curved brick wall enclosing the northern courtyard, the kitchen wall is also brick, but white to reflect the light. The edge of the kitchen, delineated by almost five-metre-high steel and glass doors and windows, is also partially curved to bring in light and also to purge hot air during the warmer months, via automated highlight celestial windows. The canteen-style steel windows allow meals to be served on the terrace, lined with a timber deck that has built-in seating, while polished concrete floors with under-floor hydronic heating also make this home comfortable to be in during the colder months.

From the moment one enters, it's clear that each decision stemmed from the owners' desire to create a home for themselves for the long term.
What's On
Join the architect for a special personalised tour of one of their award-winning projects. Find out about the process of engaging and working with an architect in creating your dream home.
Image: Turn House by Rebecca Naughtin Architect. Photo: Daniel Fuge.
Important Details
Time & Date
Saturday 29 July
Tour runs 10.30am
Running for 90 minutes in group of 10
Bookings required. Full address will be supplied to attendees once booking is finalised.
First release tickets: Thursday 6 July, 12pm
Second release tickets: Saturday 8 July, 10am
Sorry, this event is booked out.
AGE REQUIREMENTS
18 years and above