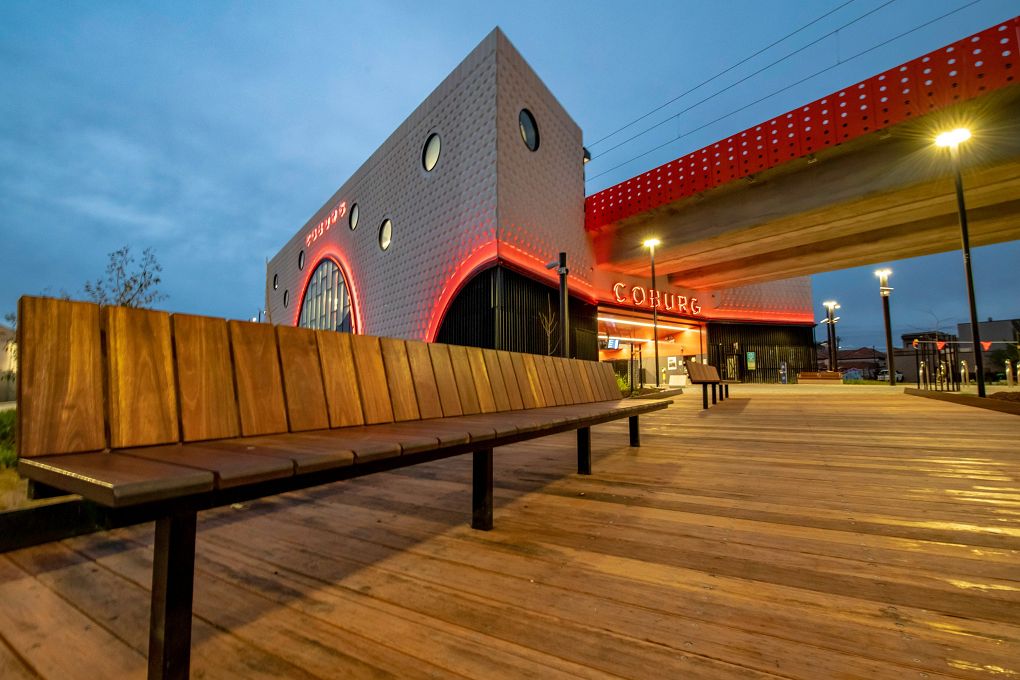 Bell to Moreland Level Crossing Removal Project: Design and connectivity walk shop
Add to Itinerary
Wood Marsh Architecture 2020
Description
The Bell to Moreland Level Crossing Removal Project involved the removal of four level crossings, the construction of a 2.5-kilometre elevated rail structure, two new train stations, the restoration of two heritage listed stations and the delivery of significant new open space.

Situated in a highly constrained corridor in Melbourne's busy inner north, the project presented one of the most complex level crossing removal projects undertaken at that time. The project not only improved road travel times and safety but transformed the liveability of the area by creating two MCGs' worth of community space with safe and reliable east-west connectivity for pedestrians and cyclists.

Featuring playgrounds, dog park, barbecue areas, sports facilities, public artwork, bike and pedestrian paths, the project has delivered vibrant green spaces that have been welcomed by the community. The open space is both functional and aesthetic, treating stormwater within the corridor and passively irrigating the extensively planted elements of the corridor.

The project's sustainability outcomes have been rated amongst the highest ever by the Infrastructure Sustainability Council and Green Building Council of Australia.

The project is a leading example of how the benefits of major transport projects can extended beyond road and rail users.
What's On
This tour provides insights into the design at Coburg and Moreland stations and the public open space created through the Level Crossing Removal Project. Attendees will also learn about the project's award-winning sustainability measures. The Walk Shop will be hosted by Greg Teague and Mark Skiba.

Greg, a Principal Landscape Architect at Tract, brings over a decade of expertise in transformative public realm projects, particularly in integrated transport. 
 
Mark, an urban designer and landscape architect with 15 years' experience, has worked on city-shaping infrastructure and small-scale design projects, improving the accessibility and enjoyment of the public realm.
Images: (1) Coburg Station by night. Photo: Steve Smith. (2) Heritage-listed former Coburg Station. Photo: Steve Smith. (3) Moreland Station nature playground. Photo: Steve Smith. (4) Cyclist on Upfield Bike Path. Photo: Steve Smith. (5) Yarning Circle at Moreland Station. Photo: Steve Smith.
Important Details
Time & Date
Sunday 30 July
Tours run 11am
Running for 45 minutes in a group of 15
Bookings required1
Join us at Coburg Station, in front of the heritage station building, located within the forecourt. Parking available in the Coburg Station car park.
This tour will finish at Moreland Station.
Sorry, this event is booked out.
ACCESSIBILITY
Fully wheelchair accessible, Accessible bathroom, Accessible parking nearby, Elevator access
AGE REQUIREMENTS
All Ages