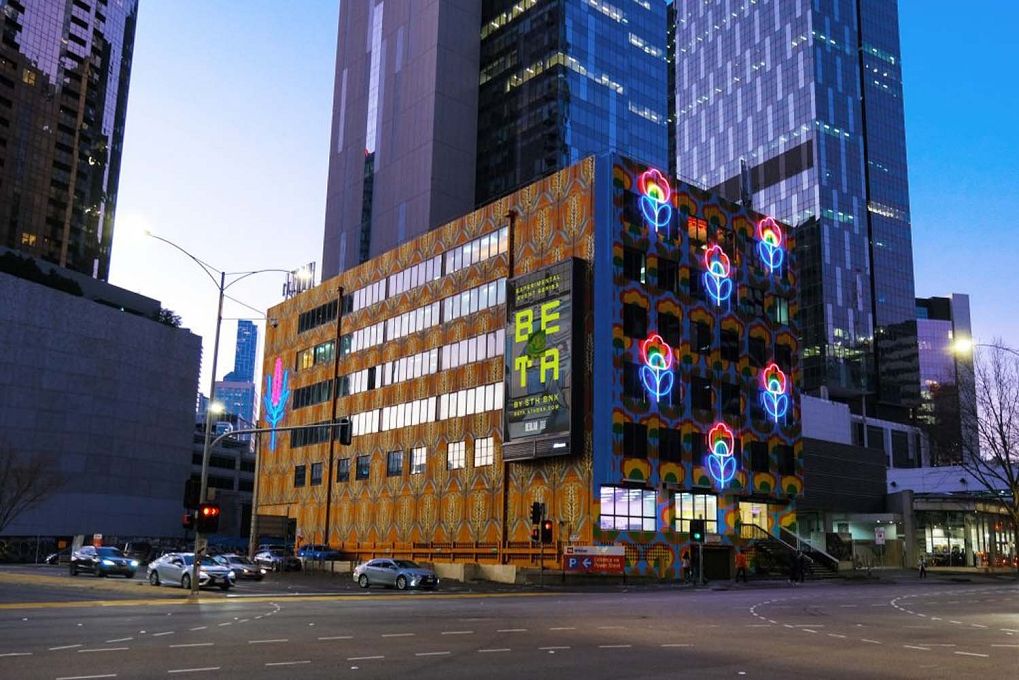 Sibling Architecture 2021
Description
A humble seven storey concrete office block, which until the late 1990s claimed to be Southbank's tallest building, has been transformed into a dynamic lab of progressive retail experiences that honour individuality, diversity and creative expression.

BETA is a revolutionary testing ground exploring the future of retail space, programming and new business models. BETA worked with boundary-pushing architecture collective Sibling to bring their spatial vision to life. As an ode to conscious design, BETA's fit-out centres on circularity. They have repurposed and reused existing materials and objects within the building, speculating on a future where retail spaces embrace sustainability in innovative and daring ways. Combined with the use of environmentally-friendly bioplastics, soft furnishings and moveable partitions, the result is a chameleon conversion that allows for limitless layouts.
What's On
The audience can expect to be given a tour through various spaces within BETA By STH BNK's innovative retail concepts including The Future From Waste Lab, curated by designer Kit Willow, which is testing a more sustainable approach to fashion production. The fourth-floor ateliers host designers in residence, including algae expert Jessie French, Ella Saddington of craft studio Cordon Salon, and DNJ Paper, which makes clothing from traditional Japanese paper. Also on the fourth floor is concept store RE/Space, a functional retail space completely fabricated from second life materials found within BETA. The fifth floor is being used for a range of events. 
Images: (1) Hanover House is a corner building set for demolition. Experimental occupation is being tested before it goes. Photo: BETA. (2) A digitally-rendered image of a futuristic-looking space to promote the BETA event series. Photo: Atong Atem and MARS gallery. (3) Located on the fourth floor of BETA, RE/Space is a hybrid gallery and retail fit-out that has been constructed out of materials salvaged from Hanover House. The tables and display plinths formed out of post-consumer materials nod to the history of the building as well as offer new ways to think about existing found materials. Photo: BETA. (4) Located on the ground floor of BETA, Future From Waste Lab is an experimental fashion retail and production space that turns textile waste into new garments. Photo: BETA.
Important Details
Time & Date
Saturday 29 July
Open access 11am-2pm
Tours run 11am, 12pm + 1pm
Running for 45 minutes in groups of 50
Bookings required
First release tickets: Thursday 6 July, 12pm
Second release tickets: Saturday 8 July, 10am
Meet at the lobby of Hanover House, 158 City Road, Southbank 3006.

Nearest accessible train stop: Flinders Street Station is approximately 10 minutes from the venue and is fully wheelchair accessible. Nearest accessible tram stop: Tram Stop 115 (Casino/Southbank/Queens Bridge St) is approximately 5 minutes from the venue and is a low level access stop. This stop is partially serviced by low-floor trams. Visit ptv.vic.gov.au to find out if your tram route has low floor trams.
Book Now
ACCESSIBILITY
Partially wheelchair accessible, Accessible parking nearby, Elevator access
AGE REQUIREMENTS
All Ages
Location
158 City Road, Southbank 3006