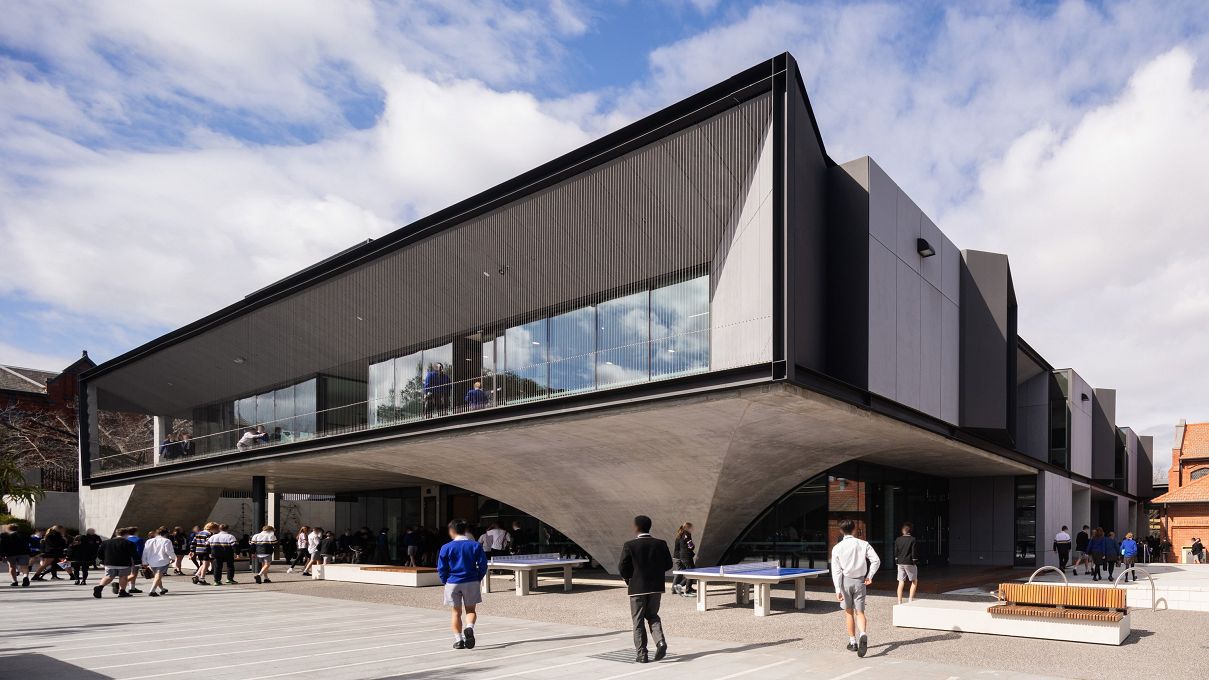 Architectus 2020
Description
Located on a prominent elevated corner in Kew, this project presented a unique opportunity to design a building that's a material expression of Carey Grammar's values and beliefs about middle school education. With its timeless qualities, the Centre for Creativity and Collaboration blends seamlessly with the mix of architecture on campus while also creating an iconic marker for the school and wider community.

The centre's highly transparent, floating upper level is anchored by a series of sculptural elements, including a dramatic concrete vault along its northern edge and two sets of semi-enclosed stairs. A series of 'boxes' on the south and west elevations push out and recede in an alternating pattern to meet the school's needs for interior spaces while also responding to the suburban setting.

Inside, the building is organised into six intersecting learning precincts, including general and informal learning zones as well as specialist facilities for science and the performing arts. The open yet calm environment makes learning visible through dedicated display spaces that spark curiosity and discovery.

The project has earned global recognition, winning the 'Future Projects – Education' award from World Architecture News in 2018.
What's On
Led by the school and architects, guided tours will start with a 10-minute presentation on design concepts around the building and education, and then split into groups of 10-15 people. Carey's Middle School Head will speak, with design leaders and a strategist from Architectus also involved in the presentation and tours.
(1-10) Centre for Creativity & Collaboration, Carey Grammar. All photos: Trevor Mein
Important Details
Time & Date
Saturday 29 July
Tours run 1pm + 2.30pm
Running for 60 minutes in groups of 50
Bookings required
First release tickets: Thursday 6 July, 12pm
Second release tickets: Saturday 8 July, 10am
Book Now
ACCESSIBILITY
Fully wheelchair accessible
Location
349 Barkers Road, Kew VIC 3101