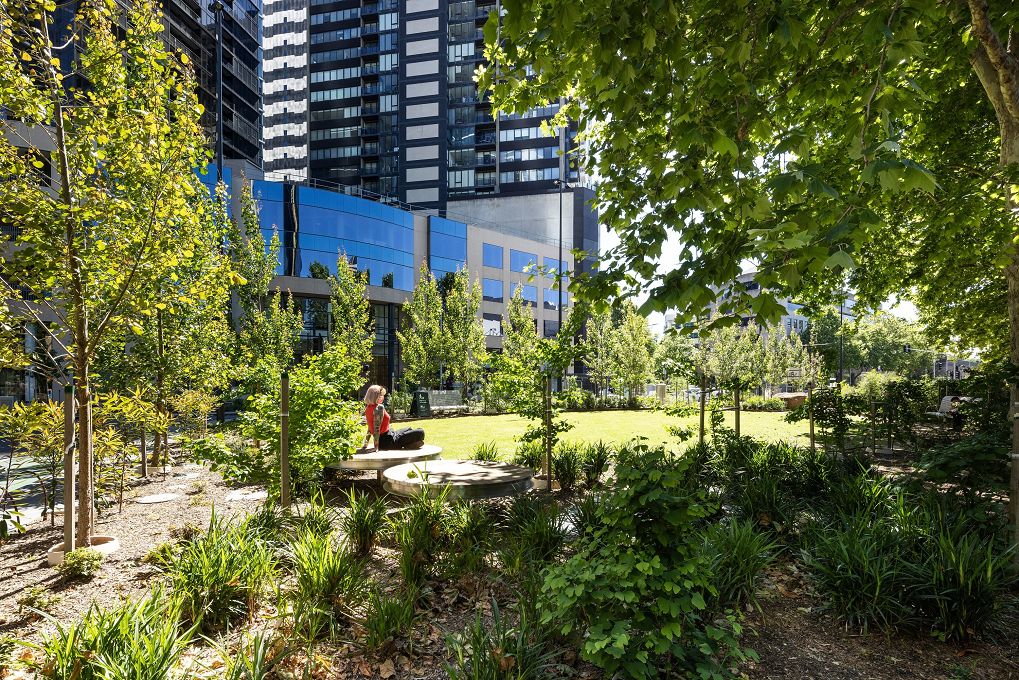 Description
The City of Melbourne's Grey to Green program has incrementally transformed underutilised 'grey' public space—such as roads and maintenance depots—into high quality public green space that prioritises people, flora and fauna.

Over 80 hectares of grey space has been overhauled since the program's establishment in 1985. This self-guided tour includes a breadth of award-winning sites, from play spaces and parks, to streetscapes and wetlands. The tour features places designed by award winning practices including the City of Melbourne's in-house design studio, City Design, and private practices such as Oculus, Taylor Cullity Lethlean and more.
What's On
This self-guided tour showcases projects that have gradually transformed the City of Melbourne into a 24-hour destination city, including Southbank Boulevard and Market Street redevelopments. Visitors can download or collect a map to explore sites across the municipality during the weekend and beyond.
Images: (1) Southbank Boulevard. Photo: Dianna Snape. (2) Market Street Park. Photo: Peter Bennett. (3) Boyd Park. Photo: Andrew Lloyd. (4) Princes Theatre Forecourt. Photo: Andrew Lloyd.
Important Details
Time & Date
Saturday 29 + Sunday 30 July
Maps can be collected between 9am-5pm from the Open House Melbourne Info Hub, located outside Melbourne Town Hall, 90/130 Swanston St, Melbourne VIC 3000.

Or download a digital PDF version below
ACCESSIBILITY
Fully wheelchair accessible
AGE REQUIREMENTS
All Ages
Location
Open House Melbourne Info Hub, located outside Melbourne Town Hall, 90/130 Swanston St, Melbourne VIC 3000