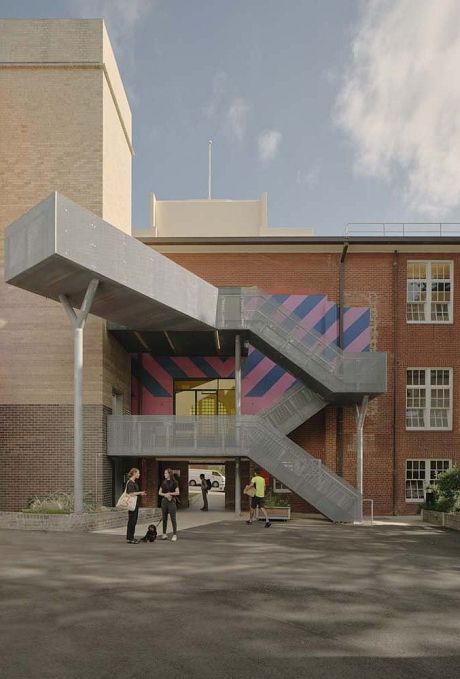 Percy Everett 1945, Fieldwork 2020
Description
Designed by Fieldwork to harness a physical space that fosters collaboration, Collingwood Yards is the first precinct of its kind in Australia. It delivers a vibrant, mixed-use space for the arts—a place of cultural and artistic production with an open interface to the public.

Collingwood Yards reworks the institutional buildings of the former Collingwood Technical School, built in stages from 1913 on the land of the Wurundjeri people of the Kulin nation. The existing buildings, including the 1945 Percy Everett designed Administration building, are of social, historical and architectural significance, however by 2016 the site was a vacant remnant of changing vocational training trends.

Today, anchored by a selection of gallery spaces and working artist studios, and entwined with design-centric retailers, cafes, bars and meeting spaces, Collingwood Yards consistently articulates a respectful approach to urban planning. The expansive site inspired Fieldwork to undertake a strategic analysis of the suburb's urban ecology, informing a permeable approach that better connects the community.

In designing Collingwood Yards, Fieldwork has set a new standard for creative communities in the country—positioning architecture as a medium to foster new ecologies and welcome the public into the process of artistic creation on a granular level.
What's On
Join Tim Brooks - Fieldwork associate, and project architect for Collingwood Yards - for a guided tour exploring the robust architectural outcome that is the first precinct of its kind in Australia.
Images: (1) Johnston Street Building, featuring Reko Rennie Mural. Photo: Tom Ross. (2) Johnston Street entry onto courtyard. Photo: Tom Ross.; Johnston Street Building facade. Photo: Tom Ross. (3) Entry from Johnston Street. Photo: Tom Ross. (4) View of courtyard from upper level of Perry Street Building. Photo: Tom Ross.
Important Details
Time & Date
Saturday 29 July
Tour runs 2pm
Running for 60 minutes in a group of 25
Bookings required
First release tickets: Thursday 6 July, 12pm
Second release tickets: Saturday 8 July, 10am
Meet at Bookshop by Uro, south-west corner of the courtyard, Level UG.
Sorry, this event is booked out.
ACCESSIBILITY
Partially wheelchair accessible, Accessible bathroom, Accessible parking nearby, Elevator access
Location
35 Johnston Street, Collingwood VIC 3066