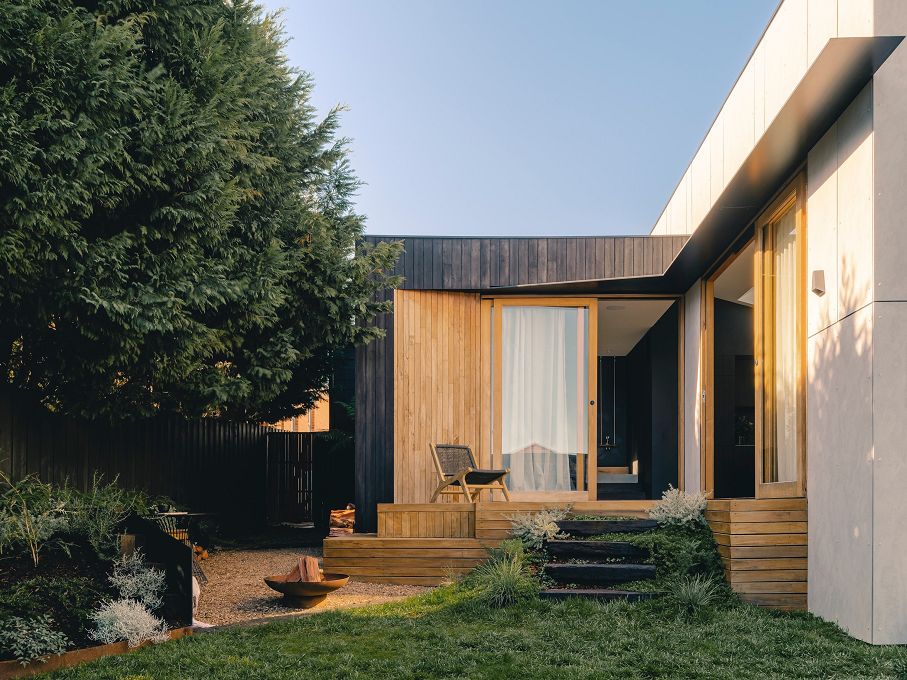 Architektura 2023
Description
Elm Seed House is a modern adaptation of a 1920s Californian Bungalow in Melbourne's inner north. Respecting the home's heritage, the project sought to retain, reinstate and celebrate period elements and thoroughly modernise the interior whilst creating a warm, inviting and functional rear extension for a growing professional family.

Minimalist cladding reveals but a portion of the works to the public arena, leaving the main spaces known only to the occupants, where the external and internal are thematically linked through a refined mix of natural and charred timbers outside and a palette of hand-patinated steel, polished concrete and integrated joinery inside.

Designed around entertaining, togetherness and flexible use of space, the extension and sunken lounge contour to the site and accentuates the space's verticality. Large glazed doors capturing abundant natural light, while the heart of the home, the fernery, is a tranquil haven blurring the lines of indoor and out.

Named after the millions of elm seeds found in the roof over the building's century, Elm Seed House seeks to demonstrate an approach of retention and adaptation over removal and rebuilding, and of a sensitive heritage response whilst embracing our modern way of life in a space that is a pleasure to reside in.
What's On
Small group tours of the premises by the design architects discussing the design and approach.
Images: (1) Rear Extension. Photo. Victor Vieaux Photography. (2) Period facade. Photo. Victor Vieaux Photography. (3) Bedroom. Photo. Victor Vieaux Photography. (4) Dining Room and Fernery. Photo. Victor Vieaux Photography. (5) Living Room and Kitchen. Photo. Victor Vieaux Photography. (6) Rear Landscape. Photo. Victor Vieaux Photography. (7) Charred Timber Details. Photo. Victor Vieaux Photography.
Important Details
Time & Date
Saturday 29 July
Tours run 11am-3pm
Sunday 30 July
Tours run 11am-1pm
Running every half hour for 30 minutes in groups of 15
Bookings required
First release tickets: Thursday 6 July, 12pm
Second release tickets: Saturday 8 July, 10am
Please meet at the front gate.
Sorry, this event is booked out.
AGE REQUIREMENTS
16 years and above