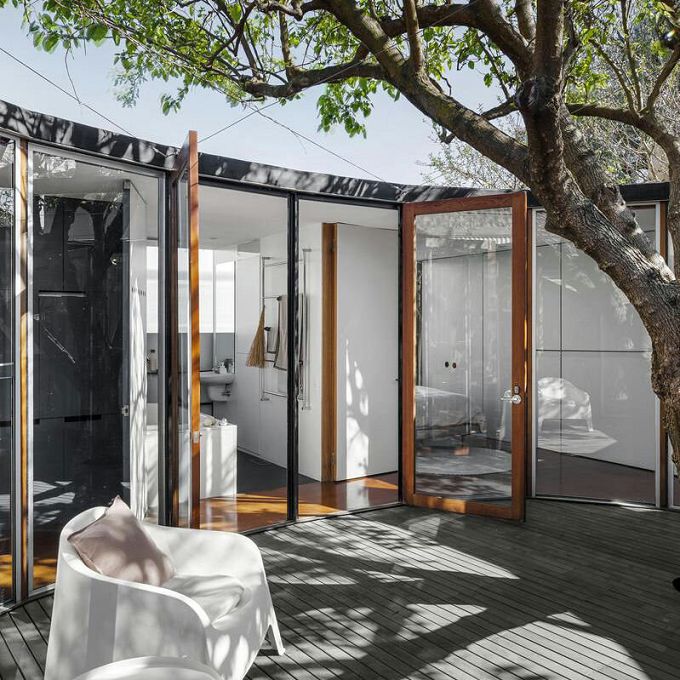 Description
Winner of the Victorian Architecture Medal in 2000 and designed by Field Consultants, Hollyoake House is characterised by its steel and timber frame, with floor-to-ceiling glass panels and wrap around a courtyard garden with an established tree in its centre.

Hear from architect and artist Annie McIntyre about this 'urban sanctuary', McIntyre's careful renovations and its likeness to her family home, Peter and Dione McIntyre's River House. Annie will be joined by renowned architect Maggie Edmond of Edmond & Corrigan and Hollyoake builder Bruce Dickey to share their reflections of this impressive hidden gem.

Over a complimentary glass of champagne, don't miss this special, intimate opportunity for a last look at the unique modernist-inspired design before it shifts to new owners. 


Maggie Edmond, Director, Edmond & Corrigan
Maggie grew up living in Roy Grounds Quamby apartment building in Glover Court Toorak and later in Robin Boyd's Bridgford house in Black Rock. Maggie's family was custodian of the Bridgford house for 60 years. 
 
Annie McIntyre, architect, owner Hollyoake House
Annie grew up living in the River House, Kew, the experimental and chromatic 1950's A-frame riverfront house designed by her parents Peter and Dione McIntyre. Annie has restored and lived in the Hollyoake House since 2016 and has appreciated the supportive community and the minimalist architecture which creates a sense of place and nature in inner Melbourne.

Bruce Dicky, Builder, Hollyoake House
Bruce Dickey, who built the Hollyoake House, also built the Athan House in Monbulk for Edmond & Corrigan in the late 1980's and has built many projects for the office over the ensuing years.
Image: Hollyoake House. Photo: Spacecraft Media
Important Details
Time & Date
Thursday 2 November
5.30pm-7pm

Non-members: $120 + booking fee
Members: $100 + booking fee
Each ticket includes a complimentary glass of champagne on arrival.
Sorry, this event is booked out.
Location
54A Connell St, Hawthorn VIC 3122