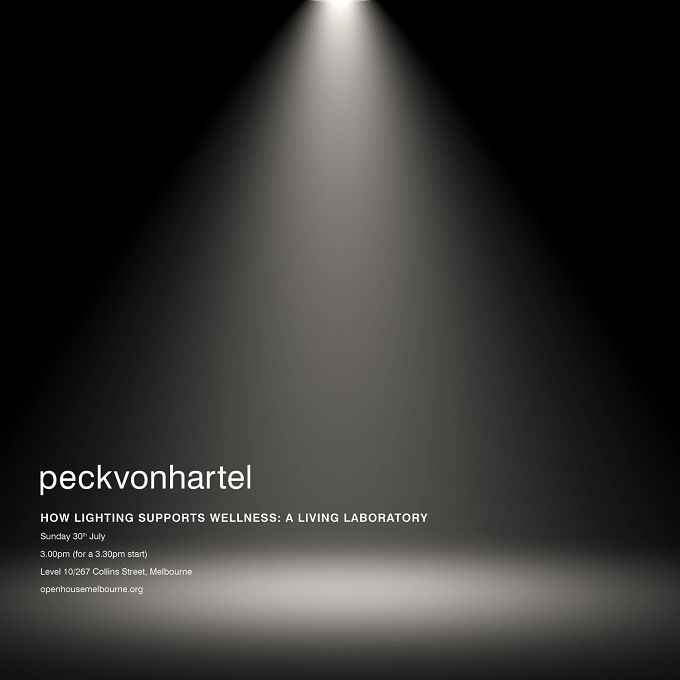 peckvonhartel Architects 2023
Description
peckvonhartel Architects have just undertaken a practice renovation and, in partnership with RMIT, Melbourne University. Well and Productive CRC and Eagle Lighting, have installed a smart lighting system that is the first of its kind worldwide.
 
This lighting not only harvests daylight and replicates circadian rhythm, it is programmable, adaptable, personalised, and will provide insight into the day-to-day preferences of its users.
 
peckvonhartel will hold a seminar event with industry speakers to discuss how lighting can impact productivity and wellbeing, how evidence-based lighting can demonstrate a return on investment, how workplaces should provide a setting for mental health wellbeing and how the industry could help attract people back to the workplace with suitable and high quality environments in a post-pandemic era.
What's On
peckvonhartel will hold a seminar at their architectural practice-turned-living lab that will showcase the lighting technology. The seminar will feature the following three speakers discussing the project and the proposed outcomes:

Professor Christhina Candido, Melbourne University, Well Facility, will discuss the latest research in lighting and the contribution that health and wellbeing make to productivity and general happiness within a space, particularly a work environment.

Ian Johnson, lighting specialist, RMIT and Eagle Lighting, will discuss the innovative technology as well as the sustainability, circular economy and return-on-investment qualities that this lighting seeks to deliver.

Tim Giles, Design Director will discuss the space and the partnership to create a lab to test, refine and communicate the outcomes of sustainable, adaptable and tailorable lighting systems for the future of workplace design.
Images: (1) Light. (2) Professor Christhina Candido. (3) Rebecca Daff. (4) Ian Johnson. All photos: courtesy of peckvonhartel.
Important Details
Time & Date
Sunday 30 July
Tour runs 3.30pm with 3pm arrival
Running for 90 minutes in a group of 40
Bookings required
First release tickets: Thursday 6 July, 12pm
Second release tickets: Saturday 8 July, 10am
Meet at the entrance, where someone will greet guests and escort them to level 10.
Book Now
ACCESSIBILITY
Fully wheelchair accessible, Accessible parking nearby, Elevator access
Location
Level 10/267 Collins Street Melbourne VIC 3000