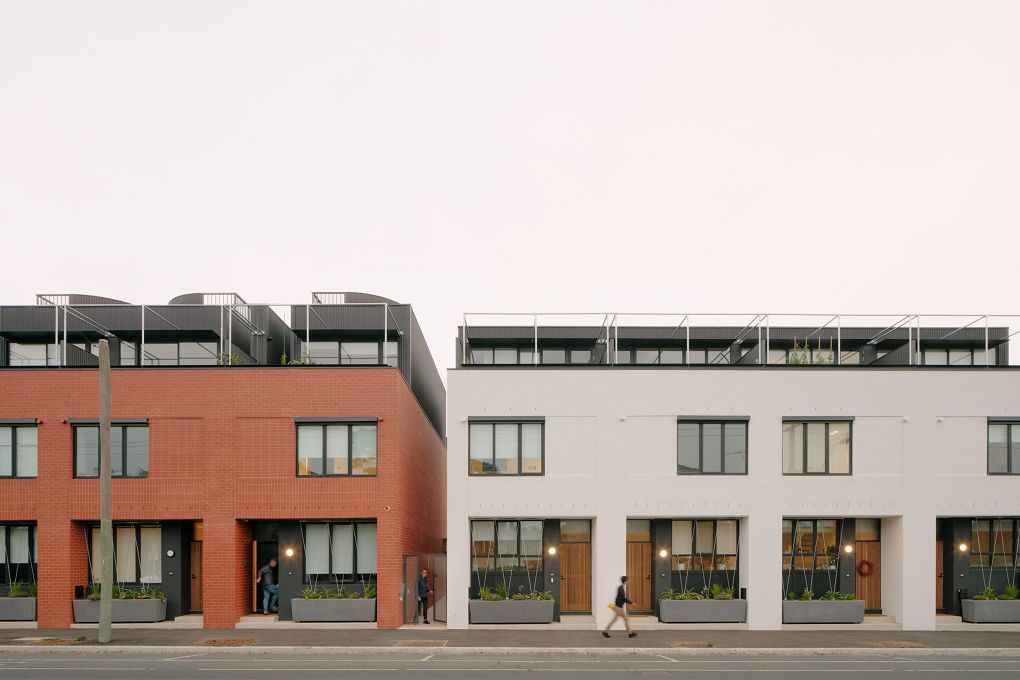 MAArchitects 2021
Description
This event has been cancelled.

Inkerman and Nelson is a project that eschews austerity, taking instead a softer approach to articulate the legacy of the site and the high-quality residential space available.

Previously commercial and industrial sites have been replaced with brick terrace blocks, comprising of 26 two- and three-storey townhouses

arranged around central courts and walkways. The townhouses are three- and four-bedroom dwellings with ground level living and flexible space on the second floor. Entry to the townhouse blocks are accessed by wide walkways that traverse the site. A freestanding frame accentuates the spatial qualities of the ground plane, uniting townhouse zones and narrating the experience at ground level.

The conceptual ambitions of the project sought to reinterpret rather than erase the memory of the previous site. The detailing, materiality and layering of the existing building is embraced, resulting in a contemporary collection of amenable townhouses.

This development reinvigorates the site and area through the inclusion of primary and strategic secondary points of access throughout the ground plane, creating a circulation path that feels urban and connected, but also intimate.

In turn, Inkerman and Nelson is a precinct that decisively responds to its context and the demands of contemporary living through subtle gestures, laying the foundations for a community to flourish over time.
What's On
There will be guided tours around and within the townhouse development, through the Nelson Quarter courtyard. Karen Alcock and Rachael McNally of MAArchitects will be presenting.
Images: (1) View from Inkerman St showing the façade breakup managed through the introduction of the pedestrian entrance. Photo: Tom Ross. (2) The development's form rises in a robust gesture to the corner of Inkerman and Nelson. Photo: Tom Ross. (3) All townhouse entrances feature cedar batten screen doors to enhance cross ventilation on warm days. Photo: Tom Ross. (4) The dual aspect of each townhome ensures ample natural light and views to the exterior. Photo: Tom Ross. (5) A central courtyard (Nelson Quarter) creates a welcoming area and invites communal interaction. Photo: Tom Ross. (6) Layering of materials, finishes and landscaping creates a distinct and warm entry for each townhome. Photo: Tom Ross.
Important Details
Time & Date
This event has been cancelled.
ACCESSIBILITY
Partially wheelchair accessible
AGE REQUIREMENTS
All Ages
Location
283-297 Inkerman Street + 3-7 Nelson Street, Balaclava VIC 3183