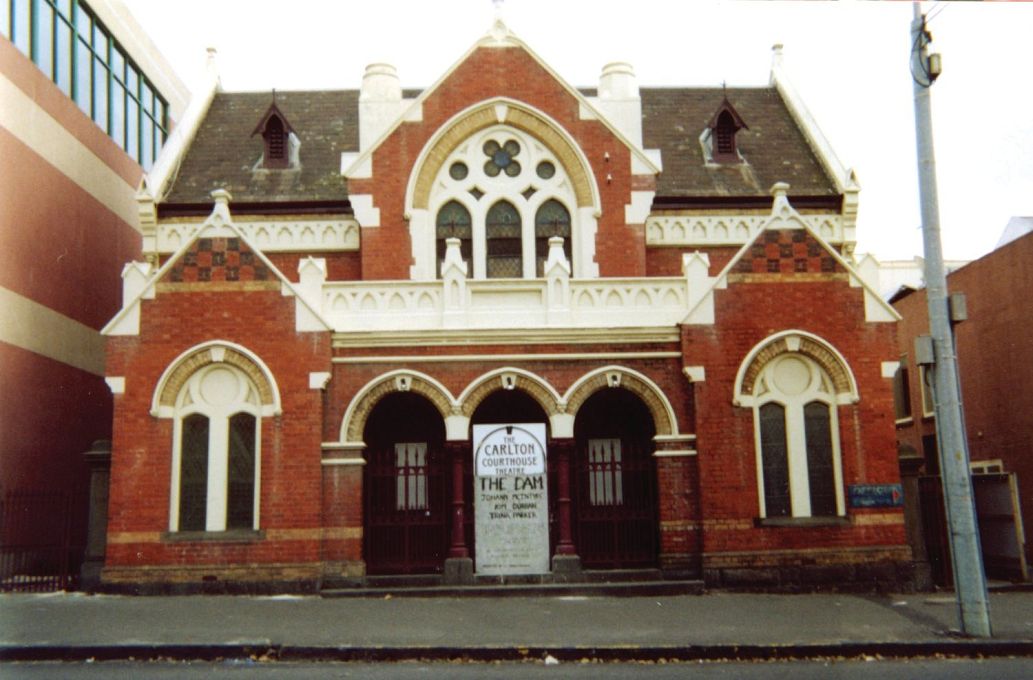 Constructed by John Short to the design of Public Works Department Architect GBH Austin 1887. Restoration makeover architect Bruce Trethowan 2005.
Description
The Carlton Courthouse building, or La Mama Courthouse Theatre, is situated on Drummond Street in Carlton, between Elgin and Faraday Streets. Originally built in 1887, the building is a single-storey Victorian Gothic-style structure, composed in a symmetrical but picturesque form. It is directly opposite the original 1878 Carlton Police Station, and is historically significant as part of the early civic core of Drummond Street.

After it was decommissioned as a Court House, Melbourne's La Mama Theatre has been successfully using the building as a second theatre space for more than twenty-five years. It is fully utilised almost every day and night for rehearsals and performances, providing a larger capacity than La Mama's recently rebuilt headquarters and theatre space in Faraday Street.

Mint Inc's complete restoration of the building in 2005 included everything from its limestone façade to refurbishing the original Court House timber furniture. All the amenities were made more user friendly, and, with the more recent and modern upgrade to the Box Office and Bar area as well, new access and opportunities have been provided for generations of theatre-makers, artists and audiences to come.
What's On
There will be guided tours by long-term staff members, external and internal access, and details and stories shared from the building's history, as well as other information about its ongoing current activities and programs and La Mama's central role in the Melbourne Arts Community.

Hospitality will include free tea and coffee, refreshment and bar sales, and informal contact with staff members between tours. La Mama Courthouse is surrounded by bars, restaurants and shops for visitors to further explore the Carlton area.
Images: (1) View of Carton Court House/La Mama Courthouse Theatre from Drummond Street. Photos: La Mama archives. (2) View of Carton Court House/La Mama Courthouse Theatre from Drummond Street. Photos: La Mama archives.
Important Details
Time & Date
Saturday 29 + Sunday 30 July
Open access 10am-1pm
Tours run 10.15am, 11am + 12pm
Running for 40 minutes in groups of 20
Bookings required
First release tickets: Thursday 6 July, 12pm
Second release tickets: Saturday 8 July, 10am
Meet at 349 Drummond Street Carlton, between Elgin and Faraday streets.
Book Now
ACCESSIBILITY
Fully wheelchair accessible, Accessible bathroom, Accessible parking nearby
AGE REQUIREMENTS
All Ages
Location
349 Drummond Street, Carlton Vic 3053