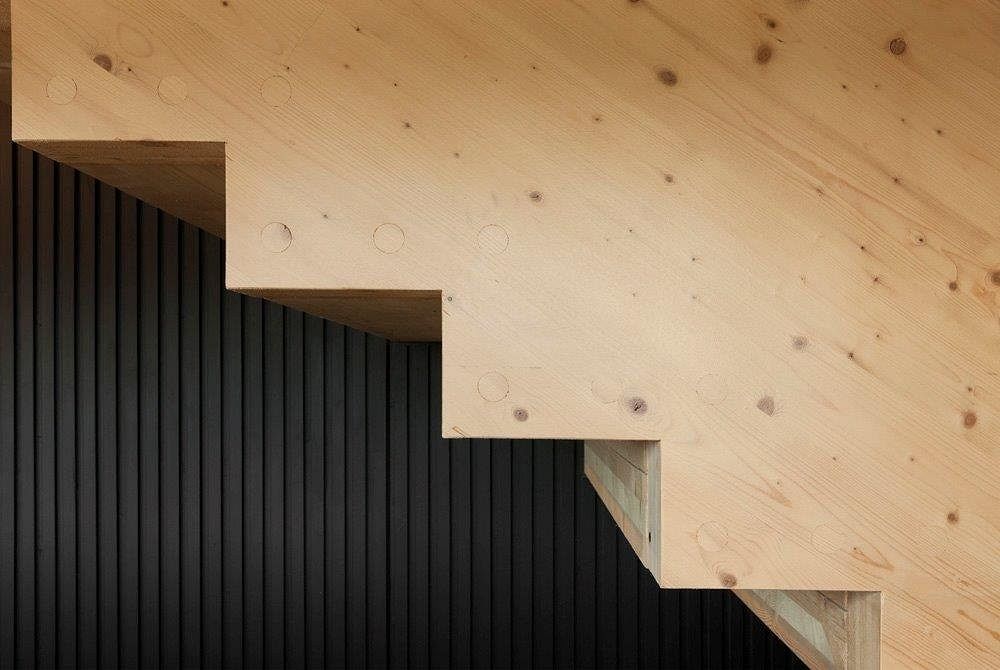 Clare Design (design architect) and Hayball (architect of record) 2014
Description
The Dock community precinct incorporates the Library at The Dock, Buluk Park and the Community Hub at The Dock. The building's iconic design is inspired and shaped by its historic wharf and industrial maritime setting.

The Library at The Dock was the first 6-star Green Star rated public building in Australia. A modestly-scaled building at just three storeys, the simple timber frame construction is made predominantly from Cross Laminated Timber (CLT), the first public building in Australia made with the material. Using CLT as the primary structural material reduces the weight of the building by 30 percent, which is necessary as the building sits on a 75-year-old wharf.

The Library at the Dock currently houses an 85 kW solar panel setup. From early 2024, it will also be the site of a new neighbourhood battery. This is the first in the network of batteries being installed as part of the City of Melbourne's Power Melbourne project. Once complete, this network of batteries will aim to deliver community benefits such as more affordable renewable electricity to Melbourne residents and businesses. 
What's On
Take a self-guided tour and learn about the building and its sustainability features. Check out the diverse and accessible community spaces used for events and activities (dependant on bookings on the day).

Visit the recording studio, practice rooms, makerspace and children's library or play table tennis and simply enjoy the stunning harbour views.

The Dock features an interactive playground, Buluk Park and Story Tree sculpture. Next door, there is the Community Hub with more event spaces, a family centre and boating hub which looks out onto the water's edge.
Images: (1) Library and Community Hub at The Dock. (2) Library and Community Hub at The Dock. (3) Library and Community Hub at The Dock. (4) Library and Community Hub at The Dock. (5) Library and Community Hub at The Dock.
Important Details
Time & Date
Saturday 29 July
Open access 10am-1pm
ACCESSIBILITY
Fully wheelchair accessible, Accessible bathroom, Elevator access
AGE REQUIREMENTS
All Ages
Location
107 Victoria Harbour Promenade, Docklands 3008