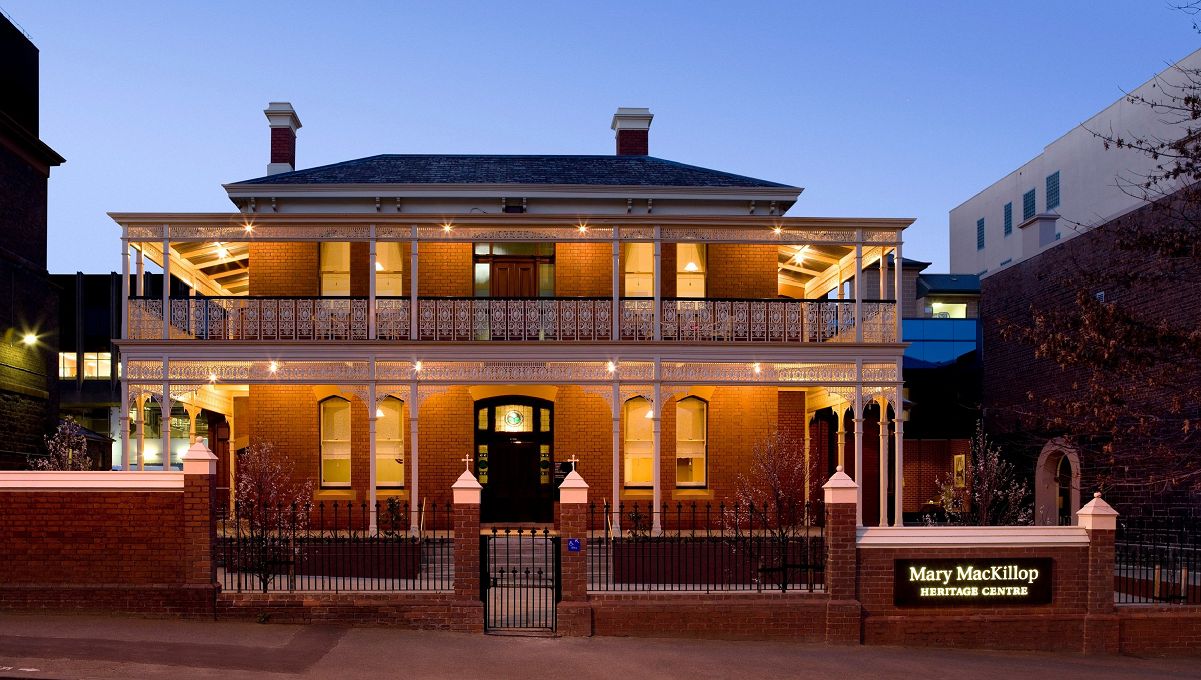 Thomson Adsett Architects and RBA Heritage Architects 2007
Description
The Mary MacKillop Heritage Centre is located on grounds that were purchased by MacKillop in 1901 with the support of Archbishop Thomas Carr. It became operational as a Providence in 1902, a purpose-built place of accommodation and respite for unemployed, homeless and vulnerable women.

In 1920, the adjoining two storey residence which is now home to our refreshments area and education rooms was purchased to expand the site. The Albert Street Providence has remained a house of hospitality since Mary MacKillop's time. It has been known as St Joseph's Providence, St Joseph's Hostel, MacKillop House, and finally, the Mary MacKillop Heritage Centre. Renovations to the heritage-listed building were completed in 2007 by Thomson Adsett Architects and RBA Heritage Architects. The Mary MacKillop Museum, housed within the Centre, was completed by Cunningham Martyn Design. Today, the Mary MacKillop Heritage Centre welcomes a diverse audience who participate in our education programs, explore our gallery spaces, or utilise our accommodation and conference facilities.
What's On
Be inspired on a visit to the Mary MacKillop Heritage Centre, where you can learn about Australia's first and only saint!

Explore the Mary MacKillop Museum with one of our knowledgeable guides or independently with our new audio tour. Relax in our contemplation room or visit the chapel where Mary MacKillop prayed. A highlight of your day will be enjoying a cuppa with a Sister of Saint Joseph.
Image: (1) Mary MacKillop Heritage Centre, 2007. Photo: Casamento.
Important Details
Time & Date
Saturday 29 July
Open access 10am-4pm
Museum Tours run 10am, 12pm + 2pm
Running for 30 minutes in groups of 15
Mary's Little Lon Walking Tour runs 11am
Running for 90 minutes in three groups of 12
Bookings encouraged but walk-ins are also welcome.
If you are interested in our self-guided audio tour, don't forget to bring your earphones!
First release tickets: Thursday 6 July, 12pm
Second release tickets: Saturday 8 July, 10am
Meet at the Mary MacKillop Heritage Centre, located directly opposite Fitzroy Gardens, near the corner of Albert and Lansdowne Streets.
Book Now
ACCESSIBILITY
Fully wheelchair accessible, Accessible bathroom, Accessible parking nearby
AGE REQUIREMENTS
All Ages
Location
362 Albert Street, East Melbourne VIC 3002