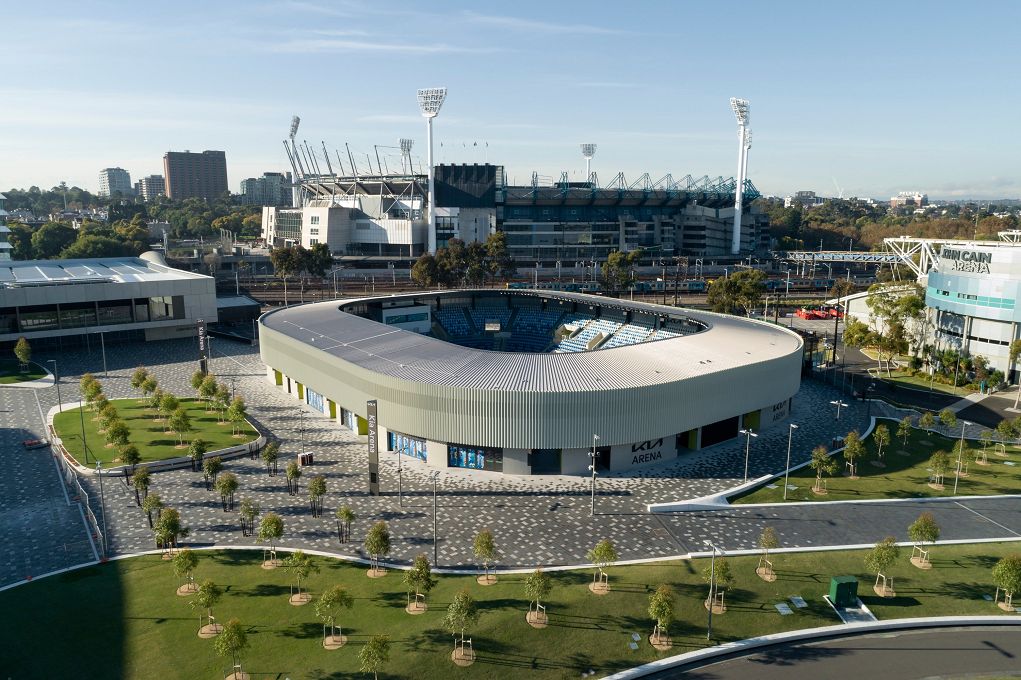 NH Architecture with Snøhetta and ASPECT Studios, 2021
Description
The third and final stage of the 10-year redevelopment of Melbourne Park has seen the full potential of this iconic precinct come to life. The overarching goal for the final stage of works was to secure the future of the Australian Open in Melbourne until at least 2036. To achieve this, the precinct needed to evolve to accommodate growing crowds and improve amenities and the overall experience for visitors. We were also aware of the ambition to create better connections both within the precinct and out to surrounding public transport networks, the river, and the city beyond.

All these ambitions came with significant logistical challenges to meet, requiring innovative design thinking from the project team.
What's On
Take a peek behind the veil of this premier sports and entertainment precinct, home of the Australian Open. Hosted by design leads from NH Architecture and ASPECT Studios, this walking tour will take in the recently completed CENTREPIECE, Kia Arena, basement operations zone, and extensive public realm areas. Visit the places shown to the international audience, and see how things really operate behind the scenes. A must for architecture, sports and entertainment fans.
Images: (1-2) Melbourne Park. Photos: Dianna Snape (3-5) Kia Arena and CENTREPIECE at Melbourne Park during the Australian Open, 2023. Photos: Kristoffer Paulsen.
Important Details
Time & Date
Saturday 29 July
Tours run 10:30am + 1.30pm
Running for 45 minutes in groups of 40
Bookings required
First release tickets: Thursday 6 July, 12pm
Second release tickets: Saturday 8 July, 10am
Meet at the front of CENTREPIECE in Garden Square.
Book Now
ACCESSIBILITY
Fully wheelchair accessible, Accessible bathroom, Accessible parking nearby, Elevator access
AGE REQUIREMENTS
All Ages
Location
Melbourne and Olympic Park, Olympic Boulevard