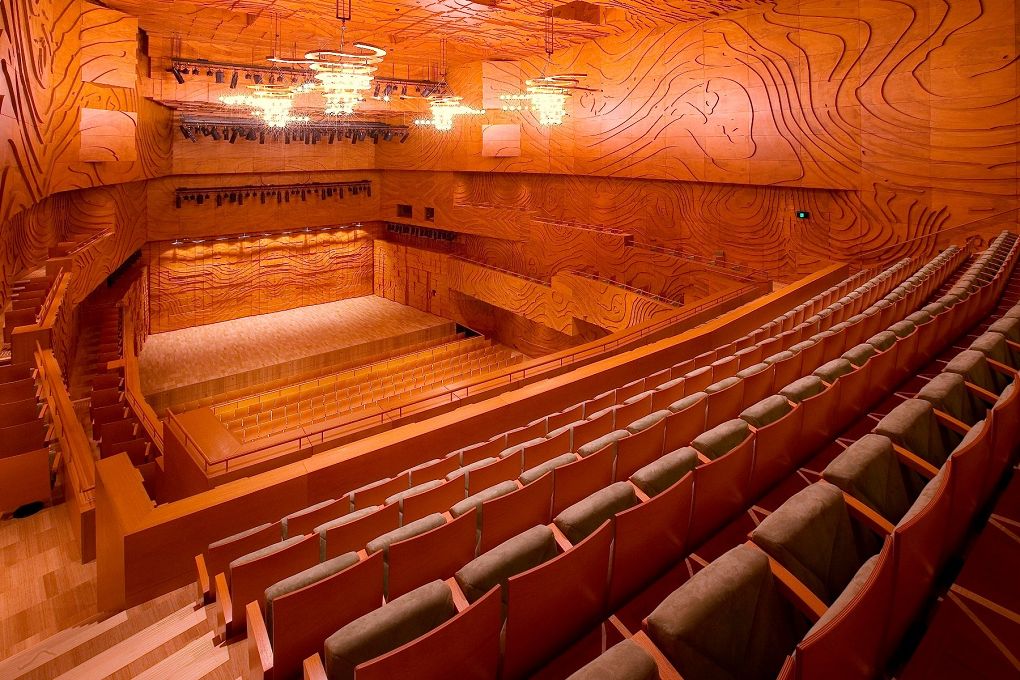 Ashton Raggatt McDougall (ARM Architecture) 2008
Description
Melbourne Recital Centre is an award-winning live music venue where artists and audiences build a lifetime of memorable experiences.  
 
Since opening in 2009, the Centre has been a major contributor to Australia's vibrant musical landscape and is testament to the passion, vision, and generosity of Melbourne's music-loving community. The Centre presents and hosts hundreds of concerts each year, representing the pinnacle of the art form as practiced by local and international performers traversing all genres of music. 
 
The building holds two striking performance spaces, carefully crafted by ARM Architecture to bring musicians and music-lovers closer together. 
 
The Elisabeth Murdoch Hall is lined with exquisite plywood panels of Australian plantation Hoop Pine timber, designed to resemble the back of a beautiful instrument and provide greater acoustic intimacy across the 1000-seat auditorium. The platform acoustics enrich the strength, clarity and blending of instruments as well as the communication between ensemble players on stage. 
 
The organic acoustics of the Hall extend to the Primrose Potter Salon, an intimate 150-seat performance and event space. Melbourne born composer Percy Grainger's 1937 graphic score, Free Music No.2, is inscribed across the surface to inspire players and audiences alike. 
 
Melbourne Recital Centre is ranked amongst the world's greatest halls for its uncompromised acoustic designed by leading global firm ARUP Acoustics.
What's On
Explore Melbourne Recital Centre, Where Live Music Lives.  
For one day only, we throw open our doors with open access to our performance spaces and foyers.  
 
Guided Venue Tours  
Want to discover more about Melbourne Recital Centre? Join us on a free guided tour as part of Open House Melbourne. 
Get up close to the beauty of the timber-lined Elisabeth Murdoch Hall and learn about the design of our world-class performance spaces. Appreciate the extensive artwork collection and marvel at the architecture of this fascinating venue in a one-hour tour. 
 
DUET feat. You & Elisabeth Murdoch Hall 
Take a deep breath and step out onto the stage.  
 
You have five minutes — alone. The stage is yours to do what you wish. 
Musicians have often referenced the acoustics of Elisabeth Murdoch Hall as an invisible ensemble member, or as an instrument in and of itself. Together the Hall and the musicians play alongside one another, in duet. 
This is a rare opportunity to experience this cohesion for yourself, in duet with Elisabeth Murdoch Hall. For five minutes, you are free to explore the acoustics – to sing, play, meditate, recite a poem, or simply stop and sit within the mesmerising beauty that is experiencing Elisabeth Murdoch Hall alone. 

During these sessions, access to Elisabeth Murdoch Hall will be briefly restricted. Tickets are extremely limited, with only 18 tickets available for this unique experience throughout the day.

ARM Architecture and Arup in Conversation 
Join Ian McDougall - Co-Founder of ARM Architecture and Sylvia Jones - Associate Acoustics, AV and Theatre Consulting at Arup in a conversation about the design of the Centre. 
1.30pm - 2pm and 2.30pm - 3pm 
Primrose Potter Salon 
Images: (1) Elisabeth Murdoch Hall. Photo: Peter Glenane. (2) Melbourne Recital Centre. Photo: Peter Glenane. (3) Elisabeth Murdoch Hall. Photo: Pia Johnson. (4) Elisabeth Murdoch Hall. Photo: John Gollings. (5) Primrose Potter Salon. Photo: Peter Glenane.
Important Details
Time & Date
Sunday 30 July
Open Access
10am-4.30pm
No bookings required

Guided Venue Tours
Tours run 10.30am, 12pm, 1.30pm + 3pm
Guided tours running for 60 minutes in groups of 15 people
Bookings required

DUET feat. You & Elisabeth Murdoch Hall. 
Duration: 5 minutes 
Tickets are extremely limited, with only 18 tickets available for this unique experience throughout the day 
Free, bookings required.
First release tickets: Friday 14 July, 11am

ARM Architecture and Arup in Conversation 
1.30pm + 2.30pm
Running for 30 minutes in the Primrose Potter Salon
No bookings required
All ages are welcome.  
Children under the age of 15 must be under the supervision of a responsible adult at all times when visiting the Centre.
Click here to view detailed information on access at Melbourne Recital Centre. 
Book Now
ACCESSIBILITY
Fully wheelchair accessible, Accessible bathroom, Accessible parking nearby, Sensory friendly, Elevator access
Location
31 Sturt Street, Southbank VIC 3006