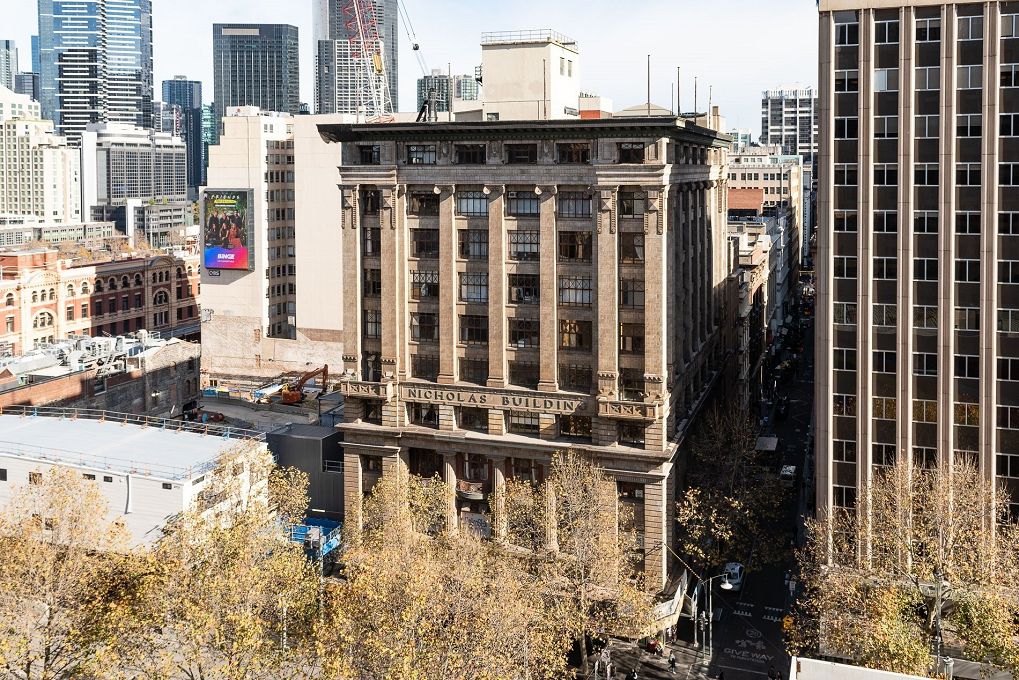 Nicholas Building Association, Partridge, Urban Creative, Victorian Greens
Description
The Nicholas Building is one of Melbourne's most valuable creative treasures. This heritage-listed building was designed by Harry Norris with construction completed in 1926. It is a grand example of Chicago School- or "Commercial Palazzo"-style architecture.

Home to over 200 artists, creatives and other enterprises, the Nicholas Building's future is currently in a state of uncertainty, with an attempt to save the creative precinct underway using a blend of private, government and philanthropic investment.

The cause is championed by the Nicholas Building Association, a tenant-led collective working on new models of sustainable governance and bringing creative community partnerships to the Flinders precinct through festivals, programming and other collaborative projects.
What's On
A public tour and panel exploring the Nicholas Building, the fight to save its culture, and the upcoming KIN festival which will span the iconic building and descend into Flinders Lane and satellite venues. The panel will survey sustainable creative collectives as a method of re-imagining the relationship between buildings, communities and economies.
Images: (1-2) Nicholas Building. Photos: Gorman Allard Shelton. (3-5) Nicholas Building interior. Photos: Tom Ross
Important Details
Time & Date
Saturday 29 July
Tour + panel conversation runs 1pm
Running for 120 minutes in a group of 50
Bookings required
First release tickets: Thursday 6 July, 12pm
Second release tickets: Saturday 8 July, 10am
Meet at Cathedral Arcade.
Book Now
AGE REQUIREMENTS
12 years and above
Location
Nicholas Building, 37 Swanston Street, Melbourne VIC 3000