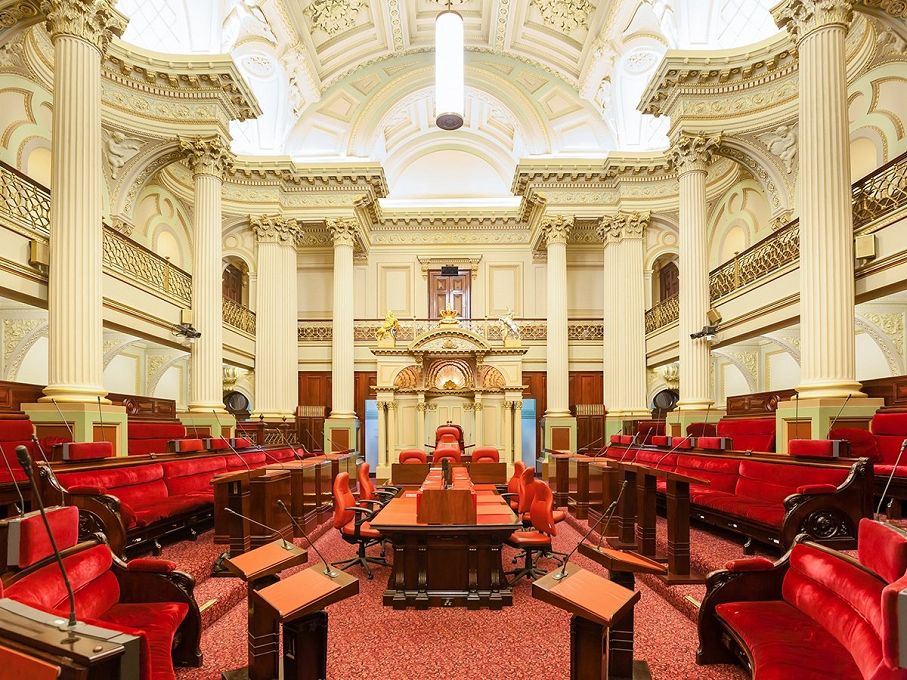 John George Knight, Peter Kerr 1855
Description
Plans for Parliament House were drawn in 1855, with construction of the Legislative Assembly and Legislative Council Chambers completed in 1856. The Library was completed in 1861 and the Vestibule and Queen's Hall in 1879. Ongoing works and maintenance supports its significance as the location of the State Parliament of Victoria and one of Melbourne's most iconic buildings.
What's On
Guided tours will allow visitors to learn about the historic Parliament House building and the role of Parliament in debating issues and passing laws. Visitors will move through the Legislative Chambers to learn about the Westminster style of government, explore the grand Queen's Hall, and discover the Parliamentary Library.
Images: (1) Legislative Council. (2) Legislative Assembly. (3) Vestibule. (4) Queen's Hall. (5) Parliamentary library. All photos: courtesy of Parliament of Victoria.
Important Details
Time & Date
Saturday 29 + Sunday 30 July
Tours running every half hour starting at 10am. Last tour departs at 3.30pm
Running for 30 minutes in groups of 30
Bookings required
First release tickets: Thursday 6 July, 12pm
Second release tickets: Saturday 8 July, 10am
Meet at the front entrance to Parliament House via the steps on Spring Street. Participants with a mobility or physical disability can access Parliament House through the side entrance on Spring Street to the right of the main building, directly opposite the Windsor Hotel.
All visitors will be required to pass through a security checkpoint (walk-through scanner and bag screening) before entering the building. Visitors with pacemakers should ask to be scanned using handheld scanners.
All visitors will need to present one of the following forms of identification:
driver's licence, learner's permit, proof of age card, passport, Australian birth certificate or Australian citizenship certificate.
Book Now
ACCESSIBILITY
Accessible bathroom, Accessible parking nearby, Elevator access, Fully wheelchair accessible
AGE REQUIREMENTS
All Ages
Location
Spring Street, East Melbourne VIC 3002