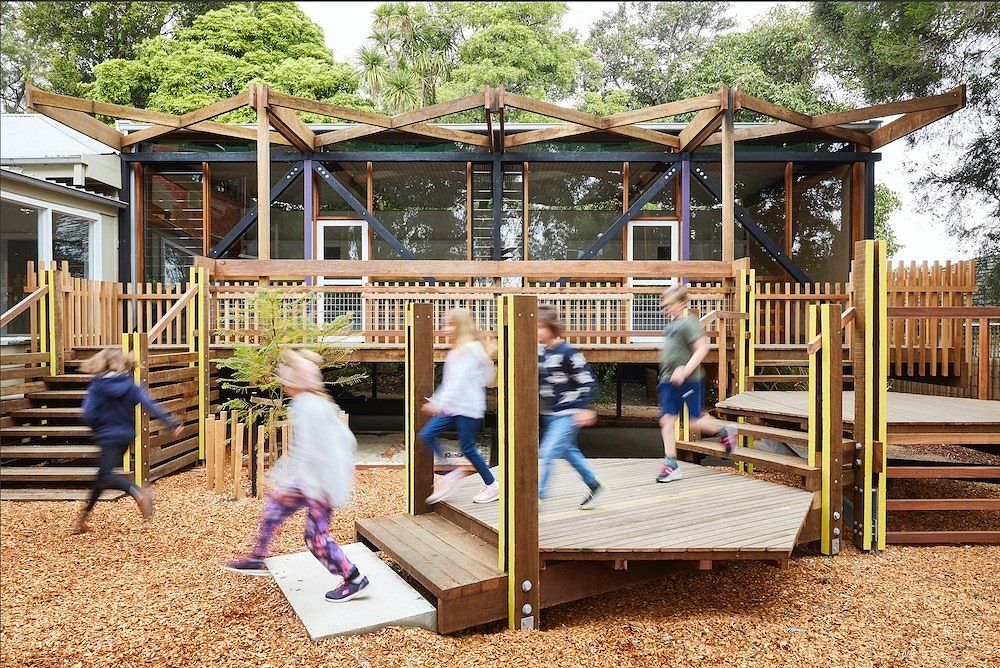 Kevin Borland with Peter McIntre and Bill Irwin Engineer. Grounds initially designed with Ellis Stones.
Description
Preshil's Arlington campus showcases modernist classrooms and grounds, designed in conjunction with the children. The interplay between internal and external spaces was unique for the time in which they were built (from the late 1930s through to the early 1970s), and the emphasis was on playful, beautiful spaces which were engaging for children, and which reflected the progressive pedagogy which underpins Preshil's approach to this day.
The playgrounds and gardens include dense shrubbery for exploring, spaces for cubby building, and trees in which to climb and sit. The grounds reflect the view that children are capable, and will explore new adventures when they are ready. The grounds also demonstrate the view that imaginative play is pivotal to the childhood experience, and contributes to a rich, and balanced, school life.
What's On
Visitors will be invited to view the modernist classroom buildings designed by Kevin Borland and Associates, in consultation with the primary school-aged children of Arlington. One building of particular interest, the 5s classroom, was awarded an Honourable Mention by UNESCO for Cultural Heritage Conservation in 2019. The playgrounds will also be open to explore.
Children's Activities
We will not run activities for children, but our kindergarten and primary school playgrounds will be open for all visitors.
Images: (2) The Fives Classroom. (2) The Treehouse Art Roo. (3) Peppercorns Classroom Interior. (4) Kevin Borland Hall. All photos: courtesy Preshil.
Important Details
Time & Date
Sunday 30 July
Open access 10am-2pm
Visitors can use the carpark off Barkers Road and enter through the gates there. We will also have the Mount Street gates open.
ACCESSIBILITY
Accessible parking nearby, Sensory friendly, Partially wheelchair accessible
AGE REQUIREMENTS
All Ages
Location
395 Barkers Road, Kew VIC 3101