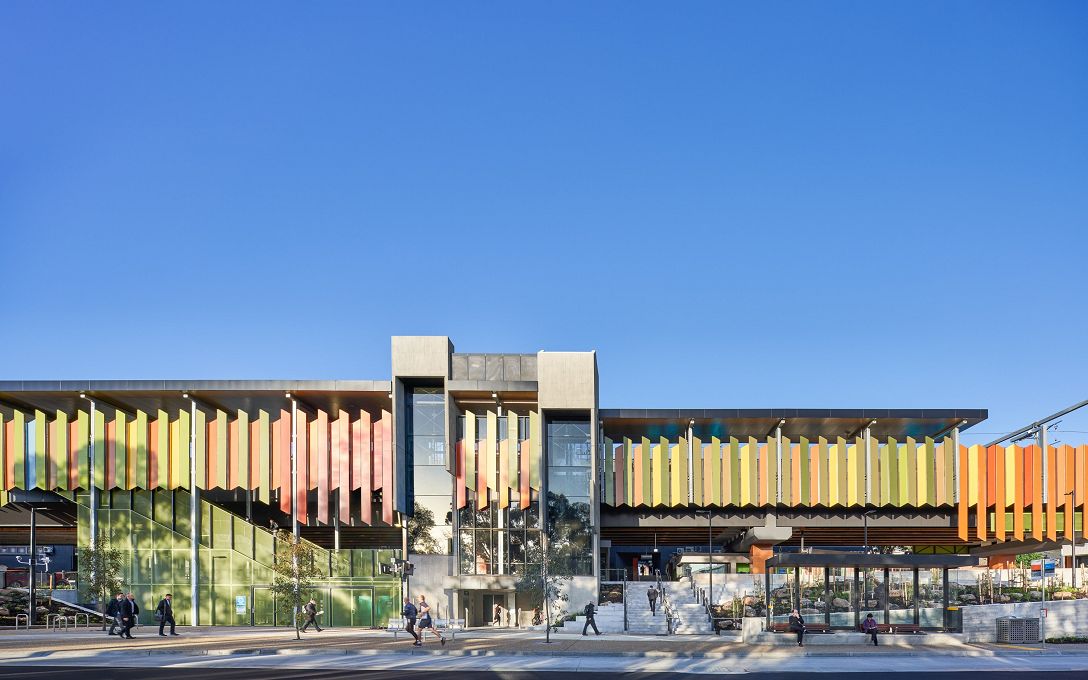 MGS Architects, Jacobs 2018
Description
In collaboration, MGS Architects and Jacobs created this new station and urban precinct at the heart of Rosanna as part of the Victorian Government's Level Crossing Removal Project.

The project incorporated local inputs into the design process, facilitated through a consultative process with the local community. This engagement process culminated in a design outcome that positively embodies an expression of place through application of naturalistic materials and bold applications of colour, reinforcing a sense of identity for Rosanna.

The design of the wider station precinct considered how new connections could work with existing uses to enhance movement patterns within the activity centre while supporting opportunities for growth and further change into the future.


The design partnership between Jacobs and MGS, bringing together technical urban design and architectural expertise, along with a deeply consultative process that spanned across key government and transport stakeholders, local Council and the wider community, combined to create a unique outcome for the Rosanna Station precinct.
What's On
Join architects from MGS and Jacobs, including practice director Cameron Lacy for a guided tour of Rosanna Station. Cameron will provide context and insights into the development of a unique station precinct that was envisaged with its context and the community at its heart.

This tour showcases one of the projects featured in an exhibition of MGS Architects' work, 'Thinking of you', which is open from July 18 at the Melbourne School of Design's Dulux Gallery.
Image: (1) Rosanna Station. Photo: Andrew Latreille.
Important Details
Time & Date
Sunday 30 July
Tours run 10am + 11.30am
Running for 60 minutes in groups of 20
Bookings required
First release tickets: Thursday 6 July, 12pm
Second release tickets: Saturday 8 July, 10am
Rosanna Station - meet next to the station office window.
Book Now
ACCESSIBILITY
Fully wheelchair accessible, Elevator access, Accessible parking nearby