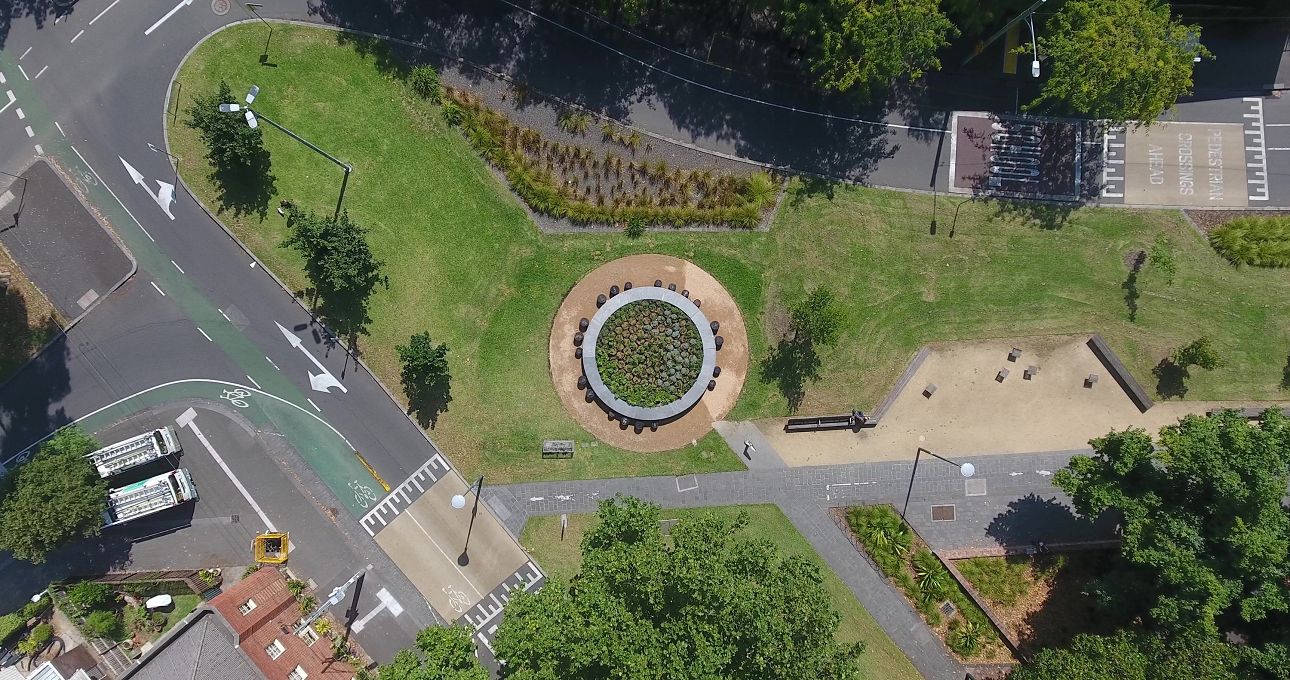 Enlocus (Landscape Architects) and Common (Architects)
Description
The Roundtable is an NGV Architectural Commission-shortlisted project temporarily installed at Errol Street Reserve, North Melbourne. It comprises a seven-metre diameter table surrounding a circular garden of edible plants. The project's designers, landscape architects Enlocus and architects Common, describe the project as a response to COVID and a longing for social interactions during times of lockdown and social distancing.

"A table is the original common space, it is an object that celebrates coming together, seeing each other, and sharing food."

For six years, Cultivate has hosted multidisciplinary design discussions over thematically responsive meals at a shared table. In collaboration with Enlocus and Common, Cultivate will open a discussion around the themes and topics the Roundtable raises, such as repurpose, reinvention, and the ability of small, adaptive projects to act as catalytic armatures and form connections between communities and public space.

The event will be hosted around a shared meal at the Enlocus studio, featuring an exhibition of the project and a discussion with invited guests including the project designers, local community members and specialists from across disciplines. The menu will be project-responsive, drawing from the edible plants featured in the project.
What's On
The event will feature an exhibition, interdisciplinary discussion and shared meal at the Fitzroy North studio of Enlocus, the project's landscape architect. The exhibition will translate the Roundtable into the studio space, and the dinner discussion will be an opportunity to hear a range of perspectives around the project and the themes that it raises. Presenters will include the project designers, community members, and experts from other disciplines who will be able to weave a picture around the project and open a broader discussion.
Images: (1-4) The Roundtable. All photos: Courtesy of Common.
Important Details
Time & Date
Saturday 29 July
Event runs from 5pm
Running for three hours in a group of 35
Bookings required
The event will take place at the Enlocus studio in Fitzroy North, and the Roundtable may be visited separately at Errol Street Reserve in North Melbourne.
Sorry, this event is booked out.
ACCESSIBILITY
Fully wheelchair accessible
Location
Ground Floor, 151 St Georges Road, Fitzroy North VIC 3068