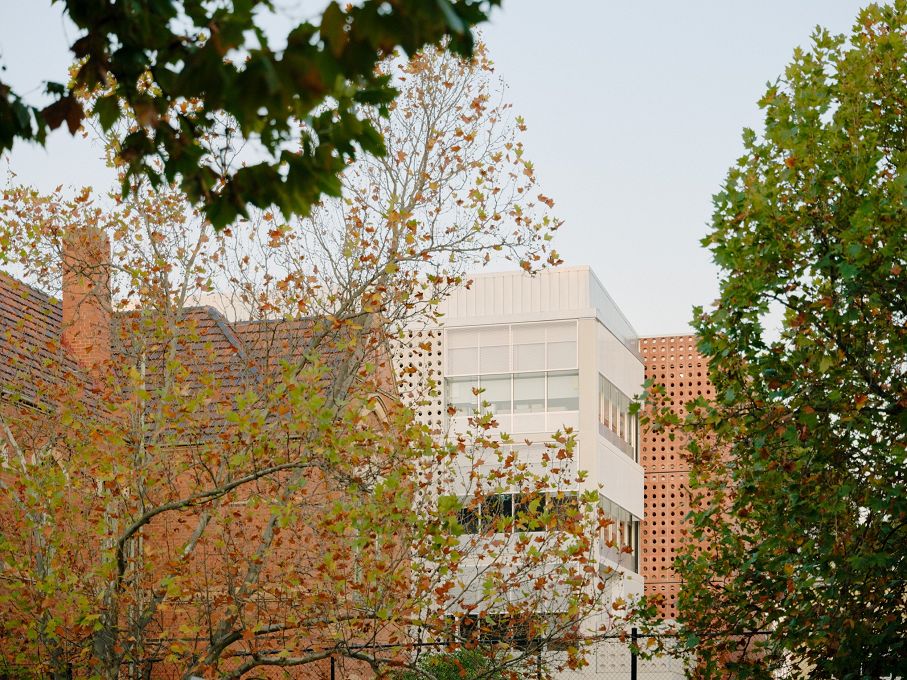 Six Degrees Architects 2023
Description
Carlton Gardens Primary School is a substantial expansion of the existing heritage school in Carlton. Only just completed, the doors will be open to the public for an opportunity to learn more about the design approach and heritage connection.

The four-storey, 23-classroom design is informed by school consultation with the prep classes who requested the building be made of pink Lego, have a garden on the roof and an aquarium with fish.

The design maximises usable teaching spaces on a small development plan while carefully integrating the heritage building into the overall layout. Bridges connect all buildings and enable disabled access to the whole school. Environmentally sustainable design (ESD) principles were applied extensively, featuring mechanically heated and cooled classrooms with openable windows, ceiling fans, excellent acoustics and insulation. Concrete breezeblock elements permit fully openable sliding windows to maximise cross ventilation and fresh air rates for a healthier indoor environment and better learning outcomes. A study of durable, small footprint design that meets the demands of a high-use space.

Design Innovation was created with Wurundjeri consultation and includes a stainless-steel slide from first level to ground, open plan teaching for upper grades and covered nature play spaces for hot and wet weather use.
What's On
Six Degrees' recently completed Carlton Gardens Primary School project will be open to the public for one day. Join us on Sunday for architect-led tours to learn about the building's significant heritage context and the approach behind the scenes. Hear about how consultation with children, the school and an Indigenous landscape strategy informed the design and how ESD principles and innovative thinking created playful, healthy environments that result in better learning outcomes.
Children's Activities
Children are encouraged to come along, ask questions and share their views. This building is for them!
Images: (1-5) Carlton Gardens Primary School. All photos: Tom Ross.
Important Details
Time & Date
Sunday 30 July
Tours run 10.30am, 11.45am + 1pm
Running for 45 minutes in groups of 40
No bookings required
Enter via the main entrance at 215 Rathdowne St, Carlton.
ACCESSIBILITY
Fully wheelchair accessible, Accessible bathroom, Accessible parking nearby, Elevator access
AGE REQUIREMENTS
All Ages
Location
215 Rathdowne St, Carlton VIC 3053