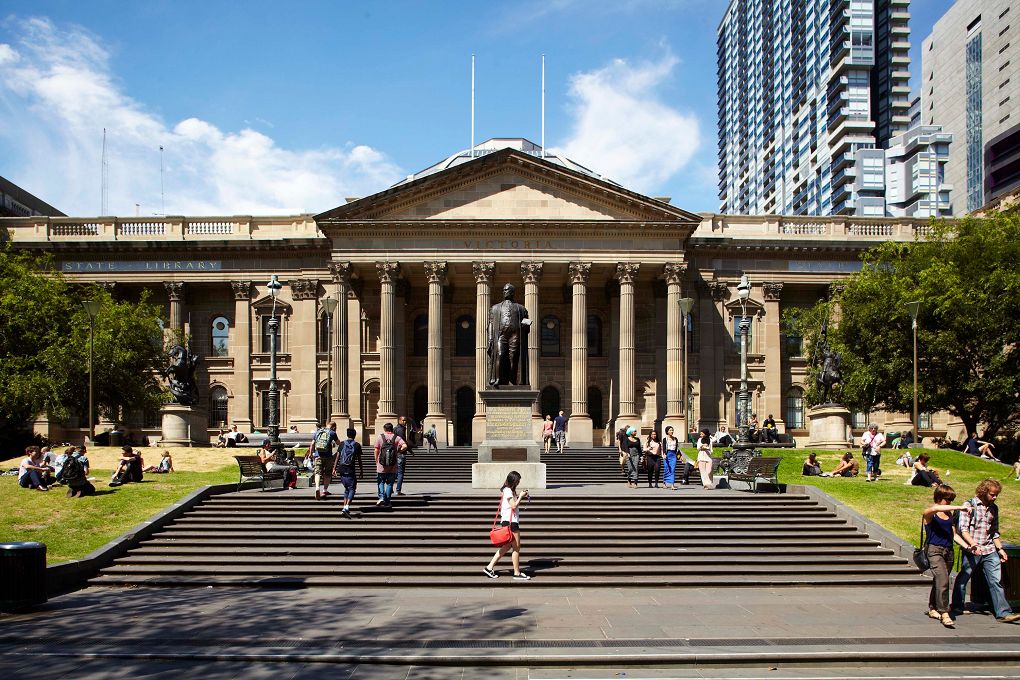 Joseph Reed 1856, Architectus, Schmidt Hammer Lassen  2020
Description
Established in 1854 and spanning an entire city block, State Library Victoria is Australia's oldest public library and one of the first free public libraries in the world. Housing a combination of contemporary and historic spaces, the Library is brought together by 23 architecturally-designed buildings.

The Library is known for its collection items, which began at 3,846 volumes and, over the past 169 years, has amounted to more than five million items, including books, manuscripts, serials, photographs, artworks, maps, ephemera, and more.

The Library is constantly evolving, with an ambitious digitisation program showcasing the vastly growing collection, as well as events and exhibitions that reach new audiences every day.
What's On
Discover the architectural evolution of Australia's oldest public library with a captivating, behind-the-scenes tour. Journey through scenes from the modern Vision 2020 redevelopment to the depths of the catacombs. Highlights include library gems like the Elephant Lift, Pendulum Staircase and the Card Catalogue room.
Images: (1) State Library Victoria from Swanston street. (2) The old wooden card catalogue cabinets found at the Library. (3) State Library Victoria's Russell Street entry. All photos: courtesy State Library Victoria.
Important Details
Time & Date
Saturday 29 + Sunday 30 July
Tours run 10.30am, 11am, 12pm, 12.30pm, 2pm + 2.30pm
Running for 45 minutes in groups of 12
Bookings required
Meet in Hansen Hall, near the main entrance to the Library.
Sorry, this event is booked out.
ACCESSIBILITY
Elevator access, Accessible bathroom, Accessible parking nearby, Fully wheelchair accessible
AGE REQUIREMENTS
All Ages
Location
328 Swanston St, Melbourne VIC 3000