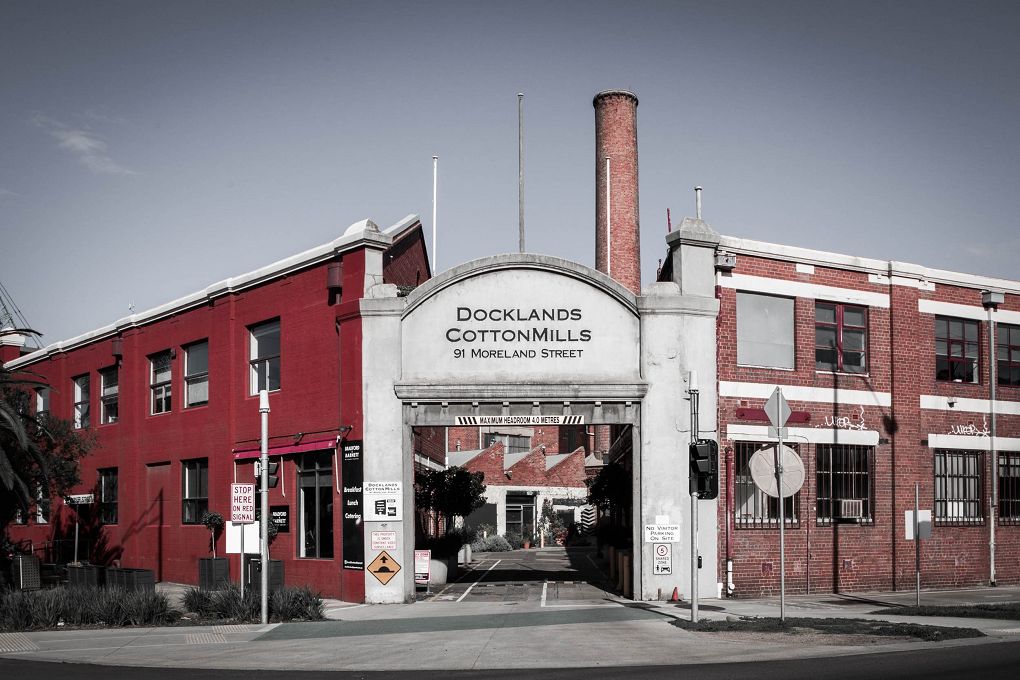 Joseph Plottel 1926
Description
The Cotton Mills buildings date back to 1926 when the site was built as an expansion of the Barnet Glass Rubber Company, designed by the same architect as the former Footscray Town Hall.

Barnett started at this site in 1906 by purchasing a building closer to the river that was initially a jute factory built in 1875 by Thomas McPherson. The building now occupying that site was once the world headquarters of Lonely Planet guidebooks. The Barnet company claimed to have made the colony's first rubberised clothing and in the 1920s, also manufactured garden hoses, among other rubber products. In 1939 the factory was purchased by Bradford Cotton Mills from NSW to be used for spinning, weaving, dying and waterproofing and by 1959, it was considered one of Australia's largest companies.

With its dramatic brick chimney and densely-built red brick processing buildings, the buildings are architecturally notable for their unified design on a massive scale representing the heights of early 20th-century industrial developments. As such, the factory is possibly the best example of the multi-storey mill design perfected in Britain in the late 19th century to make the best use of congested urban sites, but only rarely transferred to Australia. The site, therefore, demonstrates the diversity of industrial forms which make up the history of manufacturing in Australia.
What's On
Pre-booked groups of 15 people will be escorted around the perimeter of The Cotton Mills to learn about the precinct's history and redevelopment into a business precinct. This tour will not enter The Cotton Mills but attendees are welcome to visit the precinct on their own, unguided, after the tour commences. 
Images: (1-5) The Cotton Mills. Photos: Peter Casamento Photography. (6) Barnett Glass Rubber Company. Photo: courtesy of the Footscray Historical Society.
Important Details
Time & Date
Saturday 29 + Sunday 30 July
Open access 8.30am-4.30pm
Tours run 9am, 11am, 1pm + 3pm
Running for 60 minutes in groups of 15
Bookings required
Meet at the front gates on 91 Moreland St, corner Parker St, Footscray.
Footscray station is a 15-minute walk, or bus route 220 stops 400 metres away from the site at Whitehall/Napier on either side of Napier St/Docklands Highway.
The main bicycle route into the city that runs along Footscray Rd, or follows the Maribyrnong River downstream towards Williamstown, passes our main gate.
There is no on-site parking and it is a tow-away zone. If arriving by car, set your GPS to 7 Parker Street, Footscray and park near that location. You can also try across Moreland St to the west of the intersection towards Whitehall St, or, if construction allows, to the east down Parker St towards and along Maribyrnong St.
The What3Words location is what3words.com/thinks.cotton.dangerously.
Book Now
ACCESSIBILITY
Partially wheelchair accessible, Accessible parking nearby
AGE REQUIREMENTS
All Ages
Location
Corner of Parker St + Maribyrnong St, Footscray VIC 3011