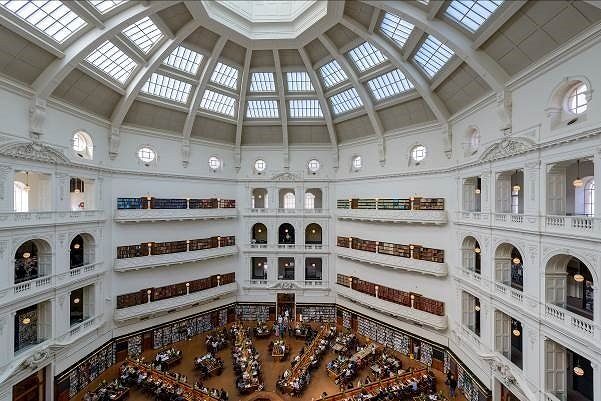 State Library Victoria Panel Discussion: The Future of Libraries
Add to Itinerary
Joseph Reed 1856, Architectus, Schmidt Hammer Lassen  2020
Description
Established in 1854 and spanning an entire city block, State Library Victoria is Australia's oldest public library and one of the first free public libraries in the world. Housing a combination of contemporary and historic spaces, the Library is brought together by 23 architecturally-designed buildings.

The Library is known for its collection items, which began at 3,846 volumes and, over the past 169 years, has amounted to more than five million items, including books, manuscripts, serials, photographs, artworks, maps, ephemera, and more.

The Library is constantly evolving, with an ambitious digitisation program showcasing the vastly growing collection, as well as events and exhibitions that reach new audiences every day.
What's On
Current projections tell us that our lives and communities in 2050 will be vastly different to today, with eight million people calling Melbourne home. Considering the future, we need to look to how we can create radically welcoming spaces by fostering community, belonging and access for everyone.

So where do libraries fit into all of this? And how will they need to adapt to service a society that hasn't arrived yet?

In this Open House Melbourne talk, our panel will explore how libraries will need to evolve to remain relevant in 2050, with equity, inclusion and accessibility front of mind.

Speakers include:
- Toni Burton, State Library Victoria's Collection Curation and Engagement Manager, who will explore State Library Victoria's collections strategy and how libraries need to change its processes and protocols to better serve a future society.
- Glennys Briggs, a visual artist and curator at Burraja Gallery in Albury, knowledgeable in community access and how cultural ownership of collections can work.
- Dr Mary Carroll, an Associate Professor in the School of Information and Communication Studies at Charles Sturt University, who will touch on the use of public spaces; and
- Ana Tiquia, a futurist and founder of cultural and strategic consultancy All Tomorrow's Futures, will moderate the conversation and explore how it ties into implications of the future.
(1) La Trobe Reading Room (The Dome). (2) State Library Victoria. (3) Card catalogue drawers. (4) Russell St entrance to State Library Victoria. Photos: courtesy State Library Victoria.
Important Details
Time & Date
Saturday 29 July
Panel starts 2pm
Running for 60 minutes
Bookings required
First release tickets: Thursday 6 July, 12pm
Second release tickets: Saturday 8 July, 10am
Enter via Main Entry Door 1. Panel discussion will take place in the Conversation Quarter.
Book Now
ACCESSIBILITY
Elevator access, Accessible bathroom, Accessible parking nearby, Auslan interpreted, Fully wheelchair accessible
AGE REQUIREMENTS
All Ages
Location
State Library Victoria, 328 Swanston St, Melbourne VIC 3000