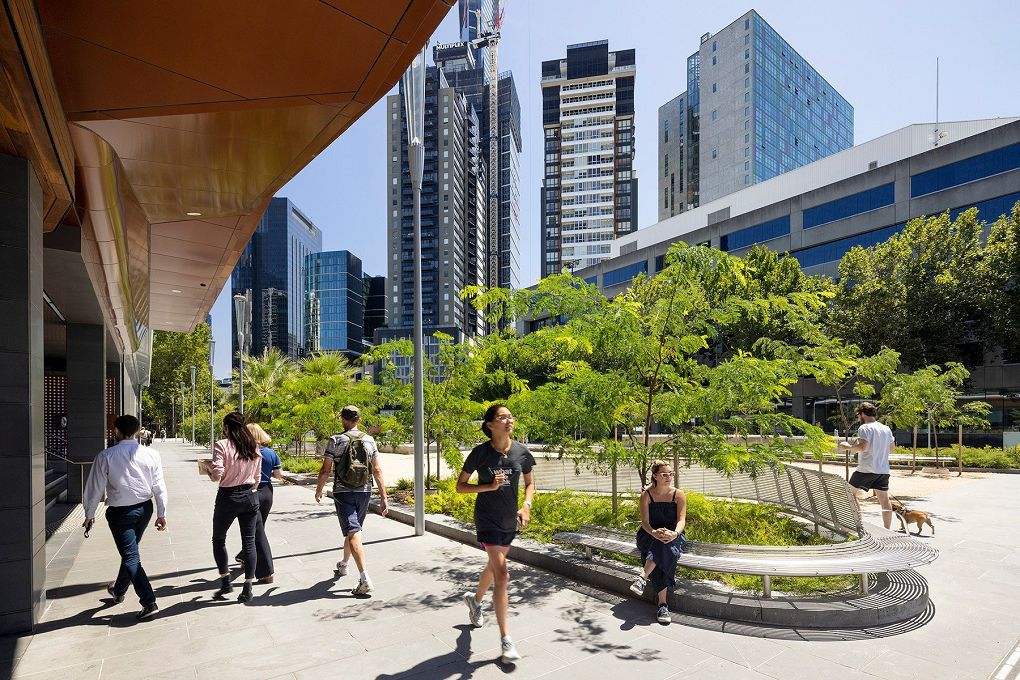 City of Melbourne, TCL and Mike Hewson 2022
Description
Southbank Boulevard is an ecologically connected, pedestrian-orientated urban landscape. The project has transformed part of an arterial road into five new civic spaces, reallocating more than 22,000 square metres to pedestrians, cyclists and children of all abilities, genders and ages.

Located in the heart of one of Melbourne's most densely populated suburbs, the new public space comprises an Arts Gateway, two neighbourhood parks, a community space and a play space.

The project showcases pre-colonial ecologies and increases biodiversity and canopy cover with the delivery of more than 400 new trees.

City of Melbourne collaborated with TCL on the Arts Gateway, neighbourhood parks and community space in the first stage of the project. The Gateway creates generous forecourts to cultural institutions such as the Melbourne Recital Centre and outdoor dining opportunities.

City of Melbourne collaborated with artist Mike Hewson to create the iconic Southbank Boulevard Play Space. Centered on the concept of 'risk play', the artwork titled 'Rocks on Wheels' is integrated into the streetscape and has generated national discourse about what play can look like within a civic landscape.
What's On
The tour will be hosted by the City of Melbourne and TCL. Attendees will gain insight into the strategic thinking behind the design, the complexities of working in a dense urban site and hear more design details that may otherwise remain hidden. The hosts invite interactive discussion about broad and detailed topics.
Images: (1-7) Southbank Boulevard. All photos: Dianna Snape.
Important Details
Time & Date
Saturday 29 + Sunday 30 July
Open access 10am-4pm

Saturday 29 July
Tour runs 10.30am
Running for 60 minutes in a group of 20
Bookings required
First release tickets: Thursday 6 July, 12pm
Second release tickets: Saturday 8 July, 10am
Meet corner of Southbank Boulevard and Dodds Street (outside Southbank Theatre). 140 Southbank Blvd, Southbank VIC 3006.
Book Now
ACCESSIBILITY
Fully wheelchair accessible
AGE REQUIREMENTS
All Ages
Location
140 Southbank Blvd, Southbank VIC 3006