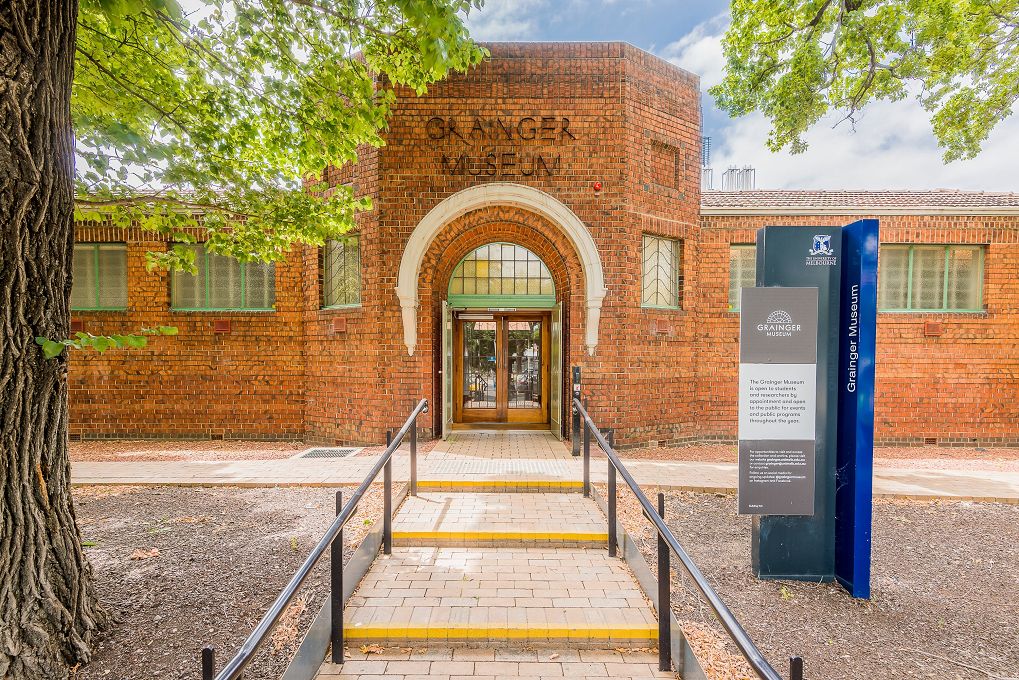 University of Melbourne, Parkville Campus: Grainger Museum - Reimagining Landscapes & Grainger Amplified
Add to Itinerary
John Gawler 1938
Description
The Grainger Museum at the University of Melbourne is the only purpose-built autobiographical museum in Australia. Created by Australian composer and pianist, Percy Aldridge Grainger (1882-1961), it is home to a diverse collection of art, photographs, costumes, musical scores and instruments.

The modernist building was designed by the university's architect John Gawler of the firm Gawler & Drummond, with input from Grainger. The building officially opened in December 1938, providing limited access to researchers and musicians. It was another two decades before the public had regular opportunity to view displays and selected collections.

The museum has enjoyed a long association with the Melbourne Conservatorium of Music, including housing the Conservatorium's electronic music experimentation studio from the late 1960s, and managing a culturally significant and growing archive of scores by Australian composers in addition to Percy Grainger's own oeuvre.

Significant conservation works were undertaken 2003-2010 by heritage architects Lovell Chen. Museum archives and the majority of the collection are now stored off-site locally, and are available to researchers via booked visits and digital access. The Grainger Museum also offers a regular program of performances, residencies and temporary exhibitions from the collection.
What's On
The Grainger Museum will host a performance by Amos Roach, award winning musician, dancer, director and proud Djab Wurrung/Gunditj Mara and Ngarrindjeri man.

Audiences will also experience sonic installations and performances by students from the University of Melbourne's Faculty of Fine Arts and Music, and composers from the Melbourne Composers' League in collaboration with musicologist, composer and flautist Johanna Selleck.

Ongoing exhibition Grainger Amplified, which immerses the visitor in the world of Percy Grainger's original museum of the 1930s, will also be open to visitors.
Images: (1) Grainger Museum. Photo: Stewie Donn. (2) Grainger Amplified exhibition. Photo: Stewie Donn. (3) Grainger Amplified exhibition. Photo courtesy of Grainger Museum.
Important Details
Time & Date
Sunday 30 July
Open 12pm-4pm
Smoking Ceremony: 1pm
Performance: 1.30pm-2.30pm

No bookings required
Capacity is limited to 50, entry operates on a first come, first in basis.
ACCESSIBILITY
Fully wheelchair accessible, Accessible bathroom
AGE REQUIREMENTS
All Ages
Location
University of Melbourne, 13 Royal Parade, Parkville VIC 3052