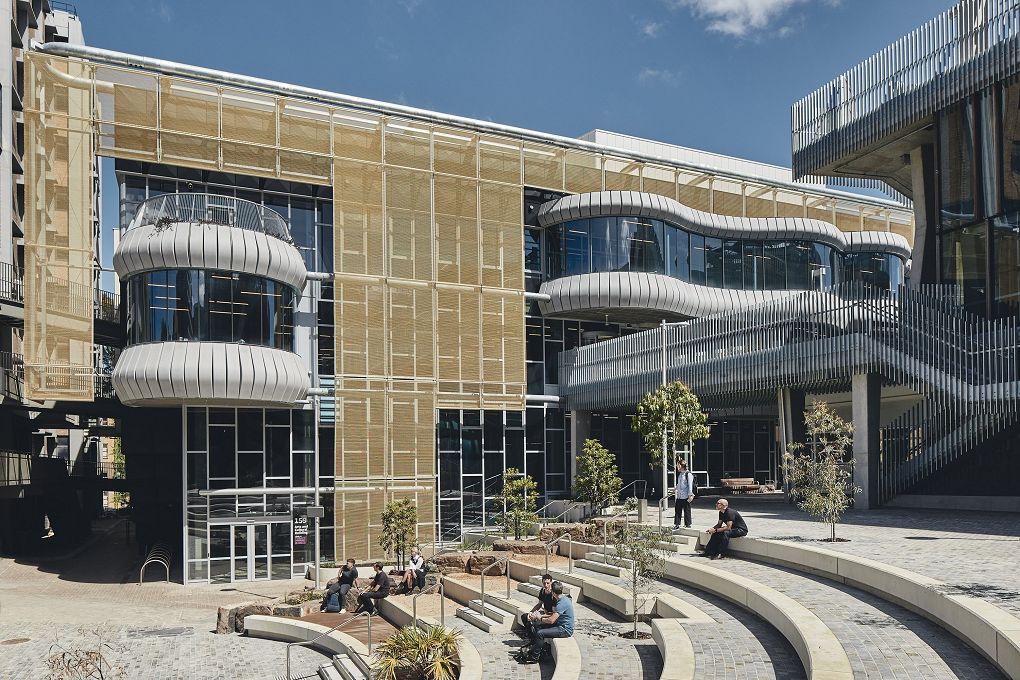 University of Melbourne, Parkville Campus: Student Precinct Project
Add to Itinerary
Lyons in collaboration with Koning Eizenberg, Aspect Studios, NMBW Architecture, Greenaway Architects, ArchitectsEAT, Breathe Architecture and Glas Urban, 2022
Description
The University of Melbourne's Student Precinct aims to enhance student experience through reconciliation, diversity and connection, with scalability of activity from festival mode to everyday social modes throughout 24,000m2 of new and refurbished buildings and 12,000m2 of new landscape. The first precinct-wide development at the Parkville campus, the project embeds greater recognition of First Nations cultures whilst ensuring that captured student perspectives are infused into its design.

By lowering the original raised plaza back to a new 'ground' condition, the landscape-led pedestrian terrain is transformative, creating an inclusive and porous experience that embeds cultural connection at the heart of student experience. Two new 6-star designed buildings dedicated to Arts and Culture and a Student 'Pavilion' reside alongside four refurbished heritage assets; sustainably regenerated through new program and careful restoration, embedded in rich landscape linked to indigenous stories, flora and fauna.
What's On
Guided tours take participants through the precinct led by University Project Lead, and Lead Architect.
 
The panel discussion will explore the need for change in the space and the site's history, the subsequent design response, and the impact on the student and campus experience.
Important Details
Time & Date
Saturday 29 July

Open access 9:30am-4pm
Guided tours 10am + 1pm
Running for 60 minutes in groups of 25
Bookings for 10am
Bookings for 1pm

Panel discussion starting 11.30am at Building 189 (former Frank Tate), Ground Level/Market Hall
Running for 60 minutes in a group of 50
Bookings required

First release tickets: Thursday 6 July, 12pm
Second release tickets: Saturday 8 July, 10am
Book Now
ACCESSIBILITY
Fully wheelchair accessible, Accessible bathroom, Sensory friendly, Elevator access
AGE REQUIREMENTS
All Ages
Location
University of Melbourne, Corner of Grattan and Swanston Streets, Parkville, Melbourne