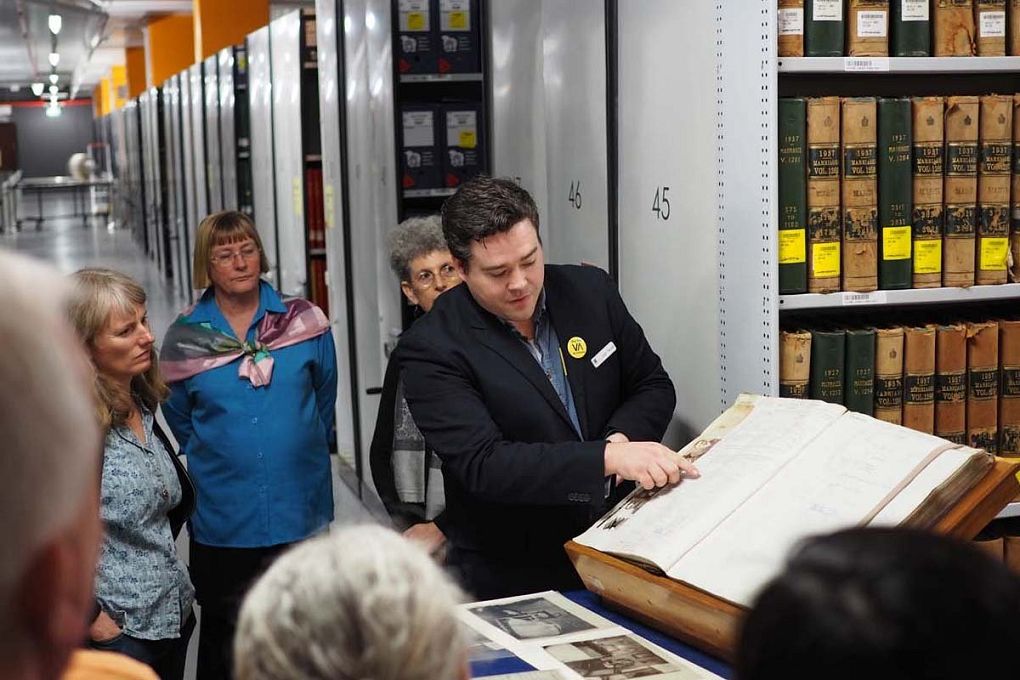 Bates Smart 2000
Description
The Victorian Archives Centre holds Colonial, State and Commonwealth Government records in the collections of Public Record Office Victoria (PROV) and the Victorian office of National Archives of Australia (NAA).

For Open House Melbourne 2023, the knowledgeable staff at PROV and NAA will take you behind the scenes, and into the heart of the Victorian Archives Centre: the archival repository. Beyond the airlocked doors, in a carefully maintained dust-free and climate-controlled environment, there are over 100 kilometres of significant records dating back to 1836. Here you'll learn how records are selected and preserved.

With this year's theme of 'Collective City' we'll be displaying original records from our collections that highlight both the connections and the inequalities experienced throughout Melbourne's history. From the ways in which non-conformity was criminalised in the 19th century, through to how Melbourne came together in the 2006 Commonwealth Games opening ceremony, we'll show you the stories behind our state's maps, photographs, letters, drawings and documents.

We're also launching a new photographic exhibition in our gallery in response to 'Collective City.' It will feature historic images of Melbourne from our state and federal government archives, alongside images representing Victoria today, curated from submissions by contemporary street photographers.
What's On
Take a guided tour of the Victorian Archives Centre and see first-hand how we preserve Victoria's important maps, plans, photographs and documents. On display will be original records from our state collections as well as an exhibition of archival and contemporary street photography on the theme of 'Collective City'.
Images: (1-3) Victorian Archives Centre. Photos: Courtesy of Public Record Office Victoria.
Important Details
Time & Date
Saturday 29 July
Tours running every half hour from 10am. Last tour departs at 3.30pm
Running for 45 minutes in groups of 20
Bookings required
First release tickets: Thursday 6 July, 12pm
Second release tickets: Saturday 8 July, 10am
Meet at the reception desk inside the front entrance at 99 Shiel Street. We also have free all-day parking via Macaulay Road. If parking in the carpark, take the elevator or stairs up to level 3.
Sorry, this event is booked out.
ACCESSIBILITY
Fully wheelchair accessible, Accessible bathroom, Accessible parking nearby, Elevator access
AGE REQUIREMENTS
8 years and above
Location
99 Shiel Street, North Melbourne 3051