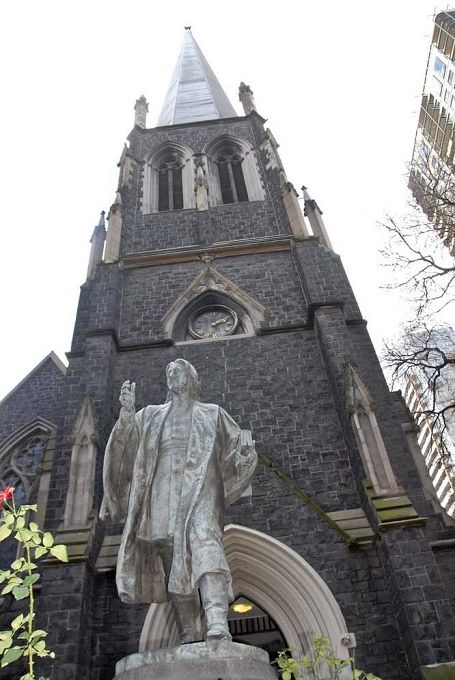 Joseph Reed
Description
A neo-Gothic bluestone church built in 1858 which underwent major restoration works in 2018-19. Significant modifications were made to the interior of the church while preserving its traditional character. The externals of the church were also restored in a major way with a new slate roof, cleaning and repointing of all stonework, and cleaning and repairing of all stained glass windows. The environment surrounding the church has also been sympathetically addressed including the complete restoration of the three other heritage buildings on the site: the Caretaker's Cottage, the Manse and the School House.
What's On
There will be guided and self-guided tours of the church building, including organ gallery, and surrounding cluster of heritage buildings in the urban green space of Wesley Place. See significant 19th-century architecture by Joseph Reed and stained-glass windows and significant paintings by Rupert Bunny. Hear social history commentaries relating to political developments in welfare support, health and housing. Learn more about the recent restoration upgrade to site, completed in 2019.
Children's Activities
Children find the church really interesting and are most welcome. There will be play activities available in the Children's Area within the church and there is a garden all around.
Images: (1) Statue of John Wesley in front of Wesley Church. Photo: Courtesy Wesley Church. (2) Choral Concert "Sounds of Singing" in 2022. Courtesy Wesley Church and Kate Sadler. (3) Small Chapel in Wesley Church - Hoban Chapel. Courtesy of Wesley Church Melbourne.(4) Gardens in front of Wesley Church on Lonsdale St. Courtesy of Wesley Church Melbourne.
Important Details
Time & Date
Saturday 29 July
Open access 10am-5pm
Tours run 11am, 12.30pm, 2pm + 3pm

Sunday 30 July 2023
Open access 1.30pm-5pm
Tours run 2pm, 2.45pm + 3.30pm
Running for 30 minutes in groups of 12
Bookings required

Church services open to visitors 9.15am (Cantonese) + 11am (English)

First release tickets: Thursday 6 July, 12pm
Second release tickets: Saturday 8 July, 10am
Only ground floor is wheelchair accessible, not the gallery.
Book Now
ACCESSIBILITY
Fully wheelchair accessible, Accessible bathroom, Accessible parking nearby
AGE REQUIREMENTS
All Ages
Location
136 Lonsdale Street, Melbourne 3000