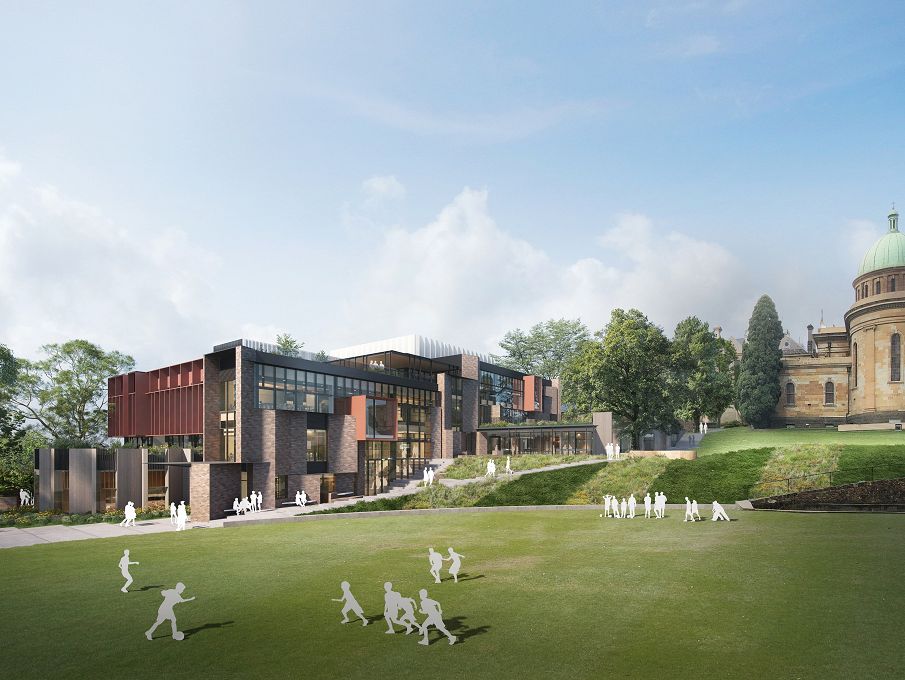 MGS Architects 2023
Description
The Kostka Building at Xavier College reflects the College's unique identity and complements the heritage context, while supporting contemporary educational thinking. The building is designed to accommodate diverse learning approaches, offering different spaces for different activities and group sizes, from individual study nooks to large group gathering areas.

Kostka is deeply embedded in its context. It is integrated into the campus through a glazed, multi-storey learning street that overlooks the College's historic Memorial Chapel and expansive sports fields. Lined with learning neighbourhoods and specialist spaces, the learning street showcases learning to the entire school, sparking curiosity inside and out.

Wellbeing through the design is a priority. The building is a warm and tactile experience for students, with the mass timber structure showcased throughout, alongside handmade bricks sourced from western Victoria.

There are places to move, places to connect, places to dwell and places to reflect. Kostka will help the college in its mission to support the individual needs of each student.

Designed in collaboration with Xavier College, Openwork, New Learning Environments, WSP, Introba + IBC.
What's On
Please join us for a tour of Xavier College's Senior Campus to observe the construction of the new Kostka Building for students in Years 7 and 8, a foundational project for the recent campus Master Plan.

Accompany the architects to hear about different aspects of the process, including creating an inclusive and welcoming learning environment for children, working within a sensitive heritage context and designing an education building in mass timber.


This tour showcases one of the projects featured in an exhibition of MGS Architects' work, 'Thinking of You', which is open from July 18 at the Melbourne School of Design's Dulux Gallery.
Image: (1) Render of Kostka Building, Xavier College. Photo: MGS Architects.
Important Details
Time & Date
Saturday 29 July
Tours run 2pm + 3:30pm
Running for 45 minutes in groups of 10
Bookings required
First release tickets: Thursday 6 July, 12pm
Second release tickets: Saturday 8 July, 10am
Sorry, this event is booked out.
Location
Xavier College, Gellibrand Street Gate, Gellibrand Street, Kew 3010