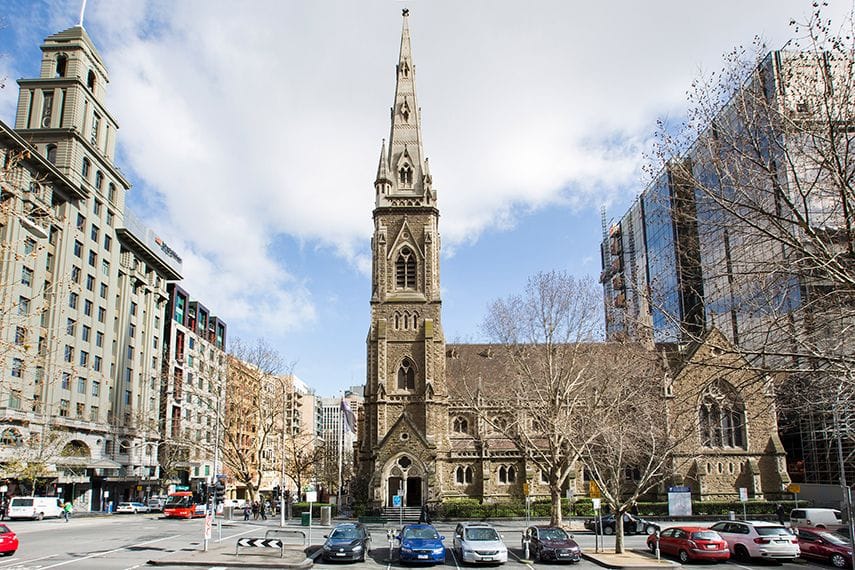 Add to Itinerary
The Scots' Church Melbourne
Architect: Reed and Barnes, 1869
Since 1838 The Scots' Church Melbourne has been continuously reaching out to the people of this city. When Rev. James Forbes arrived from Scotland, the first church was a temporary wooden building at the west end of Collins Street. Two acres on the present site were obtained and a school was built. This school served as a church on Sundays until a proper building, seating five hundred, was built in January 1841.
With the growing population, the congregation resolved in January 1869 to build a church designed by the notable architects Reed & Barnes. This is The Scots' Church which you see today; with its famous austere interior, including fine timber fittings and magnificent stained-glass windows.
The style of the church is "decorated Gothic", with Bluestone for the foundations, Barrabool Hills Freestone from Geelong for the superstructure, and cream-coloured Kakanui Stone from New Zealand for the "dressings." The 120-ft high church's spire was for many years the highest point in the city. The church was built by David Mitchell, who was the father of the famous Australian soprano – Dame Nellie Melba. The foundation stone was laid on 1st April, 1873 and the building opened on 29th November, 1874.
Photos courtesy The Scots' Church Melbourne.