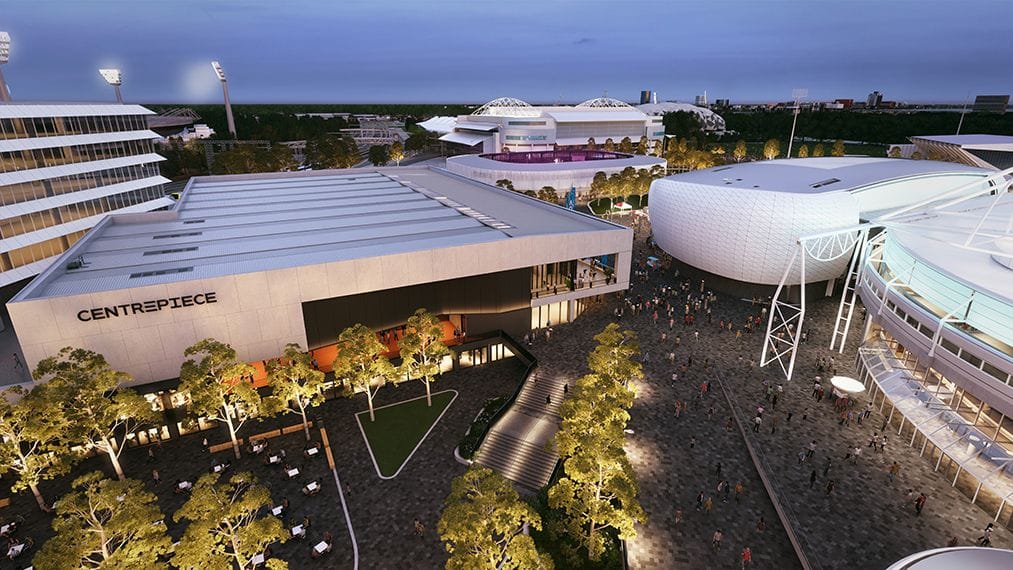 Add to Itinerary
Melbourne Park Stage 3 and Centrepiece
In November 2017, NH Architecture, in collaboration with Snøhetta, was appointed by Development Victoria to design Stage 3 of the $972 million Melbourne Park redevelopment funded by the Victorian Government. The aim of the new design is to deliver new and improved facilities to support Melbourne's leading sport and events precinct Melbourne & Olympic Parks. This will strengthen Victoria's reputation as an entertainment and sporting  capital and secure Melbourne's ability to attract and retain world-class events and cater to the growing popularity of the Australian Open
The central precinct is the main element of Stage 3 and includes Centrepiece at Melbourne Park a new state-of-the-art conference and events centre and a new 5,000-seat Show Court Arena.
Centrepiece will span three levels and the venue's unique architectural design allows it to transform for an array of events. Inviting the outdoors inside, natural light will cascade through its floor-to-ceiling windows and atrium skylight, connecting the venue to its surrounds and sweeping views of the city skyline.
The venue features a columnless ballroom with 8.5m high ceilings and operable walls for multiple configurations, a pre-function space, larger function room with enhanced flexibility, covered outdoor terrace, 15 breakout rooms including an auditorium. It also boasts a new central logistics hub with more operational and storage facilities, creating efficiencies in food and beverage distribution.
Functionally it remains true to its programme but also aspires to add a civic 'nobility' to the precinct. The building differentiates itself from its neighbours via materiality – each façade is responsive to its aspect and context and conceived as a 'solid object'. Alongside this, Centrepiece will feature an upper level of glazed broadcast studios, offering views of the cityscape and a scenic backdrop for media interviews. The design references the site's pre-existing typologies in its metal deck roof – carrying through the pleated forms of nearby Margaret Court Arena's copper penny roof.
Work on Centrepiece at Melbourne Park and the Show Court Arena is in full construction mode and on schedule for completion in late  2021.