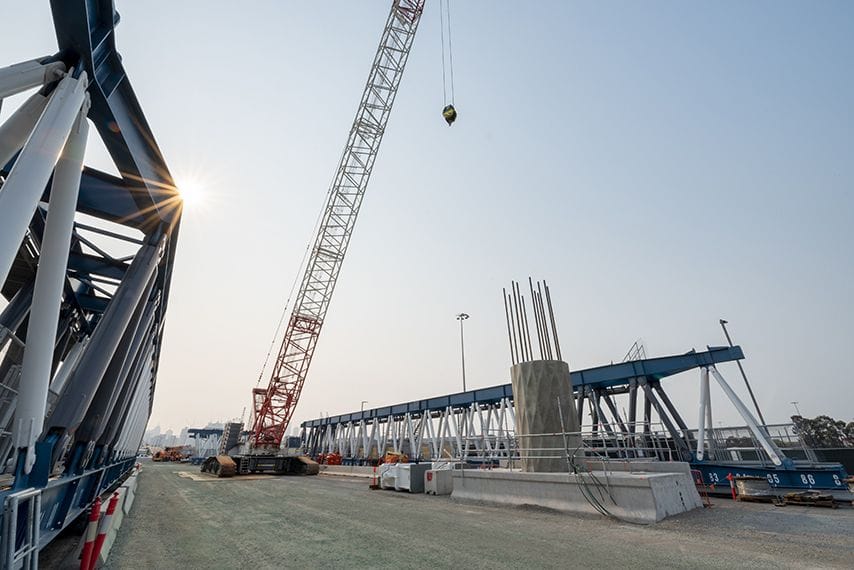 Add to Itinerary
West Gate Tunnel Project
West Gate Tunnel Project – Footscray Road construction site
The West Gate Tunnel Project will end Melbourne's reliance on the West Gate Bridge by building twin tunnels under Yarraville and new links to the port, CityLink and the CBD. Work is underway to build a bridge over the Maribyrnong River and a new elevated road above Footscray Road to connect the tunnels to CityLink, the port and the city. A huge elevated road building machine is currently being assembled in the centre of Footscray Road, preparing to start work building the new elevated roadway later this year. Once fully assembled, the machine will be roughly 110 metres long, 12 metres wide and weigh in at a whopping 1,200 tonnes.
LIVE
FLYTHROUGH
RECORDED LIVE: SATURDAY 25 JULY 2020
WATCH
NOW
Watch the launching gantry video.
Important Details
WHAT'S ON
LIVE EVENT
Saturday 25 July 2020
11am – 11.15am
FREE, no bookings required
Join us as one of the project's engineers commentates live on an exclusive flythrough of the Footscray Road construction site, running through the latest works as well as an explanation of how the elevated road-building machine works.
---
MISSED IT?
Catch up and watch below.