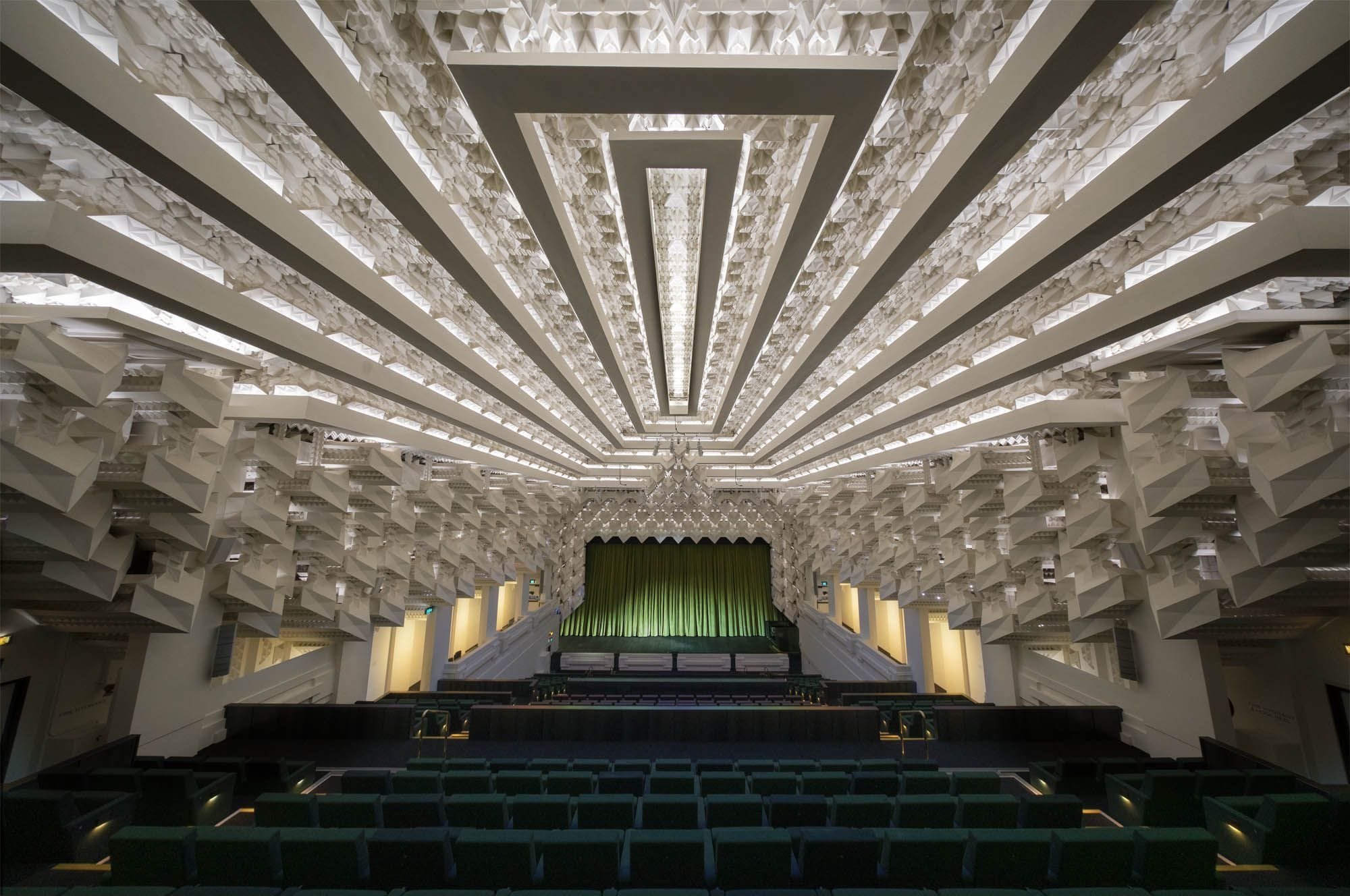 The Capitol — RMIT University
Marion Mahony Griffin and Walter Burley Griffin
Marion Mahony Griffin and Walter Burley Griffin: 1924.
RMIT University and Six Degrees Architects: 2019.
---
The Capitol, formerly known as the Capitol Theatre, was originally designed by celebrated architects Marion Mahony Griffin and Walter Burley Griffin in 1924. The Chicago Gothic-style theatre is considered their greatest interior design work. The impressive ceiling was designed with 33,000 plaster crystals lit by thousands of coloured lights, creating the impression of a crystalline cave of wonder. With its spectacular lighting design, elaborate foyers and intricate crystalline ceiling, The Capitol is also one of Melbourne's most beloved architectural icons.
Renowned Australian architect and RMIT alumnus Robin Boyd described it as "the best cinema that was ever built or is ever likely to be built". The National Trust and Victorian Heritage have registered the property based on its architectural, historical, aesthetic and technical significance.
GUIDED TOUR
Recorded Live: Saturday 25 July 2020

Strap on your VR headset and prepare to tour The Capitol's Theatre, Foyer, Salon and Lounge.
Join us for a virtual experience of The Capitol from anywhere in the world, at any time that suits you. Our Virtual Visit invites you inside the spectacular Theatre, Salons and Lounges at The Capitol.
Tour 1: Stare up at the awe-inspiring ceiling, peek behind the stage at some of the historic light fittings, and ogle the Foyer's lush geometric carpet – without ever leaving your couch.
Tour2: What picture palace is complete without a Salon and Lounge? Take some time to unwind in this VIP area.
RESTORATION
Between 2014–2019 RMIT worked with Six Degrees Architects to restore The Capitol to its former glory and make considerable upgrades to the building. There is an extended stage to host live theatre, music, talks, conferences and lectures, a 7.1 surround sound system, 35mm film projection, 4K digital projection, coffee and wine bars, and a direct link to RMIT's Media Precinct, which allows remote broadcasting capability. The Capitol is now well equipped to deliver a new era of education by day and culture by night.
While temporarily closed at the moment, our community can still discover the rich history and sensational recalibration of this treasured Melbourne landmark through online channels via thecapitol.tv, Instagram and Facebook.
WATCH
Learn more about The Capitol's rich history and journey to the present day with the following architectural and cultural documentary.
Bringing The Capitol back to Life
Learn more about the launch of The Capitol RMIT in 2019.
Historical
Content
Cast your mind back to 1920s Melbourne and relive the grandeur of this cultural icon.
Photos: Courtesy of The Capitol — RMIT University.
Architectural drawings
Get familiar with The Capitol's past and present, thanks to original architectural drawings by the Griffin's in 1921-1925 and Six Degrees Architects in 2019.
The History of The Captiol (PDF)
An extract from RMIT's forthcoming book about the reactivation of The Capitol. Please note pages are in draft form, and indicative only. Please sign-up to the mailing list for updates.
Senses of Cinema (article)
Read more about The Capitol's history and Marion Mahony Griffin's contribution to the theatre's design. Written by Lisa French, Dean in the School of Media and Communication at RMIT.
Photos: Tatjana Plitt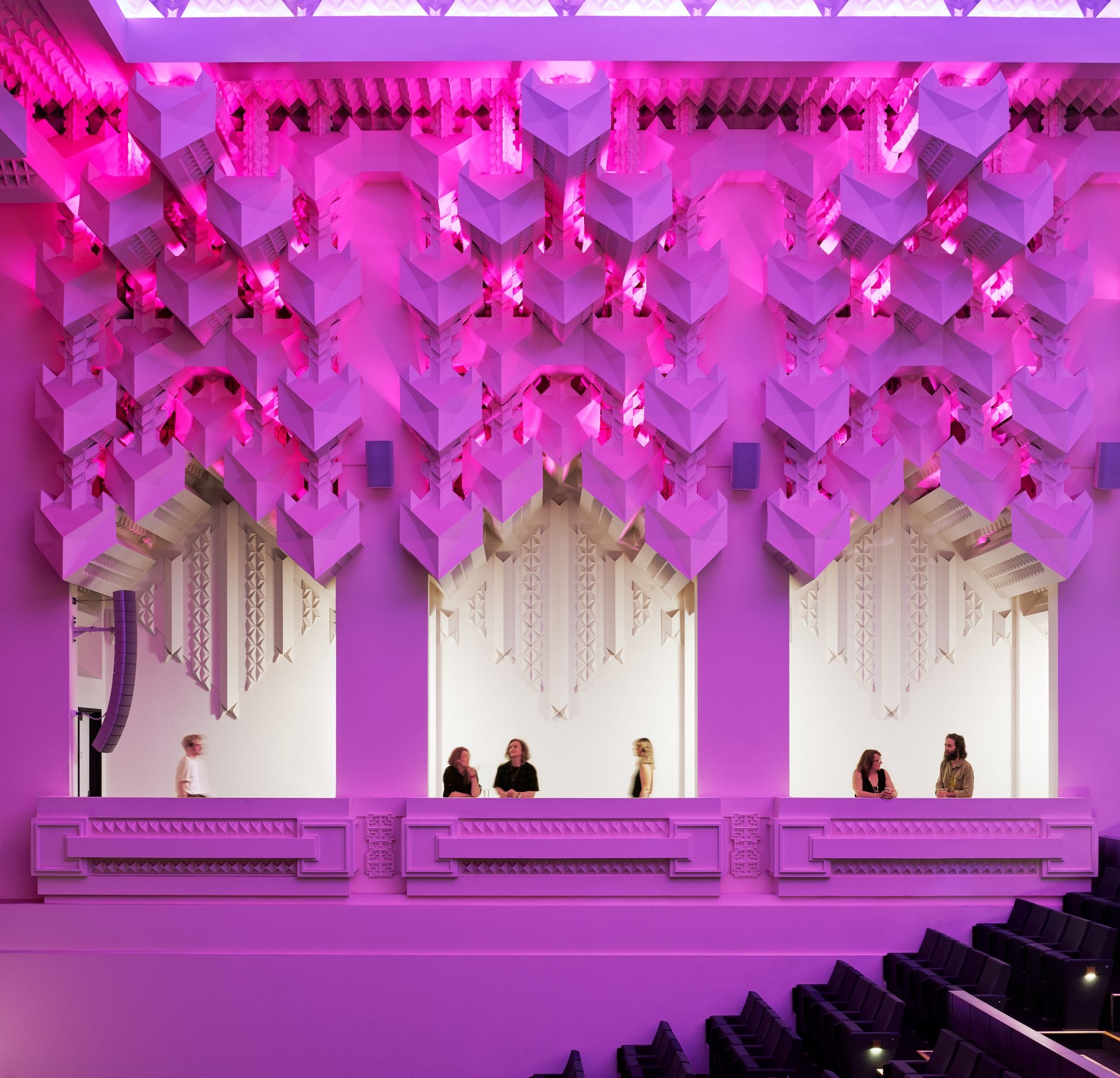 Important Details
WHAT'S ON
LIVE GUIDED TOUR + Q&A
Saturday 25 July 2020
11am – 12.30pm
Step backstage and (virtually) explore The Capitol's hidden corners with Peter Malatt, architect and founding director of Six Degrees Architects, and Professor Martyn Hook, Dean, School of Architecture and Urban Design, RMIT. They will even take you behind-the-scenes to spaces not usually accessible to the public.
This live, digital tour offers a truly intimate look inside The Capitol. Peter and Martyn will answer audience questions in a live Q&A following the tour, offering even deeper insights into the history and magic of The Capitol.
---
MISSED IT?
Catch up and watch below or head to thecapitol.tv