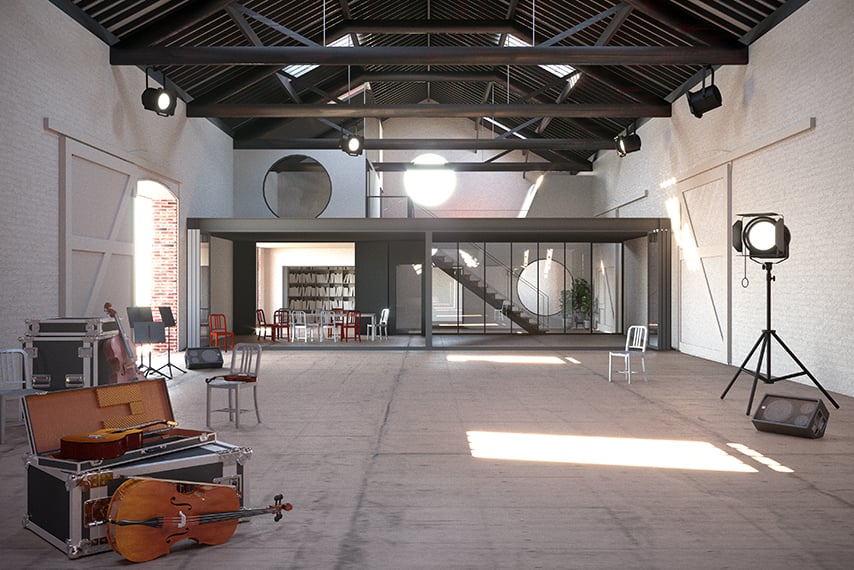 Castlemaine Goods Shed, Castlemaine State Festival Offices
Architect: Stephen Lumb Architect with Usethings 2020
Castlemaine | 23
Building Description
The Castlemaine Goods Shed was constructed in the mid 1860's as part of the development of the Melbourne to Echuca Rail Line. The construction undertaken by the Victorian Government was the largest infrastructure project of its time and was a reflection of the strategic importance of the Castlemaine and Bendigo gold fields and the Murray Valley and Riverina trade for the Port of Melbourne.
The Castlemaine Goods Shed is distinguished by its chromatic brickwork, quoins, granite imposts and oculi. The Castlemaine State Festival is undertaking a significant re-purposing of the heritage-listed Goods Shed. The design includes new offices for the Festival at the northern end of the Goods Shed with spaces for community use and specific spaces to support artists in various fields develop new works.
The new spaces are arranged around an entry courtyard, open to the full height of the Goods Shed volume, and from which the various spaces are accessed. The design has been developed to allow for flexibility and a multiplicity of uses, from the expansion and contraction of Festival staff numbers over the Biennial Festival cycle, as an interface with the larger performance spaces, provision of technical support for performance and other functions to providing spaces for community use. The design maintains the long sight lines through the Goods Shed and layers transparency to allow connection between the new offices and the larger Goods Shed.
What's On
Currently under construction, visitors will be able to view the works in progress on a guided tour with the architect. This is a construction site tour, work in progress, and a chance to hear about the future plans for the site.
Location
11 Kennedy Street Castlemaine, Castlemaine VIC