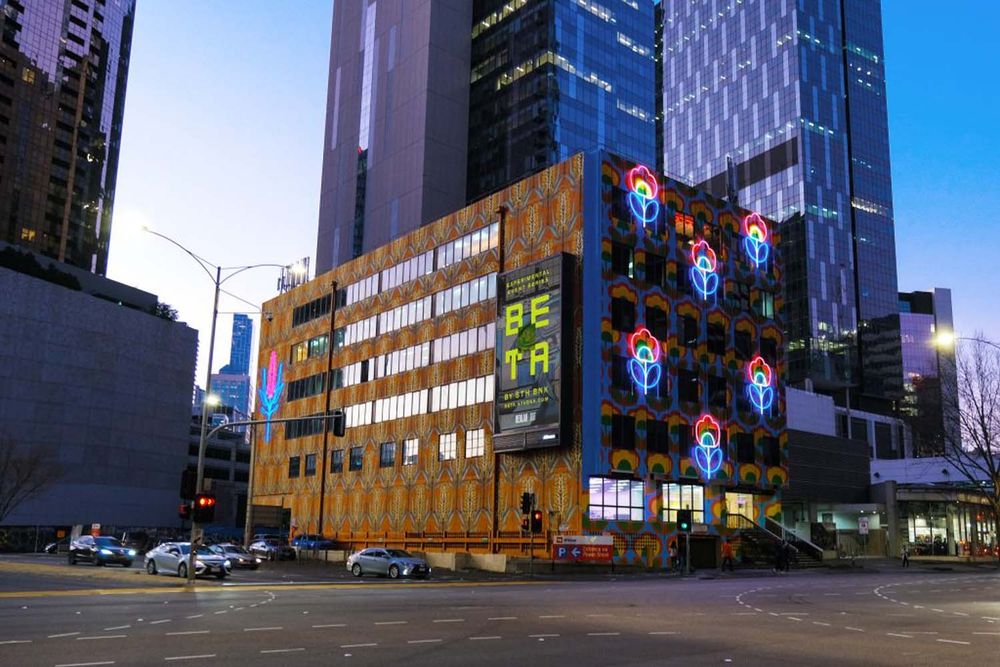 BETA by STH BNK at Hanover House
Description
We are conscious consumers who seek meaning, yet the places where we shop are no longer fit for purpose. We want experiences rather than transactions, circularity instead of waste, the way forward not the past.
In the fit-out of this pop-up space allowing creatives to occupy a building before it is demolished, as many of the existing interior elements as possible have been recycled, and new materials introduced only if they could easily be repurposed in the future.
BETA is a revolutionary testing ground exploring the future of retail space, programming and new business models. Real-time experiments are happening through a series of events that test new forms of dining, wellness, fashion and design outside retail's traditional brick and mortar limits. A humble seven storey concrete office block, which until the late 1990s claimed to be Southbank's tallest building, has been transformed into a dynamic lab of progressive retail experiences that honour individuality, diversity and creative expression.
As an ode to conscious design, BETA's fit-out centres on circularity. They have repurposed and reused existing materials and objects within the building, speculating on a future where retail spaces embrace sustainability in innovative and daring ways. Combined with the use of environmentally-friendly bioplastics, soft furnishings and moveable partitions, the result is a chameleon conversion that allows for limitless layouts.
BETA worked with boundary-pushing architecture collective Sibling to bring this spatial vision to life.
What's On
Wander through three experimental floors of Hanover House before its demolition. On ground level are innovative retail concepts including The Future From Waste Lab, curated by designer Kit Willow, which is testing a more sustainable approach to fashion production. The fourth-floor ateliers host designers in residence, including algae expert Jessie French, Ella Saddington of craft studio Cordon Salon, and DNJ Paper, which makes clothing from traditional Japanese paper. The fifth floor is being used for a range of events. 
Images: (1) Hanover House is set for demolition and being experimentally occupied before it goes. Image courtesy of BETA.(2) BETA BETA worked with boundary-pushing architecture collective Sibling. Image courtesy of BETA. (3) BETA Experimental Event Series promotion. Image courtesy of Beulah.
Important Details
Time & Date
Saturday 30 + Sunday 31 July
Open 11am-2pm
Tours run 11am, 12pm and 1pm for 30 minutes
Tour group capacity is limited and operates on a first come, first in basis.
Age Requirements
All Ages
Accessibility
Partially wheelchair accessible
Accessible bathroom

Location
158 City Road, Southbank 3006