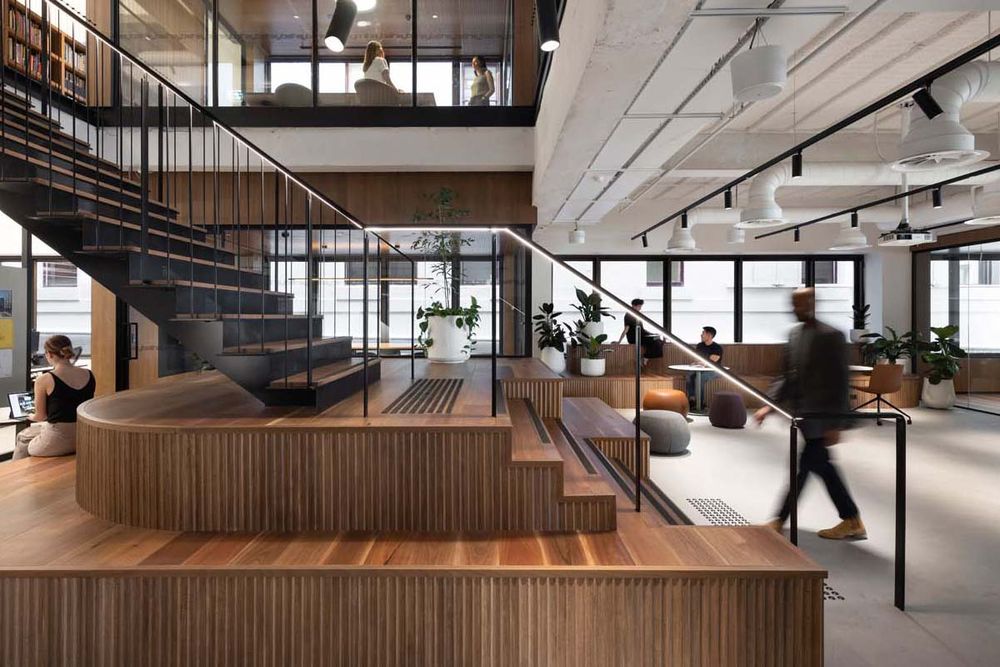 Hayball Studio + Venice Biennale
Description
This is an opportunity to visit Hayball's purpose-refurbished architecture studio in Melbourne's iconic Flinders Lane. The studio encompasses 1,750 sqm spread across two floors, connected by an open central staircase. The refurbishment of the space provided an opportunity for Hayball to authenticate the workplace values of its practice. It is a space designed to support connection and collaboration between staff, clients, and collaborators. It also embodies Hayball's commitment to a culture of inquiry within its diverse, healthy, happy, and engaged office environment, which supports new and different ways of working.
The entry area was designed as a multi-functional space supporting various modes of working and collaboration: a social hub, an event space, an auditorium, informal meeting area, and co-working options for interstate colleagues, visiting clients, and suppliers. Private and semi-private breakaway spaces support centrally located workstation clusters with the kitchen located on the upper floor extending out to the balcony and acting as the social hub. At the opposite end, the library offers respite and a tranquil atmosphere suitable for autonomous tasks.
What's On
Small group guided tours weaving through the purpose-refurbished studio will explore the future-focused design of the space which embodies the principles of collaboration and inclusiveness and was developed through a co-creation process with staff.
An exhibition of project models displayed at the Venice Biennale 2018 will be dispersed throughout the space, with accompanying images and text tracing the story of their transformation from unbuilt to built.
Children's activities
Each of the displayed Venice Biennale projects will have project themed colouring sheets and pencils for our youngest architecture enthusiasts.
Images: (1–2, 4-5) Hayball Melbourne Studio. Photos: Dianna Snape. (3) Hayball Melbourne Studio. Photo: Henry Lam.
Important Details
Time & Date
Saturday 30 July
Tours run at 10am and 11am
Running for 40 minutes in groups of 25 people.
Bookings required.
Age Requirements
All Ages
Accessibility
Fully wheelchair accessible

Location
Level 1, 250 Flinders Ln, Melbourne VIC 3000