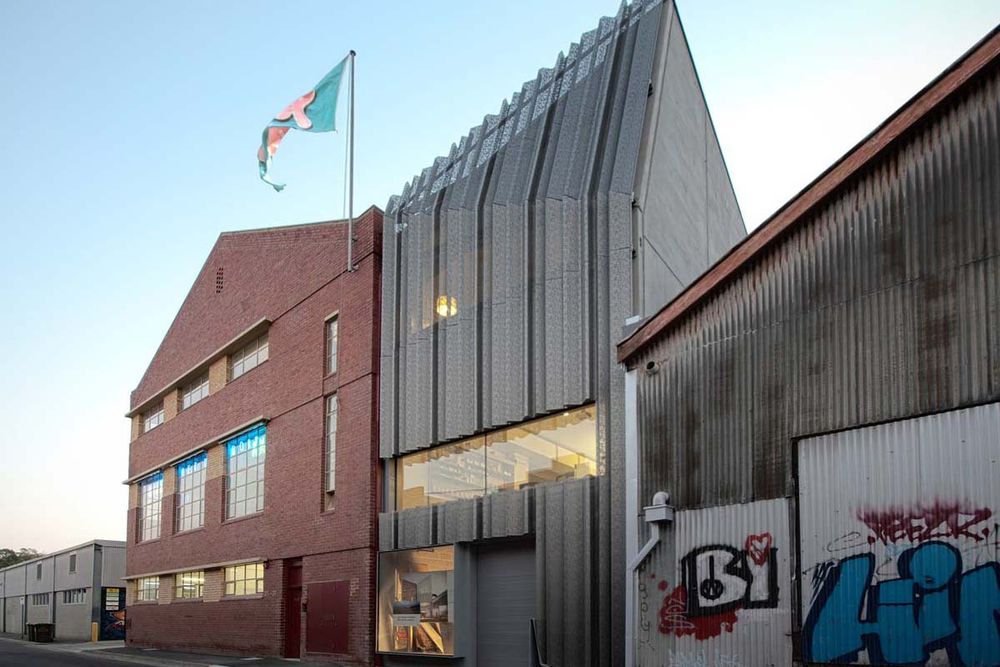 John Wardle Architects studio open day
Description
The John Wardle Architects studio is built around and within a former mid-twentieth century outpost of an English paint manufacturer in Collingwood. Contemporary architectural interventions interact with this history in a respectful and complementary manner.
Freshly completed updates have concentrated on ground level works to the lobby, meeting rooms, and end-of-trip (EOT) facilities. The workspace populated by staff on the first level is a hive of activity and conversation. On the top floor, set beneath the original steel trusses and gable roof, meeting rooms have been enhanced, a new flexible open space has been created, and the samples & layout spaces have been updated. The kitchen connects to an external terrace with views across neighbouring rooftops.
LM&O café is located at ground level, named for the pigments (lemon, middle & orange) offered by the former paint factory. The café occupies the long sliver of space in what appears to have once been a laneway adjacent to the 3-storey brick building.
JWA's revival of a neglected industrial building with a new life retains the building for contemporary use, and for future generations to appreciate. The gesture is significant for both local heritage and sustainability.
What's On
Saturday: A special 'On Top of the World' flag raising ceremony and talk. OTOTW is an irregular event that invites local and visiting artists, designers and thinkers to contribute to contemporary debates through an informal series of talks and flags. The guest speaker will have collaborated with Spacecraft Studio to design and create the flag to be raised and flown atop the building.
Sunday: A makers market will run in the carpark featuring JWA's very own creative makers.
JWA will exhibit its collection of project prototypes and host tours through the newly refurbished studio.
Images: JWA. All photos Trevor Mein except (6) Christine Francis and (7) JWA.
Important Details
Time & Date
Saturday 30 July
11am-3pm
12noon studio tour: running for 40mins in groups of 15 max

1pm studio tour: running for 40mins in groups of 15 max

3pm: Flag raising and guest speaker Aleks Danko, discussing his work across a range of disciplines including drawing, sculpture, installation, performance, and public art (40mins)

Sunday 31 July
11am-2pm
Makers Market (all day 11am-2pm)

12noon studio tour - running for 40mins in groups of 15 max
Age Requirements
All Ages
Accessibility
Fully wheelchair accessible
Accessible bathroom
Accessible parking nearby

Location
25 Rokeby St, Collingwood 3066