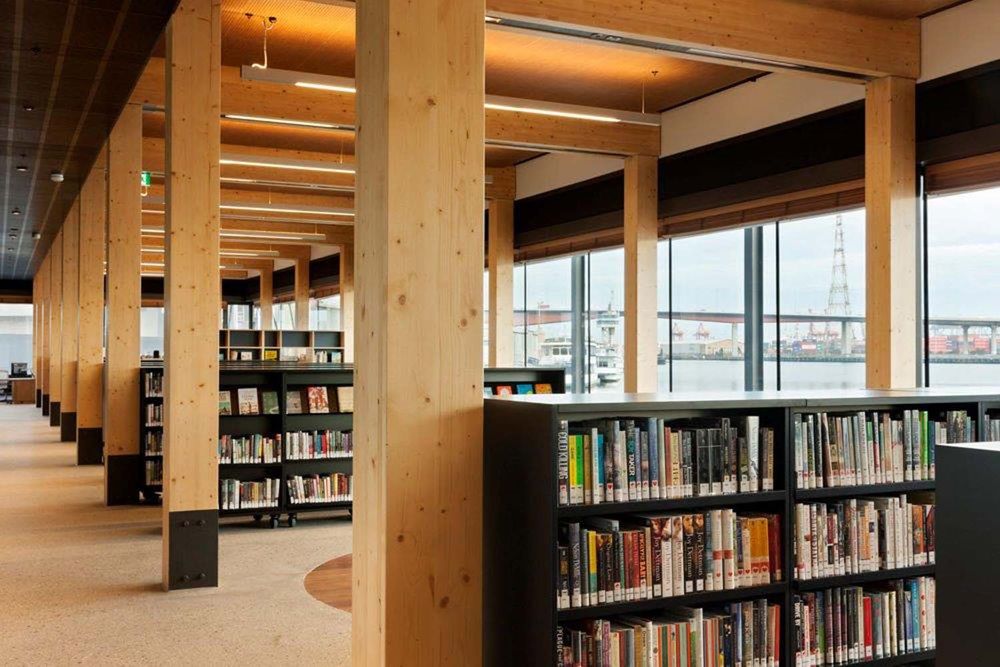 Library and Community Hub at The Dock
Description
The Dock community precinct incorporates the Library at The Dock, Buluk Park and the Community Hub at The Dock. The built form is inspired and shaped by its historic wharf and industrial maritime setting.
The Library at The Dock was the first 6 star Green Star rated public building in Australia. A modestly scaled building at just three storeys, the simple timber frame construction is made predominantly from Cross Laminated Timber (CLT), the first public building in Australia made with the material. Using CLT as the primary structural material reduces the weight of the building by 30 percent, which is advantageous as the building sits on a seventy-five year old wharf.
What's On
Self-guide tours (pending bookings in spaces). Family friendly activities, including children's library, table tennis, a makerspace and a playground.
Images: All photos Dianna Snape, courtesy of Library and Community Hub at The Dock.
Important Details
Time & Date
Saturday 30 July
Open 10am-1pm
Age Requirements
All Ages
Accessibility
Fully wheelchair accessible

Location
107 Victoria Harbour Promenade, Docklands 3008