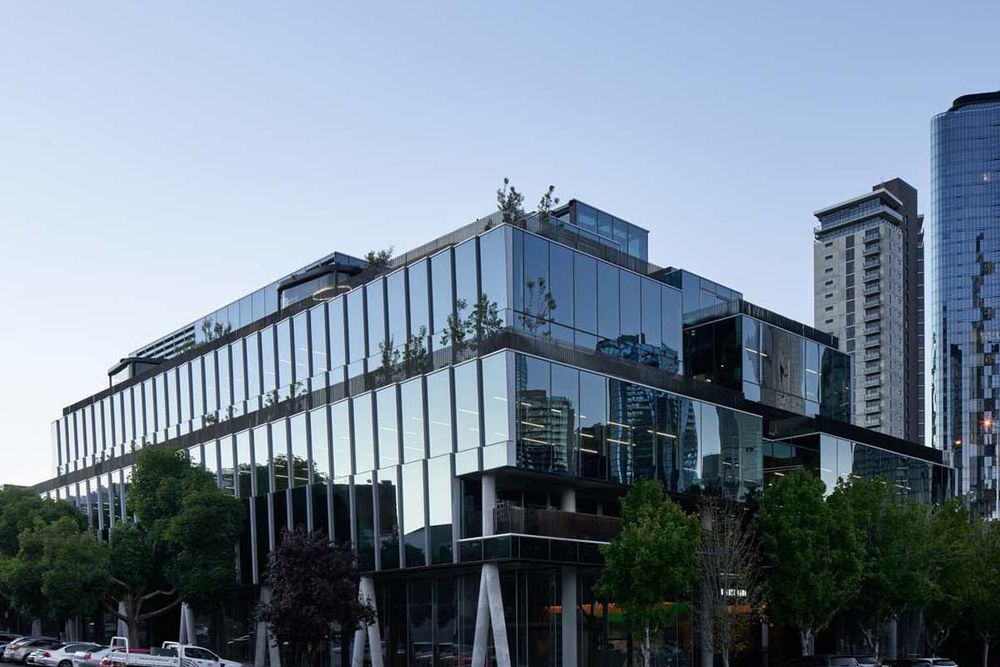 Market Lane
Description
A people-centred workplace that meaningfully promotes occupants' wellbeing, Market Lane enhances the office experience and reinvents how we work. It features five levels of office accommodation, ground floor food, beverage and co-working spaces, hotel quality end-of-trip (EOT) facilities, high-tech building management, and extensive landscaping and sustainable design initiatives that contribute to both environmental and improved occupant health.
The building is split into two volumes by a central atrium, which carries natural light and lush vegetation right into the heart of the building. Landscaping zones on the exterior create terraces on each level, providing flexible outdoor office areas. Operable doors allow these areas to seamlessly integrate with indoor working areas, breaking down the office's productive and non-productive spaces.
Hickory Group (both client and builder) occupies the top floor of the building. Their bespoke office fit-out uses an activity-based approach, providing various options for collaboration and working modes to suit their business model.
What's On
Guided tour of this award-winning office building presented by the architectural design team. Elenberg Fraser's Reade Dixon (Principal) and Arif Mokhtar (Design Associate) will speak about the project's integrated technology, sustainability backbone, and biophilic design elements, as well as post-COVID architecture principles to consider in the commercial environment.
Images: (1) Market Lane street view. (2, 3)Lobby. (4) Ground floor. (5) Aerial view. All photos: Damien Kook.
Important Details
Time & Date
Saturday 30 July
Tours at 10am and 11.30pm
Running for 40 minutes in groups of ~20 people.
Bookings not required. Tour group capacity is limited and operates on a first come, first in basis.
Age Requirements
18 years and above
Accessibility
Fully wheelchair accessible
Accessible bathroom
Accessible parking nearby

Location
68 Clarke St, Southbank VIC 3006