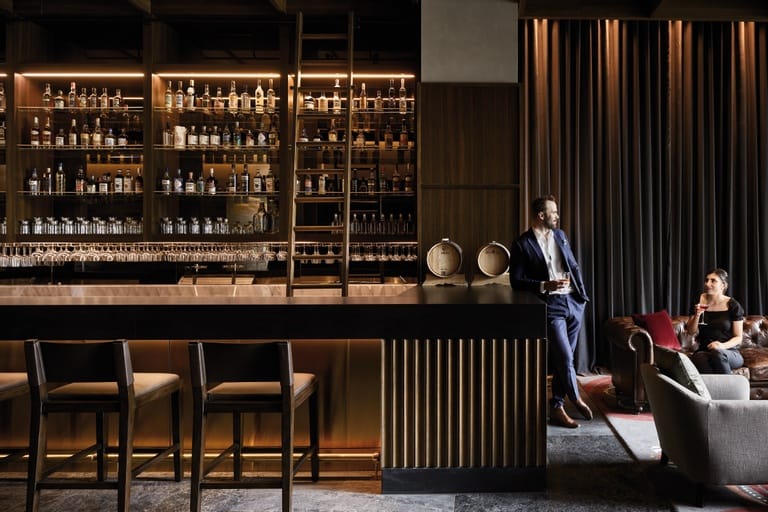 Next Hotel Melbourne
Building Description
The Next Hotel Melbourne references a multi-layered past with understated glamour. Designers uncovered the site's ancestry as a Horse Bazaar and stories of the earliest occupants of Chinatown being the original 'business traveller' were woven into the design.
Rooms nod to the 'Paris End' with detailed stitching, textured fabric and leather. Cabinet linings and tables reference the lacquer finish of Chinese cabinets, and deep reds and jades conjure the luxury of the Orient in the 1800's.
The ground floor is understated, heightening the theatre at the second floor Reception. Here, jade-green marble and an opulent gold backdrop speak of the riches of those who came to Chinatown and the Horse Bazaar. Level 2 Club uses steel framing and wired glass to create the ambience of a maker's workshop. Blue tiles and white stone with black marks reference the patterning of cracked antique china.
The level 3 restaurant focuses on ingredients prepared using salt and smoke, leading to a tactile interior palette of charred timbers, hide leather and stones reminiscent of salt blocks.
The bar celebrates the alchemy of Amaro spirit making, originally for 'medicinal purposes', with the back bar referencing an apothecary display, including a library style ladder.
What's On
Woods Bagot's Bronwyn McColl and Isabel Munro will walk you through their design for Next Hotel's rooms, communal and dining spaces, unfolding the site's multi-layered history that inspired its design.
Photos 1-4: Next Hotel Melbourne. Photography by Sharyn Cairns.
Important Details
Time & Date
ONLINE EVENT
Designers talk with live Q&A

Saturday 24 July
3pm - 4pm

This event is now complete. If you want to revisit the talk, scroll below or view the video directly via YouTube:
Location
103 Little Collins Street, Melbourne 3000