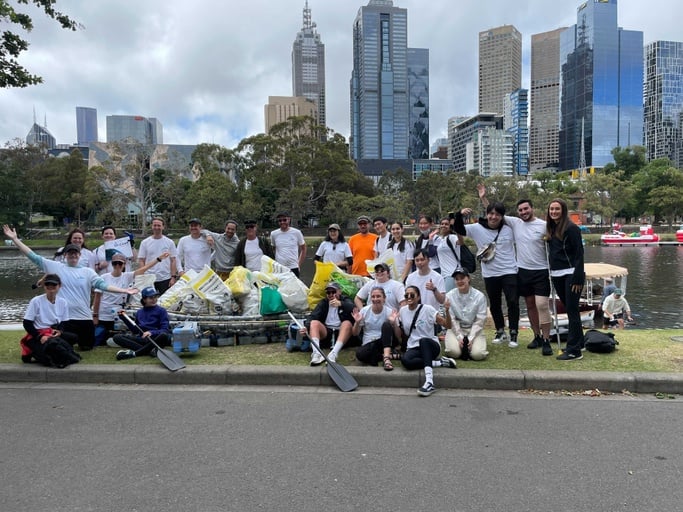 Open Nature: ​Hidden Histories of the Birrarung – Keeping An Eye On Health
Description
Observe both sides of Melbourne's river in this walking tour beginning on the north bank near the start of the historical 3 mile swimming race. The Yarra Riverkeeper Association will lead us through their water conservation reserves in Burnley harbour, before the group heads across the river to the south bank. Along the Yarra Trail, a guide from EarthWatch will invite us to become citizen scientists, monitoring native species along its banks with the ClimateWatch app.
Join some of Melbourne's most passionate river people for a walking tour from the communities who are working to protect its past, its current health and its future use for our city. Be led by tour facilitators from Yarra Pools, the Yarra Riverkeeper Association and EarthWatch for a guided tour along the river and hear about the expertise and passion going into protecting and improving the health of our river.
A walking tour along the Birrarung inviting you to become a citizen scientist.
Contributors
Yarra Pools – a community-led proposal to re-introduce recreation and water-play to the lower Yarra. Yarra Pools aims to bring people back to the river by advocating a swimmable and therefore healthy waterway all while celebrating a unique site's cultural history by incorporating community involvement through design and ongoing operation.
Karin Traeger – CEO, Yarra Riverkeeper Association. Originally from Chile, Karin is a passionate environmental activist and CEO for Yarra Riverkeeper Association (YRKA). From working with sloths as a wildlife veterinarian to surveying coral bleaching at the Great Barrier Reef, Karin has extensive experience supporting community initiatives for environmental protection.
Luke Richards – ClimateWatch Program Coordinator, EarthWatch. Luke is deeply passionate about reshaping our understanding and appreciation of the natural world. Having previously practiced as an engineer and project manager before managing a social enterprise, Luke now happily runs ClimateWatch for the Earthwatch Institute.
Presented by Yarra Pools, Yarra Riverkeeper Association, EarthWatch.
Open Nature is part of ,Melbourne Design Week 2022, an initiative of the Victorian Government, Creative Victoria in collaboration with the NGV.
Images: [1] Yarra Riverkeeper volunteers with the Yarra Plastic Paddle, December 2021, courtesy Yarra Riverkeeper Association. [2] ClimateWatch signage on the Yarra Trail 2021, courtesy Luke Richards.
Important Details
Time & Date
Saturday 19 March 2022
9.30am – 11.30am
FREE, booking required
Location
Loys Paddock, Gibdon St, Burnley 3121. The Birrarung, Yarra River Parklands. Wurundjeri Country