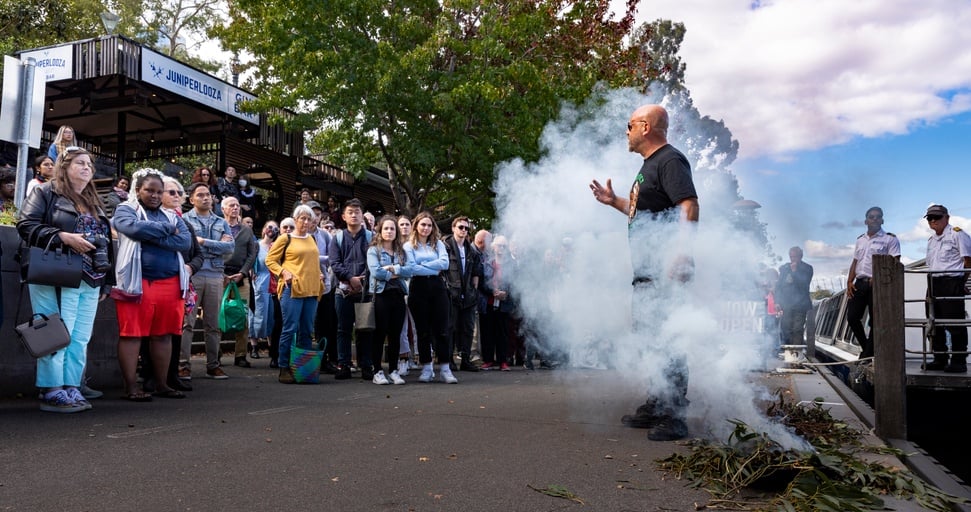 Open Nature: The Great Birrarung Parkland – By Boat
Description
Following on from the Great Birrarung Parkland design discussion in 2021 at Deakin Edge, this boat trip along the Birrarung (Yarra River) will bring together stories and discussion around Traditional Owners knowledge and how the Greater Birrarung Parkland idea can extend through the cities of Yarra and Stonnington where infrastructure dominates the river corridor.
Starting with a smoking ceremony on land, the tour will be led by elders from the Wurundjeri Woi Wurrung Cultural Heritage Aboriginal Corporation and Birrarung Council members.
Presented by Birrarung Council, Wurundjeri Woi-wurrung Cultural Heritage Aboriginal Corporation.
Open Nature is part of ,Melbourne Design Week 2022, an initiative of the Victorian Government, Creative Victoria in collaboration with the NGV.
Images: Envisioning the Great Birrarung Parkland, MDW 2021.
[1–3] Photography by Tobias Titz, [4–7] Photography by Kirsten Bauer
Important Details
Time & Date
Sunday 20 March 2022
2.30pm – 5pm
$25, booking required
Location
Commencing from Federation Wharf 15-19 Princes Walk, Melbourne 3004 Wurundjeri Country