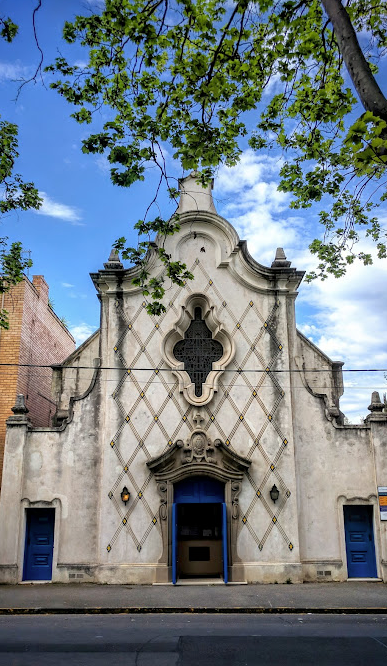 St Thomas Aquinas Church
Building Description
CHURCH OF SAINT THOMAS AQUINAS
A Chapel of Ease was erected in Bromby St, South Yarra, and opened on 21 February 1915 by Archbishop Carr. It is said to have been colloquially known as 'the servants' church', with many (mainly Irish) domestic servants from the large houses of St Kilda and South Yarra in its congregation.
Dedicated to St Thomas Aquinas, the chapel was a compact and plain brick hall of six bays with round-headed side windows and timber roof, seating a congregation of 200. The dedication to St Thomas Aquinas is unusual in the Archdiocese of Melbourne
In 1954 the building was imaginatively altered and restored, and given a Spanish Baroque façade. The façade and the restoration were the work of one of Australia's finest church architects of the last hundred years, Thomas Payne. It was opened and blessed by Archbishop Daniel Mannix on 30th September.
A life-size crucifix had been installed over the altar in the 1930s, the work of sculptor Walter Langcake (1889-1967) who may have also been entrusted with the altar piece featuring the Last Supper and the fine timber reredos, panelled and with rich carved representations of the Eucharist, saints and animals, dating from about the same time.
The Melbourne sculptor Leopoldine Mimovich (1920-2019) carved the Stations of the Cross and the statues of Our Lady and the Sacred Heart on either side of the sanctuary arch. The statue of St Thomas Aquinas in the entrance to the nave is thought to be 18th-century Spanish, the gift of a parishioner.
What's On
Watch an online presentation on the History, Architecture, and Artefacts of the St Thomas Aquinas Church.
Important Details
Time & Date
Saturday 24 + Sunday 25 July

Video link will be active throughout the course of the Open House Melbourne weekend. Details to come
Location
43 Bromby Street, South Yarra 3141