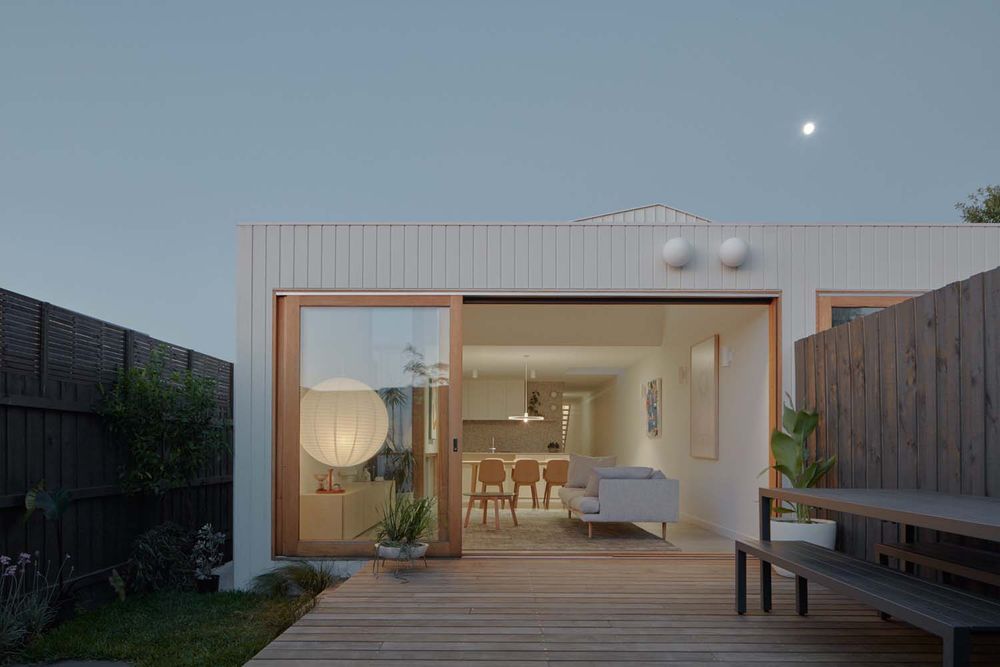 Thornbury Townhouses
Description
Thornbury Townhouse is an engaging example of small scale, multi-residential development. The brief was to build two long-term, high-quality homes on a limited budget. This was achieved in a number of ways. Primarily, the brief and program were massaged to enable repetition between the two houses and spatial planning was carefully considered to reduce the building footprint. Low maintenance, commonplace and robust materials were chosen for their longevity and cost effectiveness.
First principal passive design is fundamental to the project. Despite the compact external form and rear southern orientation, internally the spaces are generous and bright. The design presents a compact southern elevation to reduce garden overshadowing and sectional gymnastics in the lounge and entry afford raked ceilings, access to northern light, openness and drama.
The building is designed to read as a single structure and the new "double-house" fits comfortably into the streetscape. The soft, slightly off-balance gable complements the neighbouring roof forms and provides height for a second story only 1200mm higher than its single-story predecessor. A productive tension of "together but apart" drives the materiality and detailing. The gable roofline and polychromatic brick detailing reference the post-war neighbourhood.
What's On
Tara Ward and Jessie Fowler, directors of Fowler and Ward Architects, will lead tours of one of the town houses, discussing the design process of working with an architect and the opportunities and constraints of the townhouse typology in the broader context of Melbourne. They will discuss the big design moves which set the project apart, and how they brought light, air and a sense of space to the small footprint homes.
Images: (1-7) Thornbury Townhouses, Fowler and Ward. All photos: Tom Ross
Important Details
Time & Date
Sunday 31 July
Tours run every half an hour from 11am - 4pm
Running for 30 minutes in groups of 12 people
Bookings required.

This event is booked out and the waitlist exhausted. 
Age Requirements
All Ages
Accessibility
None of the above

Location
191B Miller Street, Thornbury 3071