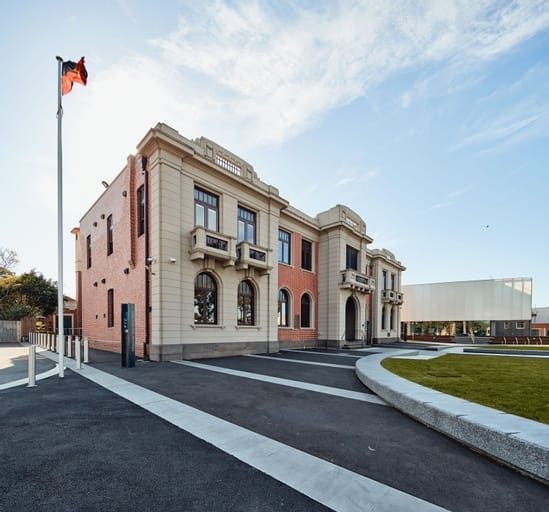 Williamstown Town Hall
Building Description
The Williamstown Town Hall is arguably one of the State's finest and largest town halls from the 1920s. It survives intact, complete with antique fittings, furniture and other significant items. The hall, designed by Gibbs, Finlay & Morsby and constructed in 1926-1927, is a fine example of the Greek revival architectural style, while the front office section, designed by Plottel & Bennett and constructed in 1918-1919, is a representative example of conservative design of its time. The facility underwent renovation designed by K20 architecture from 2009 – 2019.
This landmark building in the heart of Williamstown, continues to play an important role in the municipality, hosting a range of events including concerts, weddings, expos, cultural, community and civic activities.
What's On
Virtual Tour via Open House Melbourne website
Images: (1) Williamstown Town Hall Exterior – Peter Bennett. (2-4) Williamstown Town Hall Chamber – Shae Rooke. (5) Williamstown Town Hall Stairwell – Peter Bennett. (6) Williamstown Town Hall Chamber – Shae Rooke. (7-8) Williamstown Town Hall Precinct Exterior – Peter Bennett.
Important Details
Time & Date
Saturday 24 + Sunday 25 July

VIRTUAL TOUR
Explore the building virtually for Open House Melbourne, scroll below.
Location
104 Ferguson Street, Williamstown 3016