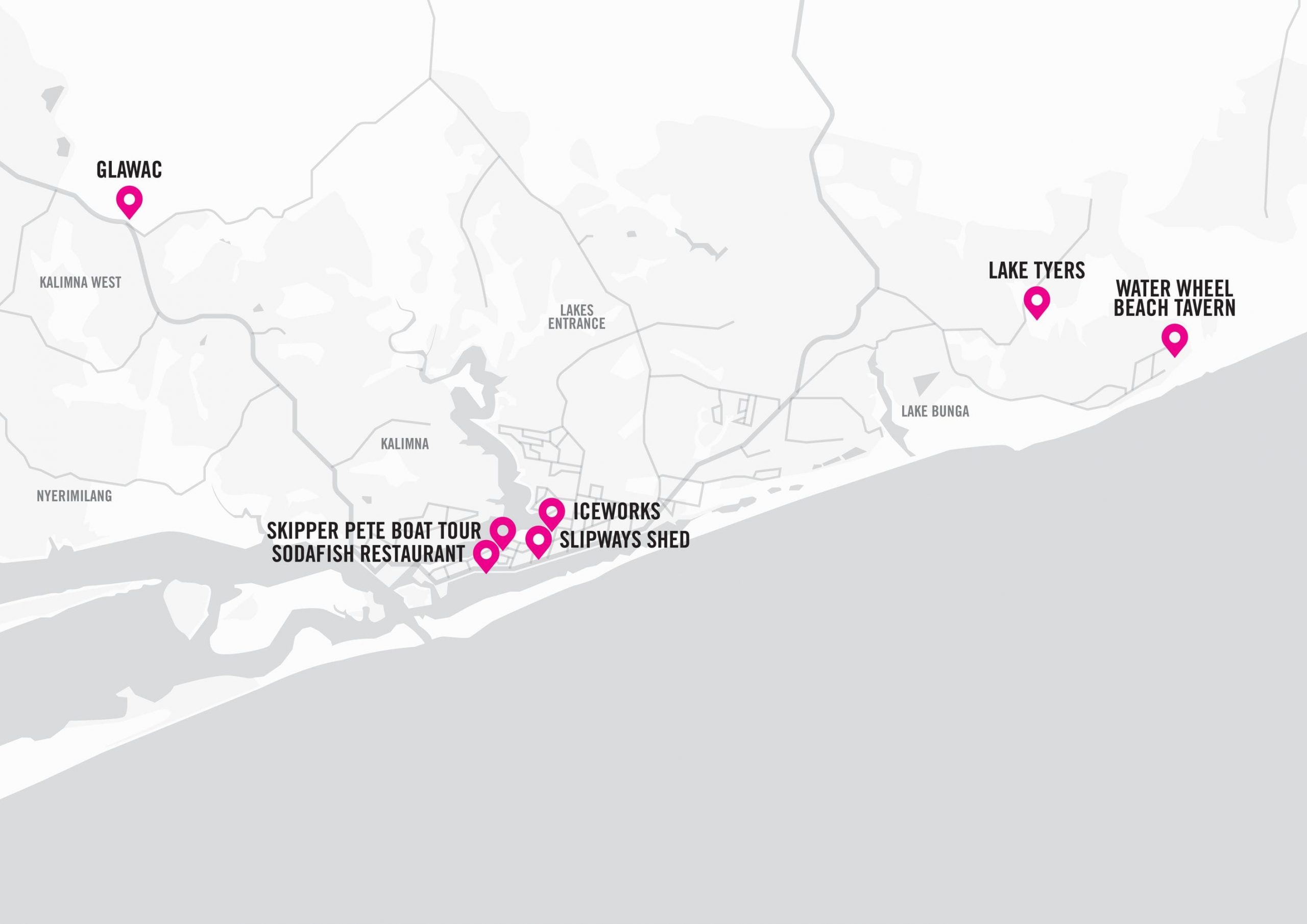 Waterfront: East Gippsland Map and Self-guided Tours
Posted Fri 2nd Apr 2021 | Isabella Radevski
For the first time, the Waterfront program has come to East Gippsland. For those less familiar with the region, we've put together a handy map of key locations for our #Waterfront2021 program (see above). During the Easter long weekend participants can attend a diverse range of water-themed events and, for those who want to go at their own pace, we've put together a selection of fascinating self-guided walking tours.
Below you'll find links to our self-guided tours exploring the picturesque Gippsland Lakes region, and beyond. We invite both locals and visitors to the region to take these self-guided walks and experience the spectacular and historically significant landscapes they highlight. Some of the walks are located in close proximity to others, so you may wish to do more than one.
These walks take place on Aboriginal land. We respectfully acknowledge the Traditional Owners of these lands, the Brataualung, Brayakaulung, Brabralung, Krauatungalung and Tatungalung clans of the Gunaikurnai Nation, and recognise their continuing connection to this land and its waterways. We ask that you be mindful of the environmental, cultural and spiritual significance enmeshed in the country beneath your feet and around you when enjoying these walks.
We hope these self-guided walks encourage a renewed interest in the region's natural environments and their narratives, knowledge and histories.
The Bataluk Cultural Trail will introduce you to many aspects of Gunaikurnai life and culture including Dreamtime Stories, Traditional lifestyles, European invasion and settlement and Present day life.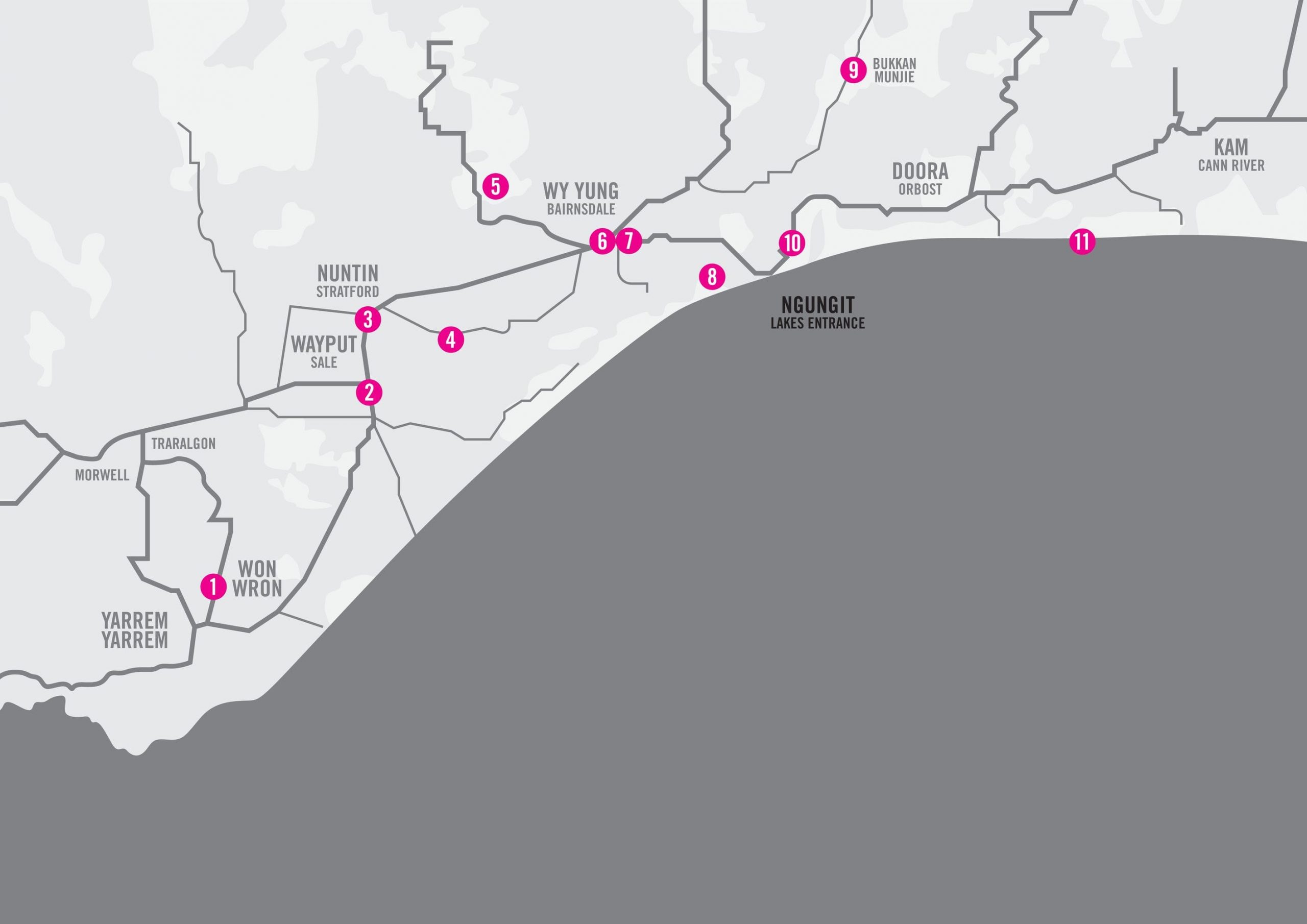 A scenic walk along the shores of Lake Cunningham, to the artificially constructed Entrance of the Gippsland Lakes. Seals and dolphins are often spotted frollicking in the tidal pulls at the Entrance.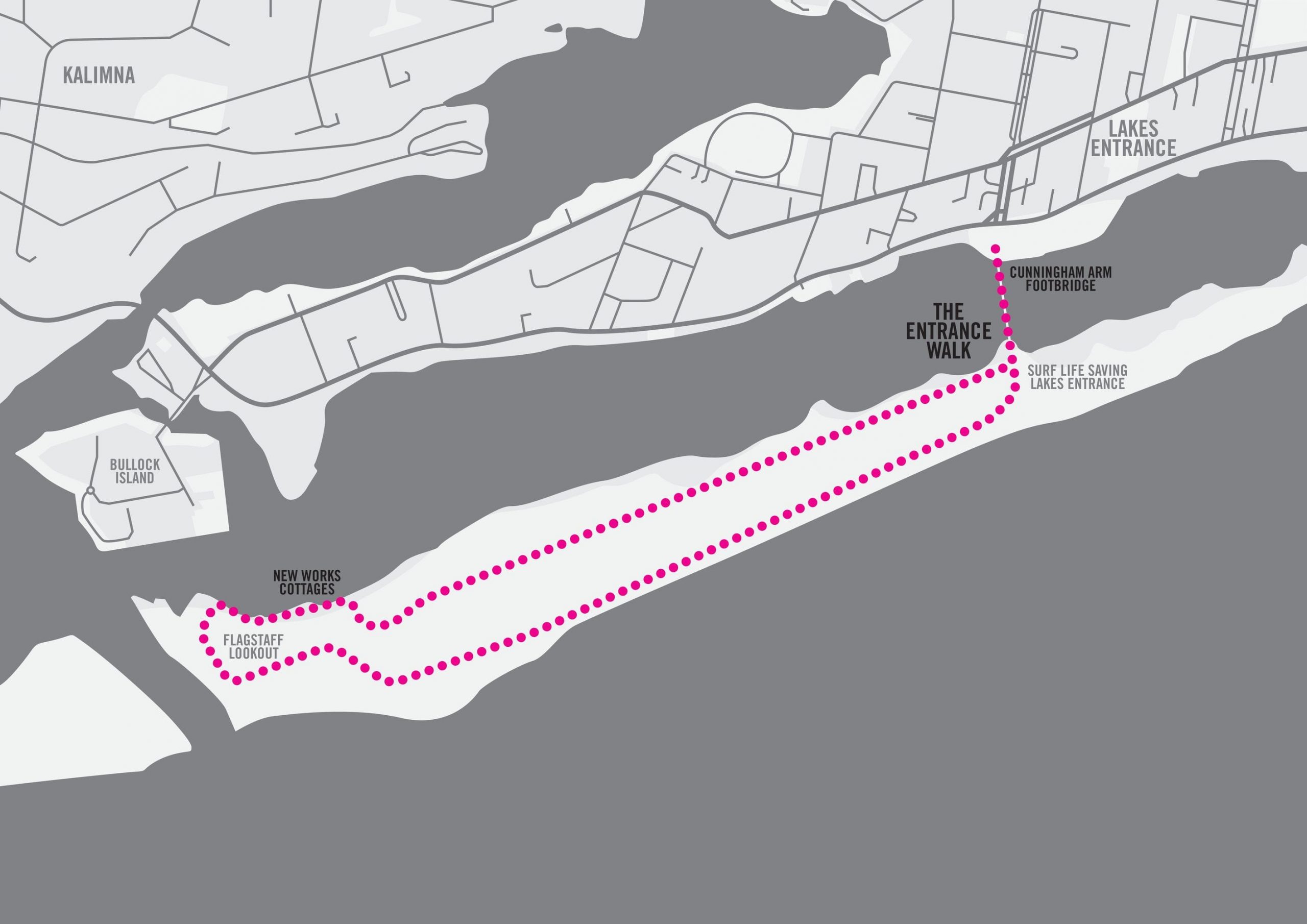 Suggested by Dr Jess Reeves, this walk guides you from the base of Mingling Waters caravan park, along the Wetlands walk, and to the point — encouraging  you to stop along the way and listen to your surroundings.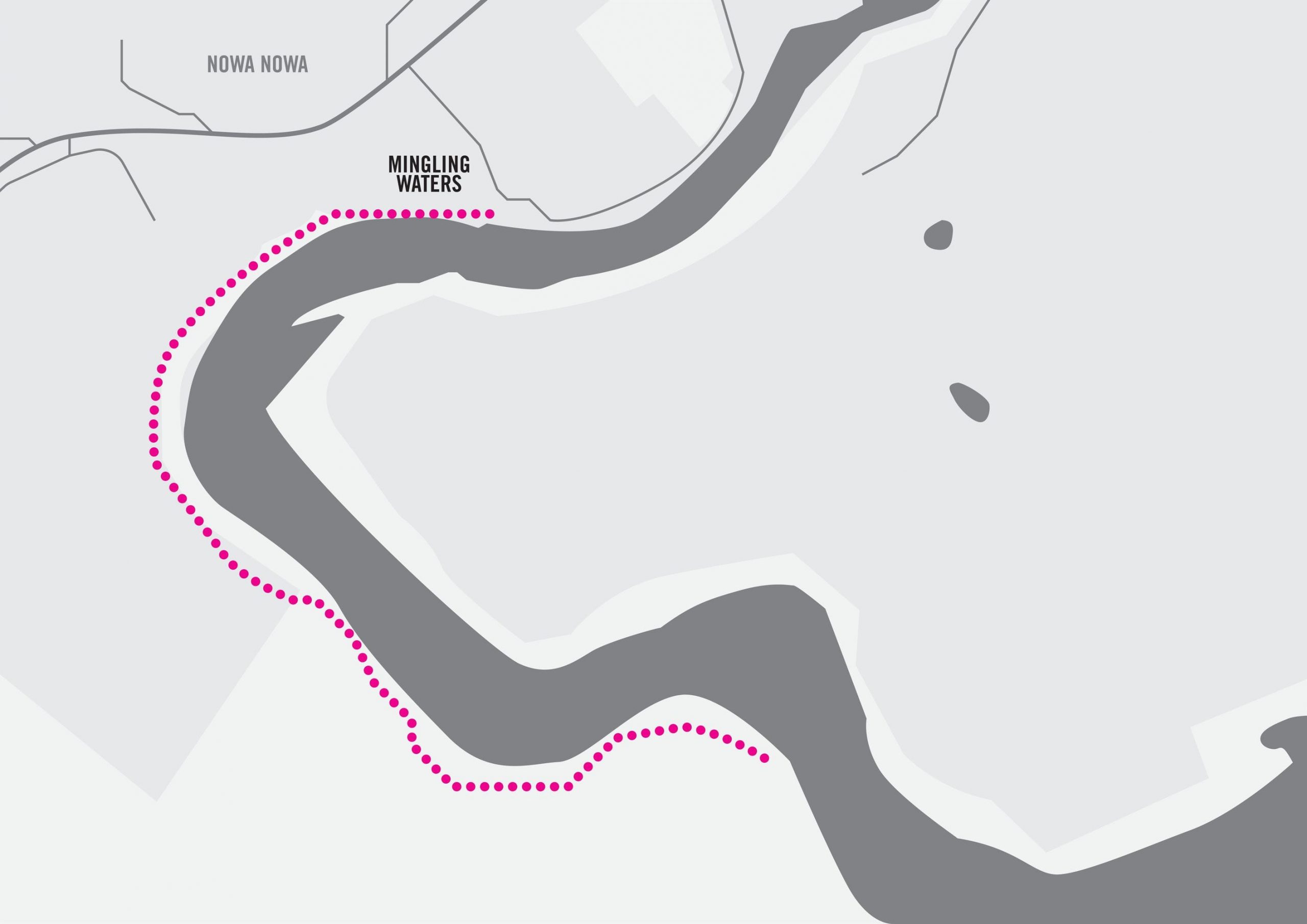 Local personality, Skipper Pete, invites you on a walk through the Nyerimilang Heritage Park. You'll explore the historic Nyerimilang Homestead, built in 1893, as well as its surrounding grounds and gardens.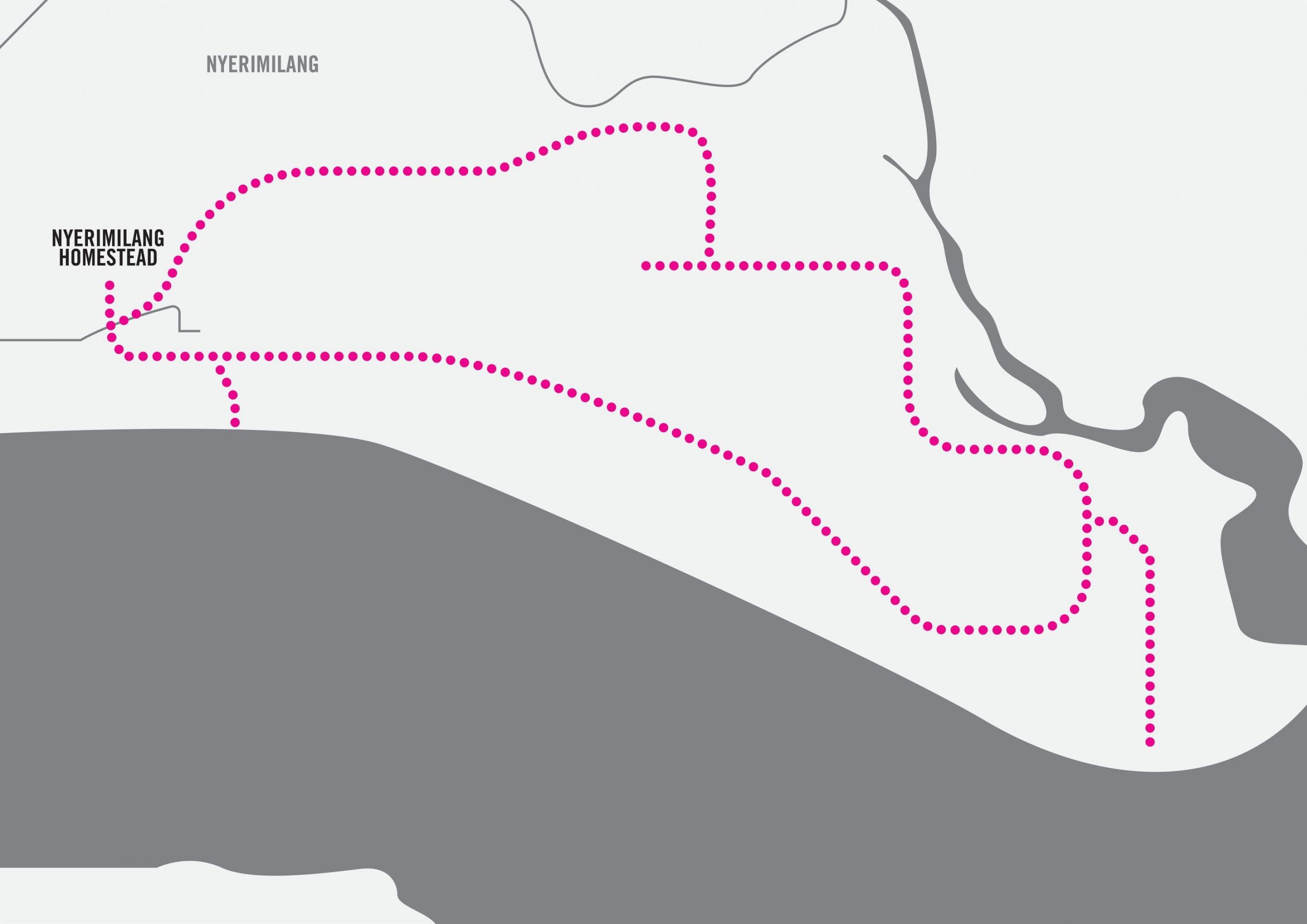 For his second self-guided walking trail, Skipper Pete suggests a lesser known trail from Red Bluff Beach to Lake Tyers Tavern. This track was built by a local community group and offers spectacular views of the shoreline.

A self-guided bicycle tour of the old swamplands of Koo Wee Rup and the coastal reserves of Tooradin.

In addition to the walks detailed in this self-guided tour guide there are many more events to visit during Waterfront 2021's program. Visit our full list of East Gippsland based events here.
These self-guided walks have been conceived to be followed in situ, and each includes an interactive Google Map to assist with orientation. In addition, PDF maps (designed by Studio Payne) have been created for each walk and can be downloaded or accessed on a personal mobile device.
CAV | OHM reminds participants to be aware of their surroundings and to adhere to road-safety guidelines at all times. When following this tour, participants must assume personal responsibility for any liability, injury, loss or damage in any way connected with the tour.
Waterfront is proudly presented by Centre for Architecture Victoria | Open House Melbourne, in partnership with DELWP and East Gippsland Shire Council. Waterfront is part of Melbourne Design Week 2021, an initiative of the Victorian Government in collaboration with the NGV.