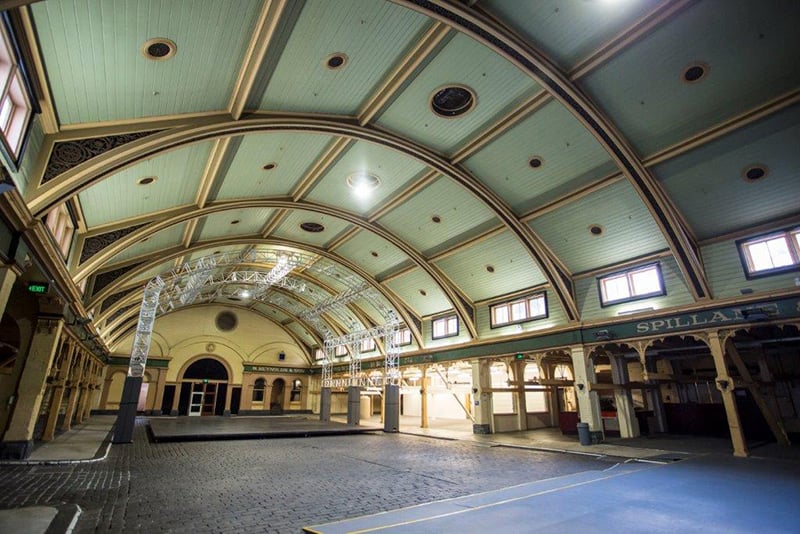 North and South – Open House Melbourne Weekend
Posted Wed 27th Jul 2016 | efront
More tough decisions await you when you take a look at what the North and South have to offer.
Here are the free and open access buildings you can visit across the 2016 Open House Melbourne Weekend:
North
Albanian Mosque – The Mosque and multi-purpose room will be open across the weekend (Saturday 14pm and Sunday 10-1pm) and as a place of worship, visitors are required to remove their shoes.
Meat Market – Explore the main pavilion, cobblestone side and stables of this grade one heritage-listed building across both days of the weekend.
Blackwood Street Bunker – This Brutalist darling houses a construction company and an architecture studio.
Melbourne General Cemetery – Most spaces of the historic bluestone gothic style gate lodge will be open and guided tours will run every hour.
Bio21 Institute David Penington Building – Tours will run every 30 minutes. You will be able to visit the Magnetic Resonance Cave and view laboratories from the Level 4 Corridor as well as science displays in the atrium.
University of Melbourne, LAB-14 – Former administrative wing of the Royal Women's Hospital.
Circus Oz HQ – Take a self-guided tour through the stunning Melba Spiegeltent, with sneak peeks into the prop workshop and costume department. Don't miss the facepainting and balloon twisting throughout the day, and the kids can try out their circus skills!
Collingwood Masonic Centre – Ever wondered what goes on behind the doors of the Freemasons? Take a guided tour of the lodge room, regalia and historic displays downstairs and chat with some of the Freemasons.
Abbotsford Convent – Australia's largest multi-arts precinct!
Walter and Eliza Hall Institute of Medical Research – See the 30-metre animation wall and historical timeline in the Galleria, take a look through research facilities with hands-on activities and opportunities to meet the scientists behind the research! You'll also be able to soak in the Parkville views from the top floor.
Grainger Museum – The only purpose-built autobiographical museum in Australia.
Good Shepherd Chapel – A rare opportunity to see this multi-award-winning restoration.
Six Degrees Studio – Only open on Sunday, see where the magic happens: in an architect's studio. There will be a talk by Peter Malatt at 1pm.
North Melbourne Town Hall – Home to Arts House. Tours will leave every 20 minutes and you will be treated to artworks on display.
Tip Top – Explore the new life of the Tip Top Bakery: a preserved facade and 6 new low-rise buildings and a community of 411 residences, with guided tours leaving every 30 minutes visiting the building lobbies.
John Wardle Architects, Spacecraft Studio and Bus Projects – What do an architect's studio, print studio and an independent arts organisation have in common?
Triple R – 3RRR 102.7FM Studios – Get inside Triple R! Explore all spaces of the station, with radio studio demonstrations and participation(!!!) plus a live performance from Sweet Jean at 11.30am
ClarkeHopkinsClarke Studio – A work environment that blurs the boundaries between indoor and outdoor spaces.
South
Australian Tapestry Workshop – The only tapestry studio of its kind in the country, and one of only a few worldwide dedicated to the production of hand-woven contemporary tapestries.
Edgewater Towers – Retaining many of its original mid century features (particularly in the lobby), Edgewater Towers is the only high rise apartment building on the St Kilda foreshore, south of Luna Park.
Eildon Mansion – Home to the Alliance Française and only open on Sunday, treat yourself to crêpres and coffee or even some delicious cheese and fine wine and free French language level assessments will be offered throughout the day.
Esplanade Vaults – These former seaside shops sold ice cream, nuts, confectionery, haberdashery and fish and chips, but were bricked up when Jacka Boulevard was widened in the 1970s.
South Melbourne Town Hall – When it opened in 1880, this grand town hall housed a courthouse, fire brigade, post office, police station library and council offices!
Portable Iron Houses – The three corrugated iron and wood houses, Patterson, Bellhouse and Abercormbie, are all the result of significant preservation campaigns, and are open both days across the Weekend.
Government House – Open Saturday, with children's activities, visitors must pass through a security checkpoint before entry.
Melbourne Synagogue – Often referred to as the 'Cathedral Synagogue' of Melbourne.
National Gallery of Victoria – Australia's oldest public art gallery.
Royal Botanic Gardens – Plant Craft Cottage – The oldest building in a public garden in Victoria.
Shrine of Remembrance – Open both days across the Weekend. Wander around the shrine at your own pace or join a guided tour (guided tours will run at 11am and 2pm with 20 people per tour). And don't miss this talk on Sunday at noon.
Como House and Garden – A special fashion exhibition will be on display this weekend with costumes from the National Trust's Costume Collection – the largest privately owned collection in Australia.
Toorak House, Swedish Church – Weather permitting, you will be able to visit the tower of the building which provides a panoramic view of Melbourne. The upper floors of the building are not available for visitors at any other time, so this is an special treat for the OHM weekend.
Umina – Country Womens Association of Victoria – An excellent example of Victorian-era architecture. It features a tower, tall walls, beautiful wooden surrounds and windows, a butler's station, cellars and an Edna Walling designed garden.
Jewish Museum of Australia – Visit the curatorial area, which is usually not open to the general public.
Melbourne Observatory – Currently houses the impressive Photoheliograph Telescope (1874), a telescopic camera for photographing the sun, which has captured four transits of Venus. Also on display are an original eight-inch refracting telescope by Troughton and Simms of London (1874) and a 12-inch Newtonian reflector telescope owned by the Astronomical Society of Victoria.
Prahran Mechanics' Institute – Special collections on display include: Cinema and Theatre Historical Society Archives, Australian Railway Historical Society Library, and Mechanics' Institutes of Victoria Database.
Plus Architecture Studio – The sleek and minimal interior of this architectural studio is the result of an in-house competition to come up with an innovative and cost effective office design.