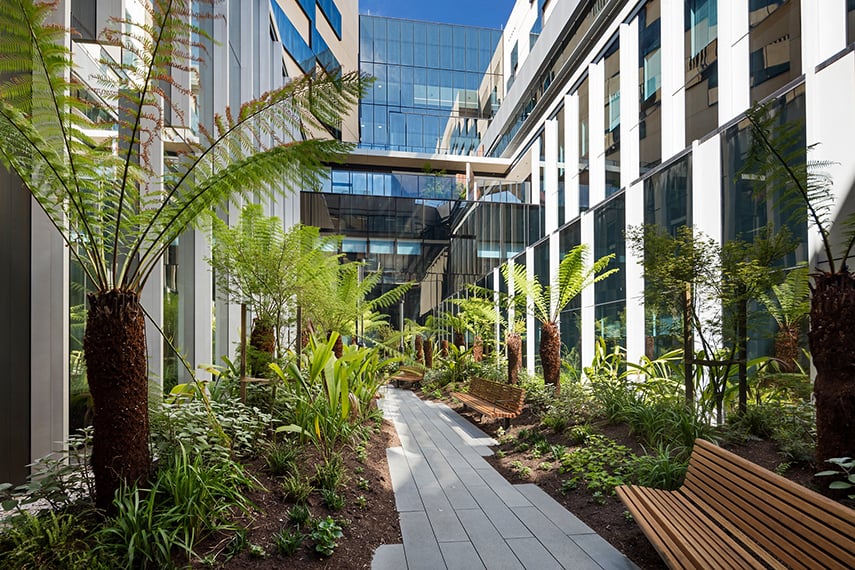 Bendigo Hospital Landscape Tour
Architect: Silver Thomas Hanley and Bates Smart 2017, Landscape Architect – Oculus 2017
Bendigo | 12
Building Description
The Bendigo Hospital, the largest regional hospital development in Victoria, delivers world-class healthcare facilities and provides a welcoming, holistic and positive environment that promotes wellbeing.
The winner of many awards including the 2019 Australian Institute of Landscape Architects Award of Excellence for Civic Architecture, 2018 Australian Institute of Architects (National) Sir Zelman Cowen award for Public Architecture and 2017 Premiers Sustainability Regional Recognition Award, the new Bendigo Hospital was undertaken by Exemplar Health as Private Public Partnership with the Victorian Government.
The hospital is a significant civic building that considers the needs of patients, staff and the community and offers a tranquil and caring environment through the integration of architecture, landscaping, health planning and evidence-based design. Landscaped courtyards, green roofs, Dja Dja Wurrung and Chinese gardens reflect the cultural diversity of the regions history, and views towards the landscape characterise the design.
The building's design team collaborated from the outset with Landscape architects OCULUS (with Paul Thompson). Central to the landscape architectural approach was the idea of connections and kindness; providing legible connectivity within the precinct and to the city through a diversity of landscape spaces from community to collaborative and private spaces.
What's On
Pre-booked tours led by landscape architects, Oculus will visit the landscaped therapeutic gardens and a selection of internal courtyard spaces.
Location
100 Barnard Street, Bendigo VIC